get elephant's newsletter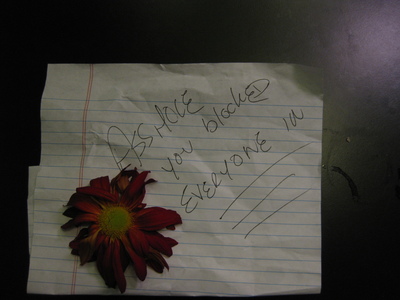 "There are no coincidences, no accidents." ~ John Friend
Well, if there is some type of cosmic intelligence guiding my practice, the universe guided me to John Friend's workshop in Pennsylvania last week to kick it up a notch, melt my heart, open my hips, and find a love for the details.
Even after 12 years of a yoga practice, and a year after finishing my 200-hr RYT program the opportunity to practice with a "guru" such as John Friend was exciting and a bit intimidating. I received an email from Anusara staff that there would be 300 people in each workshop…and my feelings of anxiety heightened. How would I stack up to the other practitioners? How could one teacher teach safely to so many people? Would I be able to connect with John Friend? Would there be space?
Would it be worth it?
As I arrived to Bryn Athyn on a perfect fall day, I wondered if Pennsylvania was created by the universe specifically to demonstrate the many hues of yellow and red possible through its lovely trees and leaves. I'd tackled the 3 hour drive from DC in the early morning and arrived with just minutes to spare before the first workshop started. I scanned a gymnasium densely packed with yogis for a place to set up before spotting a sliver of real estate in the center of the room. I asked an older man if he was saving the spot for someone and he just smiled and said that he had saved it for me. And so I laid my mat down knowing that I was in the right place at exactly the right time and settled into the experience.
The practice was fundamental, but challenging. No detail of the asana [physical yoga practice] was too small – early in the practice John Friend instructed the class to lay the fingers first, then the knuckles, then the base of the fingers, then the palms of the hands before pressing into the first downward facing dog.
Patanjali's Yoga Sutras describes five kleshas or obstacles that can block our spiritual enlightenment or growth. Dvesha, which roughly translates to aversion to pain, can make us flee from experiences that we perceive to be unpleasant. Or probably more likely in our yoga practice we just avoid them all together.
My leg muscles shaking, my shoulders singing with sensation, I came face to face with dvesha around the fourth urdhva dhanurasana. I telepathically begged for that to be the last back bend. At that moment, John called a student to the center of the room to demonstrate key elements of the pose giving the room just enough time to gather our energy for a few more. The theme of John Friend's 2010 tour is "Melt your heart, blow your mind," as we returned to our mats Mr. Friend promised that our mind would be blown when we realized that our attitude was what allowed us to do 200 backbends with the same energy that we could do the first one. With a deep breath and a big smile I turned on my "inner yes" and pushed up into the remaining backbends with more joy and freedom than I had in the first four. Surrounded by 300 other yogis, even the most challenging poses seemed doable. Held in the supportive and slightly competitive energy of so many bright spirits we pushed up again and again into more and more complex backbends and inversions. At one point John said, "If you put your thoughts into something, that is where the energy will go. Think about your hand and your hand will become warmer as the blood flows there. This is a proven scientific fact." It is a powerful experience to share a weekend with 600 people who are putting their thoughts into growing, evolving, stretching and transforming.
John Friend is perhaps best known for his "heart centered" approach to yoga and for his sense of humor. I have recently begun to suspect that the part of the Anusara teacher training must include workshops in stand-up comedy. Some of the Anusara-teachers I have encountered straddle the line between uplifting messengers of the divine or gearing up for their specials on Comedy Central. At one point in the weekend John took questions. One student asked him about his approach with more beginning students. He explained that the most important thing is to make new students feel welcome and that he does this by trying to diffuse their nervousness and fears through humor. I appreciate this playfulness and it is part of the reason that I am walking down the path of Anusara yoga. I have now been teaching yoga for over a year, but I feel as if I am just coming into my own as a yoga teacher and my ability to cultivate an experience for my students that is lovely, fun and ultimately life-affirming.
When fielding a question from a student about the way that the "loops" worked, John deftly deflected the question away from the technical aspects of the physical asana practice into a speech about how he would rather Anusara practitioners and teachers be good people than be able to perfectly perform the postures. He said that he wants to be around people who are good people and light-hearted – people who he would want to have dinner with. I think that is part of what makes his teaching so special. Even as he inspires impeccability in practice and a true desire to be a skillful, flexible and strong yogi — over and over he emphasized that what it is really about is being a good person. In the end of the day this is why we practice yoga, so that we can continue to transform ourselves and to connect with goodness. If we just wanted to be stronger and more in shape, we would just go to the gym and lift weights.
At one point, John joked about the qualities of good Anusara teachers and how students "want some of that kool-aid." I inwardly blushed. . . here I am with my cup.
The afternoon practices were deeply grounding, hip opening, and full of pranayama. As I floated out of the workshop on Saturday evening, I felt deeply connected to the source. The crisp air refreshed me and even the stars seemed to blink a little bit brighter. When I arrived to my car (one of the last ones in the parking lot), I noticed a note on my window. Curious, I peeled the note off with a twinge of excitement for what I might read. Was it a note from an admirer? A silly message like might randomly appear at a key moment during an adventure at Burning Man?
The note read, "ASSHOLE YOU BLOCKED EVERYONE IN."
Snapped back into the real world, all I could do was laugh. Presumably the person who left me the note had come from the same workshop I had just come from or the one before it? I'm still not sure exactly how I had blocked everyone in, especially since by the time I arrived back at my car they had figured out how to get out. But the note was like a splash of icy water on a hot day. Was it possible for my highest transformation if I am still missing basic details like parking in a way that blocks everyone in? Am I living my yoga if I spend my days practicing and teaching yoga, but frustrate my partner by forgetting to do my dishes, leaving my shoes in the middle of the room, or allowing my clothes to pile up in our shared bedroom? Details matter.
The workshop is the last of John Friend's 2010 tour and the end really seemed on his mind. He spoke of this time of year as a time of taking stock of all that had come during the cycle and to begin a vision for the new year. This year has been a time of tremendous growth in terms of my practices, my teaching, and my relationships. I have so much to feel grateful for and so much to feel proud of. I can truly point to specific things that I have learned over the past year. But I have so much more to grow to be the person that I want to be. For the past couple of years as I have transformed myself from my old career, much of the growth has felt haphazard and aimless. And there have been times when I have felt stuck by circumstances, by old patterns, and by the shortness of my vision. But here at the close of this particular cycle, I am starting to feel a shift. As my headstand becomes more and more solid each day and I am finding flight in arm balances previously out of reach, a new vision is coming into focus and can see new paths ahead to forge.
Fingertips, knuckles, base of the fingers, folding the towels nicely in the kitchen, and being conscious of parking – paying close attention to the details just may be the magical ingredient to the shift to the next level of my human transformation.
Katie Desmon is an RYT-200 who teaches over 10 yoga classes a week to children and adults in Washington DC, and is a self-described former couch potato. Known simply as "Surprise!" Katie was nominated in 2008 as a Fire Hooper of the Year and performs across the country as a hoop and fire dancer. A relapsed "Drama Geek," Katie is a member of the DC Burner Choir and recently starred in the "Best Show Ever."