get elephant's newsletter

As we find ourselves at the peak of the Holiday Season and the implicit gift giving that goes along with the "holiday spirit" it is important that we be conscious of what we are really giving and at what cost.  Commercials for exquisitely cut diamonds and glittering jewelry bombard the consumer via television, internet and radio with images of breathless women ecstatic to receive perfectly set sparkling gems from worldly and chivalrous looking men.  This year, however, it's of importance to be conscious consumers and support jewelers and jewelry suppliers who strive to engage ethically in the jewelry trade, which is wrought with negative political, environmental and social issues.
According to Diamond.net "…Tiffany's Laurelton subsidiary recently agreed to a 25% price increase for diamonds, which will make its way to shoppers this holiday season. Gem Diamonds, a company that operates diamond mines, cutting and polishing facilities reported increased third quarter sales as well."
So, what's the problem with an increase in jewelry sales as the holidays get going?
It's the gem and mineral trade in particular that is worrisome.  The 2006 film, Blood Diamond, brought awareness of conflict diamonds to the movie-going masses.  The United Nations website explains that "Conflict diamonds are diamonds that originate from areas controlled by forces or factions opposed to legitimate and internationally recognized governments, and are used to fund military action in opposition to those governments, or in contravention of the decisions of the Security Council."  Conflict Diamonds, and the grotesque implications of their trade, are supported financially by all of us as uninformed consumers.  However, we have a chance as a collective to begin looking into supporting the jewelry industry in socially and environmentally responsible ways.
The mining and trade of Tanzanite is widely known to be tied to shocking amounts of tragedy for the people of Tanzania.   "Three kilometers outside the town of Mererani [the only place on earth this stone is found] some 30,000 miners work to depths of up to 300 meters without safety regulations, or a daily wage.   Dynamite accidents, collapsing mines and floods have caused hundreds of deaths…"(globalexchange.org).
As explained by Wilson Peter, a 12 year-old child miner:
"At the mines we sift through sand for gems. Sometimes we find nothing. We get hungry and go home. We go to eat. After we eat we go back into the mine. We work until six, then we go home. At home we rest for a while. After resting we change our clothes. Then we go to fetch water to use in the house. Then we help mother with chores. After dark we go to bed."(globalexchange.org)
Sales increase with this year's end. The holidays bring on a high volume of jewelry commercials broadcasting in living rooms throughout the United Sates. However, there is hope for supporting the beautiful gift of art in the form of adornment without contributing to the atrocities that go along with much of the gem trade.
I, myself, am a bit of jewelry addict.  I have figured out a few ways to drip in precious metals and jewels without wearing symbols of suffering.  There are many small time jewelry artists. Also there are many dealers of vintage estate jewelry (which is implicitly not longer connected to the circuit of global gem trade and dynamics). Additionally international law makes larger distributors an option as well. I hope here to share a few ways of going about purchasing friendly gems.
I'll admit, custom pieces that are either manufactured individually or in small batches appeal to my sensibility around jewelry insofar as the piece is special in its unique quality.   So, how about buying from jewelers who make small batch jewelry and find ways to create without contributing to an international trade that is wrought with problematic implications?
Angela Monaco hails from Philadelphia, PA.  She has found a few ways to create earth friendly and humane works of jewelry art.  She takes casts of gems so that she might display the geometrical beauty of specimen minerals.  She then purchases post consumer silver in the form of old cutlery sets and repeatedly recreates the structure of any given gem she has used for a mold (below is shown an example of a tourmaline replica pendant Angela designed).  This decreases her contribution to the gem trade, allows her not to strip the earth of precious metals and to think outside the box as an artist and entrepreneur.  She is also working towards a low emission studio so that she might cut-down on environmentally negative impacts of production.  Check out her beautiful pieces at angelamonacojewelry.com.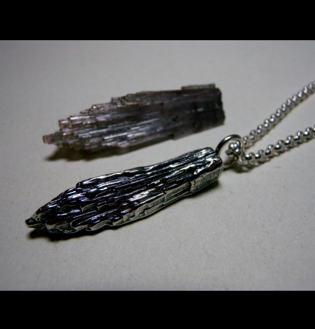 Ben Claus, a jeweler out of Southern California, makes custom "wraps."  They are pieces that involve little to no heat work in their production and more often than not display and accent the precious gems wire wrapped entirely by hand.  Each piece is unique.  He does include some heated, molded and soldered metals occasionally.  He, however, relies mainly on his method of intricately weaving precious wire to set his jewelry (below is shown an example of Ben's wrapping technique).  He attributes his education in buying conflict free gems partially to attending the Gemological Institute Of America which, as part of the curriculum, educates jewelers in finding gem sources that adhere to global policy and can be tracked.
As Ben says of buying gems, "If something seems too good to be true, it most likely is. I use what I learned at GIA to detect any hidden tricks someone without my education might not notice. You'd be surprised what someone will do to trick a buyer into thinking they are getting a great gemstone that may or may not even be what it's labeled as. I deal with dealers, retailers and jewelers that are GIA certified." Ben's work can be found here.
In terms of Estate Jewelry, if you haven't got the time to take a leisurely drive to the many antique stores in New England you can go online to maineantiques.org or nhada.org and click on the "find a dealer" option to purchase certified antique jewelry thus removing yourself entirely from the global gem trade while supporting enthusiasts and collectors of magnificent relics of a time long ago.
There are classic jewelry companies and popular contemporary designers who use stones that are ethically mined and in accordance with the international regulations pertaining to gems. To find and purchase these items visit conflictfreediamonds.org and click on the "where to buy" option.

So, by all means, support these various entrepreneurial pursuits and the artists and companies behind them! After all, a beautiful specimen can go a long way.  Jewelry never depreciates in value. It reflects the artistic sensibility of designers and inevitably accentuates the beauty of any of those who adorn themselves in jewelry.  This holiday season let's purchase consciously so we can rock our gems lovingly!
Lily strongly believes in a joyful lifestyle and holistic approach to living. Whether it's teaching yoga or cooking for her family, she tries to bring loving kindness into all the things she does!
She enjoys yoga, nutrition, travel, literature, music, and dance.