get elephant's newsletter
Around the world, January 25th is celebrated as Robert Burns Day. The anniversary of the birth of Scotland's most famous poet is traditionally commemorated by lyrically raucous gatherings centered around haggis, Scotch-whisky and recitations of poetry and song by and in the spirit of the great Scottish bard.
My (DTMc) maternal grandfather — a thoroughly Scottish man who lied about his age in order to serve in Her Majesty's Royal Air Force during World War II before migrating to Canada to raise a family and run a bank without formal education past the 6th grade — used to say this brilliant Burnsian grace before most every meal:
"Some hae meat and canna eat,
And some would eat that want it;
But we hae meat, and we can eat,
Sae let the Lord be thankit."
For those inspired by Burns' eloquent, one-of-a-kind verse, or simply by the idea of a rollicking familial meal fueled by Scotch and poorly (read: perfectly) impersonated accents, here is a beautiful radio program designed to guide you through the process. KILTR.com has put together this 80-minute program to accompany your dinner. It begins with the customary piping-in of the haggis-bearer, includes a selection of Scottish folk tunes to stimulate appetite and discussion, followed by a history of Burns' life and work, several toasts, poetic recitations, and a plethora of pleasantly lurid jokes to go around. The program concludes with a group performance of what is perhaps Burns' most famous poem-song, Auld Lang Syne. And yes, everyone is invited to stand and sing — meaning shyness should pose no obstacle if everyone has been giving the great bard his due honor…

(Truly brings tears of pride to my Scottish eyes, requiring my pale hand to wipe dry my ginger beard…)
Not to worry: the Burns holiday is celebrated within the vicinity of January 25th, so there is plenty of time to plan and prepare for a kilted communion this coming weekend (or the next). And remember, the only real rule is to cultivate the Spirit of Burns.  Here are a few links providing guidance and inspiration: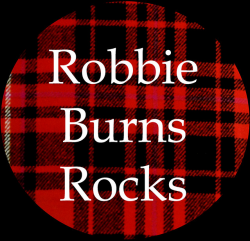 The Official Robert Burns.org Supper Guide
The Format of a Burns Supper from rabbie-burns.com
Here, a collection of Burns' verse and song
Finally, here is Waylon's exhaustive entry from 2009, which includes all the video recitations and Burns-based performances for which one might ever hope.
So when the Scotch begins to kick in, and you're sure you're ready to give the traditional "Toast to the Lasses," do yourself (and everyone else) a favor and remember Burns' fine advice:
"Prudent, cautious self-control is wisdom's root."