get elephant's newsletter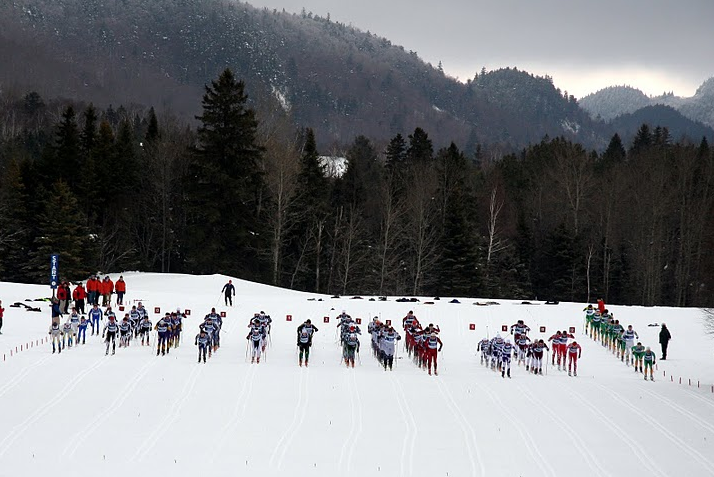 One of the greatest dilemmas I face as a lifelong Nordic skier is not what wax to put on my skis or how many layers to wear under my jacket, but how I—as someone who cares greatly for the environment—can justify driving to and from the local ski area several times a week for recreation.
The very season skiing depends on is getting shorter every year as a direct result of the CO2 pumping out my exhaust pipe. I've been a skier since I was six, and my appreciation for the outdoors probably comes from the memorable experiences the sport has given me.

But my very participation in skiing is contributing to the prospect of its extinction; between traveling all over the country for training and racing and using high fluorocarbon waxes on my skis, skiing's carbon footprint is daunting. And when you begin accounting for the alpine ski and snowboard industry, complete with chair lifts, snow making and excessive resort villages, skiing's environmental impact is downright overwhelming.

How do we expect to continue enjoying fresh powder every winter at the rate we're going?

I had a chance to talk with some fellow skiers this weekend about how to both be an environmentalist and a ski addict, and was met mainly with this reply: "You can't." But one fellow coach took the time to explain his take on it: "You mean how can anyone be alive and not have a carbon footprint?"

And that's exactly it. Yes, being a skier (or any outdoor recreation enthusiast) means traveling and being responsible for considerable carbon emissions. But anyone with a pulse is somehow contributing to global warming, so rather than agonizing over how to reconcile skiing with being green, which will likely cloud your enjoyment of a beautiful powder day, think instead of how to simply lead a greener lifestyle, skiing included. Ski locally. Carpool or take public transportation. Spread the word. We all know the drill.
It also doesn't hurt to support green ski areas, which go above and beyond to offset the industry's environmental impact. Or, if you're a serious racer, use your role in the spotlight to set an example and educate the ski (and snowboard) community on how to enjoy the powder mindfully.
This weekend was my first race as a coach for a local junior Nordic ski team. Every single one of the athletes on the course had a tired but exhilarated smile on his or her face while crossing the finish line. I couldn't help but think that fostering a love of nature through skiing in so many young minds would end up going a whole lot farther towards saving the planet than guilting winter sports enthusiasts out of doing what they love. After all, what's the point of fighting climate change if there's nothing to fight for?