get elephant's newsletter
My $12.5 Million Inheritance
I recently received a private Facebook message from a person I have never met.
As a regular and somewhat irreverent contributor [Mark's being modest—his posts are controversial, funny, and wildly popular. ~ ed.] to Elephant Journal, you can probably imagine the number of comments I receive from my writings or, for that matter, the number of "friend requests" I receive in a given day.
So, getting a note from a Facebook stranger wasn't that big of deal, and I was excited about the possibility of adding a new "friend"…that I will never talk to in person.  This particular message was more of a missive and I was drawn to the first line:    
Anttention: (sic)  Mark Kreloff.
A British lawyer or "Barrister" by the name of Robert Temby was able to track me down and communicate some rather important news using the Facebook "send a message" feature.  Apparently, this is now the preferred method of communication for lawyers worldwide wishing to disseminate sensitive legal information.
According to Mr. Temby, someone named Bernard A. Kreloff (same last name as me..!) had recently died, along with his "direct" family, in a tragic car wreck somewhere in Lomé, the capital city of the West African nation known as The Togolese Republic (more simply, "Togo"). Even though I was not especially close to this Uncle Bernie (as I now fondly refer to him) and, for that matter, not exactly sure how I was related to him, I thought that this was all very sad. Mr. Temby went on to explain that Uncle Bernie had left a sizable estate behind and, according to the letter, it was all going to me.
Here is the actual note: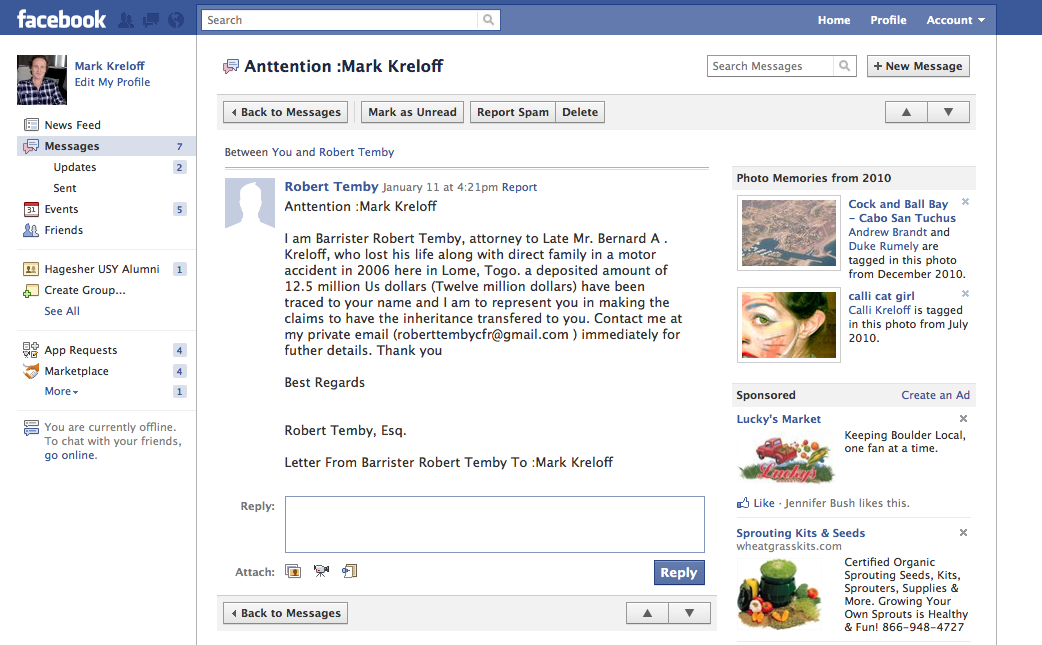 I was saddened by the death of Uncle Bernie and his family…and yet my sadness was somehow tempered by the fact that I was going to receive a sizable sum of cash to get me through my period of mourning. Being a man of intellectual curiosity, I did have a few questions for Mr. Temby:
Do I have to share this money with my mother, father, brother, sister or any of the 20 or so other living Kreloff's? Do I have to tell them about this?
What is a Russian Jew by the name of Bernard Kreloff doing in Togo (with his entire family no less)?
Was this his idea of a vacation?
Did he flee his native Russia for the Miami, Florida-like weather in Togo?
Given our family's problems with night vision, why was he driving?
More importantly, how did he make $12.5 million dollars?
Do West Africans appreciate a good pastrami sandwich?
Was Uncle Bernie an arms dealer selling illegal weapons to the Togolese government?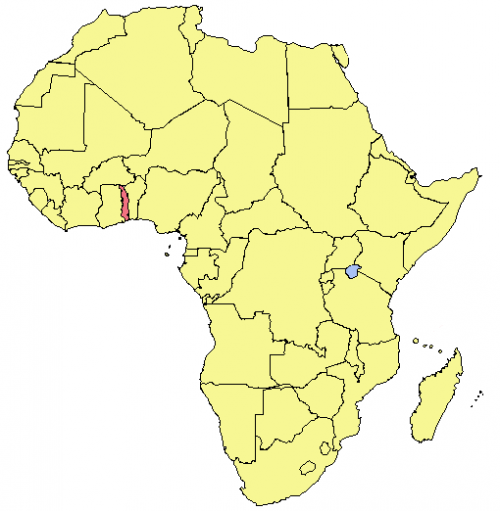 After "friending" Mr. Temby, I sent him a short note:
Highly Confidential
Robert Temby, Esq.:

Your sad news about a relative that I have never met is indeed bittersweet.

I am trying to support myself as a writer, yet I have rather extravagant taste in home furnishings and French Pinot Noirs.  You can imagine how frustrating this must be given that over a dozen well-constructed (if not humorous) pieces of my work have been published by Elephant Journal and I have yet to be paid for one. The Publisher has mentioned something about much needed dental work, so I am being patient with this.

That said, I would like the $12.5 million (or is it just "twelve million dollars" – the letter is a bit ambiguous) to be divided evenly between myself and Waylon Lewis, my publisher. Waylon will be able to build a much needed hotel property for himself and provide his staff and writers with prevailing wages for their work. Yes, I know this is a win-win for me as I am a writer for Elephant, but I assure you that I work really hard at my craft. You can find Waylon by "fanning" him on Facebook. He is by far the most popular Waylon Lewis that there is. Or, if you prefer, you are welcome to travel to Boulder to meet him for yourself. Waylon is the tall fellow with the ruddy complexion and lap-top sitting with a harem at one of several coffee shops that continue to tolerate his lingering.

If you are planning to visit us in Boulder, please feel free to purchase an economy-plus ticket for your travel. Waylon and I will reimburse you upon your arrival.

Namaste,

Mark Kreloff