get elephant's newsletter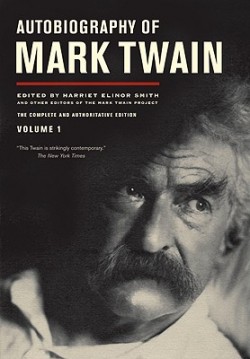 It's one of those little literary facts that the inestimable Mark Twain (Samuel L. Clemens) ordered in his will that his complete autobiography not be published for 100 years after his death in order to not risk embarrassing himself, anyone he might mention in his book, or any associated descendants. The question that then begs to be asked is: was the wait worth it? The answer is a definite and resounding "yes."
This volume, the first of three to be published, weighs in at a hefty 679 pages which includes photographs and background information to explain how and why Twain chose to write his autobiography the way he did: non-chronologically and much of it dictated rather than written. The additional information serves to place the writings into social and biographical context, and only adds to the value of the book. His anecdotes and reminiscences are consistently entertaining and interesting,and no one is spared from his acerbic wit in this tome, not even himself (an incident involving a wild turkey is one to provoke a smile).
The book has been assembled by The Mark Twain Project of The Bancroft Library which has been working since the 1960s to create a comprehensive edition of everything Twain ever wrote; no small task to be sure. Interestingly, both the autobiography and the commentary on the text can be found at the Mark Twain Project website, which includes citations as well.
The Autobiography of Mark Twain, Vol. 1 will be on my best reads of 2011 list (I'm looking forward to volume 2!) for sure and is recommended for any fan of one of the most important writers in American history.
From University of California Press and available from your local, independent bookstore. (Shop local, shop independent, and tell 'em you saw it on Elephant Journal!)