get elephant's newsletter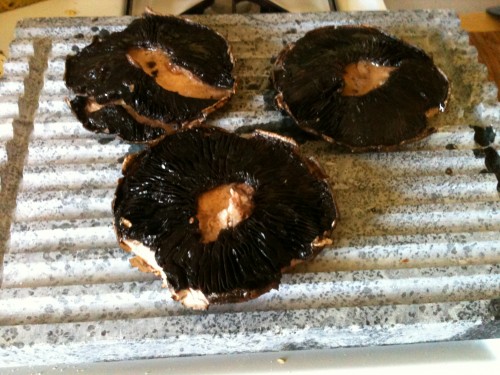 Photo: Mallory Ayres
I spend more watching Food Network and salivating than I care to admit.
I always rationalize my TV habit with the idea that I'm probably learning something about cooking, and someday with my career in one hand and my cooking skills in the other, I'll be one hell of a person.
Sadly, I don't cook as often as I would like. But today the wonderful people at elephant journal have given me a great new toy – an Organic Bug SPARQ Soapstone Indoor/Outdoor Griddle/Grill Combo! It basically it's a 11.5 X 15 inch stone that heats up to a scorching temperature. One side is a flat griddle, and the other has grill marks on it. I was intrigued with its multiple identities, and images of me easily preparing succulent grilled veggies, pancakes and gourmet grilled sandwiches danced in my head.
The griddle is designed for a number of environments. You can put it on a stove burner and let it heat up, use it in the oven as pizza stone, or heat it on the grill outside. It's also very efficient. It heats up to 1200 degrees, twice the capacity of a normal griddle. It also retains and distributes heat more easily, so less initial heat is needed.  Even better, it's considered eco-friendly because it's made of soapstone that comes from factory excess.
So now is my big chance to see what I've learned from the Food Network, let's see what I can come up with…
My first recipe was pizza caprese. First I bought some ready-made pizza dough from my local Sunflower Farmer's Market. I dipped it in flour and molded it into a pizza shape, added canned tomatoes and mozzarella balls and popped it in the oven at 350 degrees for 40 minutes.
When it came out  it was cheesy, fragrant and juicy. I chowed down feeling quite happy with my work.
For my second grilling attempt I brushed portobello mushrooms with olive oil and sprinkled them with salt, pepper and rosemary. Then I put them on the grill side of the griddle heated with my kitchen burners. They grilled up beautifully without the hassle of starting a grill outside.
Watch out Rachel Ray, I'm coming for you!
Note: elephantjournal.com received this Organic Bug Griddle for free, in return for a guarantee that we would review said offering.  That said, we say what we want—good and bad, happy and sad.
______________________________________________________________________________________________________________
Mallory Ayres is a Boulder native who just graduated with a degree in political science. She is passionate about journalism and has interned for Skiing Magazine in the past. She now is one of Elephant Journal's new interns and works for the outdoor gear website ActiveJunky.com. She loves hot yoga, creative writing and loitering in Boulder's coffee shops.