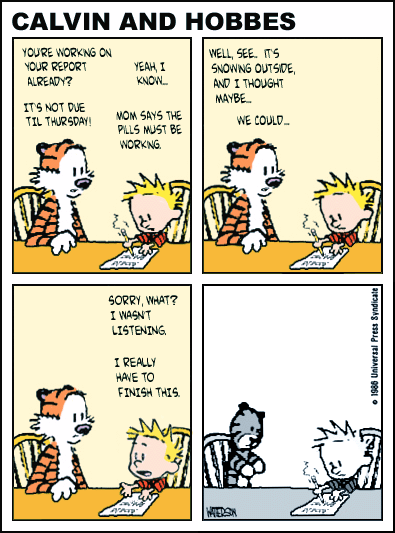 Just Say No, Parents.
A young family friend was raised on Ritalin. He was hyper and happy and motivated and bouncing off the walls and…his parents didn't want to deal. So, Ritalin, yah, was more for them than it was for him.
Let's consider whether hyperactivity is more a result of a lack of exercise, a real food diet, encouraging discipline and timely affection…a lack of time spent outdoors skinning knees and climbing trees, pretending this and that and swinging a baseball bat…instead of babysat by video games and TV.
Or, at least, let's slow down ourselves, enough to contemplate this Calvin & Hobbes cartoon. Unless we have more serious things to do, of course.
~
A complex issue that deserves our undivided attention. More exercise, more bicycling, more real food, less TV…is a start.
Relephant read:
Related videos:
http://www.youtube.com/watch?v=9fMVUdYS0Mc
Walk the Talk with Waylon Lewis on Children: