get elephant's newsletter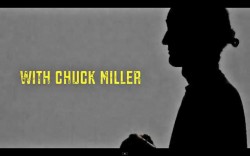 "Let's be Beginners, let's Enjoy Being Beginners."
~ Chuck Miller
"Are you willing to become a beginner, are you willing to take the ego to the passenger's seat or even better, to the trunk?" was one of the fascinating questions hammered by Chuck during the past Easter weekend in Paris.
The room was packed, Ashtangis from the globe awaiting for the renown Chuck Miller, an Ashtangi student of Pattabhi Jois and vegetarian for more than four decades; in a deeper definition, Chuck is a humble, brilliant and conscious soul, flowing through life as a 'beginner' student.
"I remember the old days in Mysore when I encountered an Indian man who I had studied with, and who at the time was in his 70s looking happy, peaceful and fit, and who told me that he had only been practicing daily Surya Namaskara A all his life".
Chuck's words echoed in the room, many were hungry for challenging and threatening Asanas –yoga postures-, but Chuck fed their minds with the most basic and deep reflections of the Ashtanga Vinyasa Yoga practice. His words praised the practice's most valuable gifts; those that inspire our soul to grow organically, to cultivate authentic inner truth. He kept questioning over and over if we were willing to be humble beginners, if we were able to be real to our own self, if we were able to let go off our egos…
Linda Munro and Gérald Disse, founders and teachers at Ashtanga Yoga Paris, were happy to invite Chuck, an old good friend, to teach a variety of workshops that covered from the basic roots of Surya Namaskara to the threatening common injuries of the Ashtanga Vinyasa Yoga practice.
I not only had the privilege of being his student, but also had the gift of taking him for lunch at VOY Alimento, my favorite Parisian restaurant, with 100% organic, vegan, super-foods, and products grown through permaculture. This restaurant truly promotes conscious and healthy lifestyles in Paris (small caveat: I also work as chef de cuisine there 😉 ).
Chuck inspires an Ashtanga Vinyasa Yoga practice that empowers us to better see ourselves, to become healthier beings with the capacity of contributing to the greater happiness and love of our world.
~

Editor Tanya L. Markul
Like Elephant Yoga on Facebook.