get elephant's newsletter
Editor's note: it's our view that, as with iPhones and iPads and groceries and gas and cars, the American consumer doesn't want to pay the true cost. If Yoga Journal wasn't half-supported by ads, a subscription would cost, say, $300 a year. A single issue on the newsstand would cost $20. I've always said I'd welcome an ad from McDonald's (not that they're offering) on elephant. Why? I'll take their money, sure. They should have less money. And our readers are, I hope, conscious consumers. We think for ourselves. That's what elephant is about.

The same ought to go, I hope, for Yoga Journal. If you like an ad or a product, support it. Is it fair labor? Eco-responsible? Does it aid your practice, and life? Go for it. If no, ignore it.

Every year I attend dozens of conferences, and expos. Most of the products I see on offer there are plastic, plastic, crap, sugar, made in China (etc). I ignore them.

~ ed.

~
Is big media's mission to separate you from your money?
Last March, I went to Las Vegas for the first time.
I have to say I'm not a "Vegas" person, but I was there to give a presentation at a Change Management conference, went with an open mind and decided to take in the Vegas experience.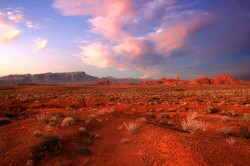 I gambled, a little. Drank, in moderation. Ate—quite well. Shopped—mostly via window. Took in a Cirque show, took a local yoga class (of course) and went hiking in the Valley of Fire State Park.
The last two were my favorites, but not really a part of what you would call "the Vegas experience."
In the end, I decided that the true purpose of Las Vegas (the mission and vision of the strategic plan, so to speak) is to separate you from your money.
And it's no secret.
That's what makes it work.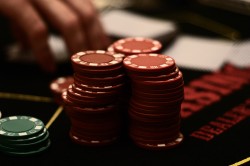 The people who go there know they will likely be separated from their money, and they're surprisingly willing, and even eager to partake in the experience.
On the way home I picked up my most recent edition of Yoga Journal, and read it on the plane.
I read through the practice, health, and inspiration articles, and skimmed the advertisements.
The copious advertisements…so many advertisements.
And it hit me: 'Holy Cow!'
There are more advertisements in this magazine than there are articles, and the advertisements are overwhelmingly for high-end and somewhat overpriced fodder. Really attractive, "wish I had it" fodder, but fodder nonetheless.
Advertisements for pricey yoga clothing, mats, and accessories, overpriced supplements and things you must have to stay healthy, "healthy" junk food, yoga vacations to exotic locations, the list goes on.
I had to ask myself, Is the purpose of the ads in Yoga Journal, like Vegas, to separate you from your money?
Could it be that under this healthy, wholesome, and "I'm way more spiritual than you" disguise is a Yoga Vegas?  Only the people who come here may not know it, and if they thought of it that way may not be as willing to partake in the experience.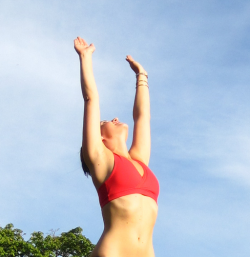 I realize that yoga is a business (I'm a teacher and part owner of a studio), but has Yoga Journal and the American Yoga Industry taken the business end too far?
The beauty of yoga for me is that it doesn't require much: just you, your mat, a desire to be whole.
Period.
No special products, no overpriced equipment.
Have we lost the very thing that brought us here in the first place?
I'm still enjoying my monthly Yoga Journal (the articles). I try not to pay much attention to the advertisements, even though they really are quite eye catching.
When it comes time to pony up for the new subscription, will I?
Hmmm…I'm not quite sure, yet.
Roz is a YogiCyclist. She's been an avid cyclist for over 25 years, practicing yoga for 16, and teaching yoga for 12. She discovered yoga while pregnant with her first daughter and on a cycling hiatus.  Over the next few years she grew her practice and began teaching. When she got back on the bike she discovered that the yoga practice made her a better cyclist. Much better. Roz is a firm believer that every athlete should include yoga as a part of their training routine. In addition to the physical aspects of yoga, Roz was raised on the yogic philosophy and principles handed down by Paramahansa Yogananda, and says her mother has been her greatest yoga teacher. When she's not practicing yoga, cycling, or wrangling her two teenagers, Roz is a Management Consultant specializing in Change Management and Strategic Development for VectorCSP in North Carolina.

~

Editor: Elysha Anderson