get elephant's newsletter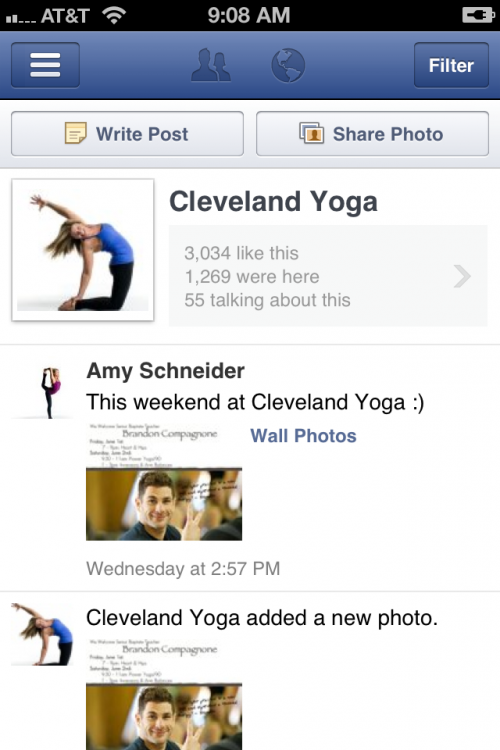 Social Media is the holy grail of marketing for Yoga Studios.
Why? Because we reduce our impact on the environment by printing less full color cards promoting classes and schedules?
No. Because it is "free?" No! Because it enables us to empower our community to share and communicate? Yes! As social media has exploded, the iPhone has simultaneously revolutionized how we listen to music, watch movies, read books, take photos and videos, share information and, yes, talk. As our community grows we spend more time on politics and business and have less time for what got us here, yoga and meditation.
In yoga, we know that every pose can be modified (my current wrist injury has humbled me with variations of side plank and flip dog), allowing full expression of the pose while practicing safely. Yet your strategy as you get on your mat is still to create space and find the balance between your breath and the poses.
When you don't breathe thru the poses, your practice sucks. Your social media for your yoga studio sucks. Why? You're not breathing. Seriously, step away from the computer, grab your iPhone and head outside. With the right apps and a little bit of space, we can breath new life into your yoga studio's social media strategy!
The Right Tool For The Right Job
Facebook Pages—This simple application by Facebook let's you access your Facebook page from your iPhone, whether you want to make a status update, post a picture or check your insights. The real beauty of this app is notifications. Now you can immediately see when someone posts on your page and respond, whether you are in line at Whole Foods or having a drink before the Michael Franti show. When you listen to your community and respond you give your community permission to talk. When your community talks on facebook your presence will grow.
Facebook Camera—Okay, this application is not as cool as Instagram, but in other ways it is cleaner and easier to use. Instagram will let you share pictures on your page, it is only a matter of time before Facebook Pages does this or Facebook Camera. More importantly, this let's you see the pictures your friends are sharing and it is quick and easy to "like" them or comment on them. You are a leader—when you acknowledge the lives of your students, teachers and friends you make it easier for them to like, comment and share the pictures and updates from your yoga studio. Facebook Camera will let you easily crop and color the photos you are taking with your iPhone. Instagram will let you take parts of the photo out of focus emphasizing what you want people to see. Both programs should be on your iPhone!
Facebook—I know we are seeing a theme here. Check your personal Facebook page more frequently and engage more with the content you see. You have an incredible voice, use it to generate the positive change you wish to see in the world. You have been silent on Facebook for too long, let your spirit shine across the world, touching more people than ever possible before—with simple hones status updates, comments and likes.
WordPress—If you are sick of sitting at your computer to "work," take your blogging mobile! The WordPress app for your iPhone is simple and elegant. You can create a new blog post, fill in the tags, select the category, add pictures and post directly from your iPhone. If you commute or are the passenger, use that time effectively to create content for your blog. Blogging is a lot of Fun. Take it mobile and blog more frequently!!!
Twitter—You can manage multiple accounts, tweet, reply and more important 'listen" using your iPhone and the Twitter application. I have been hating Twitter lately, but it is still an amazingly important part of our content distribution network. The iPhone app is simple and easy to use. There is so much information passing so quickly on this network, you have to have mobile access to participate. Start by logging into your yoga studio's Twitter Page on your iPhone, then see who is talking about you and whether this is a network you want to participate in!
Video—Yes, you can shoot amazing quality video with your iPhone and send it directly to YouTube. This simple statement is loaded with potential for you. What videos can you shoot that will nourish your community? When you see a teachable moment, put that iPhone to work recording the video, share it on YouTube, then share the YouTube video on Facebook. The iPhone 4S takes 1080P video, as does that new iPad you just bought. What are you waiting for???
Yoga and Social Media are a match made in heaven.
The practice lends itself to photos and videos, inspiring people to grow beyond their fears and try something new. As teachers and studio owners you have an obligation to share yoga with as many people as possible. Start by using the tools sitting in your purse or pocket right now—your iPhone.
Your community is starving for content. Feed them and watch the size and engagement grow!!! Your true voice is the most authentic weapon you have in the war against apathy and boredom. When you use your voice in social media, you will light the same fire that burns deeply in your hamstring as you settle lower into that warrior two, the slow stretch of your hip in  will free the emotions that you bury inside. Share the good, the bad, the ugly and the great with your community on Facebook. We will be there to assist you, empowering you to find your fullest expression on Facebook (or Dancer Pose).
~
Editor: Lynn Hasselberger