get elephant's newsletter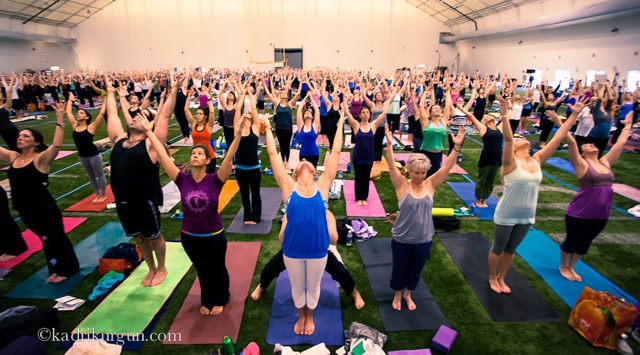 {elephant journal is not affiliated with or receiving compensation for this profile of Yoga Reaches Out. ~ ed.}
Do you love yoga and supporting a good cause? Yoga Reaches Out gives you a chance to do both at the same time.
A national non-profit founded by Sarah Gardner of Wayland, Massachusetts, Yoga Reaches Out upholds the mission of bringing the yoga community together to create seva (selfless service). Through the gift of yoga, Yoga Reaches Out focuses on raising funds for organizations that impact the health, education, and well-being of children.
In the fall of 2010 Yoga Reaches Out held its first Yogathon at Gillette Stadium's Field House in Foxboro, Massachusetts. Close to 500 yogis came to the mat in the New England Patriot's training facility, raising $225,000 for Children's Hospital Boston and Yoga For Single Moms. Following a very successful inaugural event, Yoga Reaches Out just recently held its second Yogathon at Gillette Stadium. This time over 800 yogis of all levels came together to raise over $400,000 for Boston's Children's Hospital and the Africa Yoga Project. Nearly doubling their fundraising efforts in just the first year, Sarah Gardner and Yoga Reaches Out are clearly onto something.
Determined to spread this noble mission, Sarah and her team now hold the vision of expanding Yoga Reaches Out to different regions of the United States and eventually internationally. To this end, they are about to kick-off their first west coast event in the San Francisco Bay Area. The Yogathon will take place on Saturday, June 30, 2012 at The Craneway Pavilion in Richmond, California. This year's special guests include Kevin Collins, Peter Guinosso, Buddy Macuha, Debbie Steingesser and Janet Stone. Hundreds of men and women are expected to participate in this Yoga extravaganza. The all-day event will benefit Children's Hospital and Research Center Oakland and the Africa Yoga Project, an organization dedicated to helping children living in East Africa.
I had the opportunity to speak with Sarah Gardner to learn more about this great cause, how it came into being, and a little bit about the person behind the passion:
Jeannie: What first brought you to yoga and how has it changed your own life?
Sarah: Fitness has always been a big part of my life and I became a personal trainer after receiving my master's degree in health and fitness education. I understood the benefits of exercise on a physical level, but it wasn't until I was introduced to yoga that I experienced the mental and spiritual aspects. Yoga has changed every aspect of my life. It is not what I do, but who I am. Yoga has helped me embrace my realization that we are all here to make a difference. It's not about me, but it's about helping others. Yoga teaches us to open our hearts and be present to being of service.
Jeannie: What was the inspiration and the impetus for founding Yoga Reaches Out?
Sarah: I did a lot of work with an organization called Landmark Education. What I got is that every person is possibility and my reason for being is to make a difference in the lives of others. I remember driving down the highway and thinking to myself, "I want to have a Yogathon at Gillette Stadium and raise money for children." As a mom to two young children, one of which was born 10 weeks premature, there is nothing more important to me than helping young people. I started Yoga Reaches Out to channel the extraordinary energy of the yoga community to give back to children in need. I thought what a fun way to enjoy what we love to do, yoga, and raise money for children's charities at the same time. I see it as a win-win.
Jeannie: How do you pick the causes for which you will fundraise? What % of the proceeds go directly to the charities?
Sarah: Through the gift of yoga, Yoga Reaches Out focuses on raising funds for organizations that impact the health, education, and well-being of children. Here in Boston, I have chosen Boston's Children's Hospital as the major recipient for our first two Yogathons. When my son Will was born 10 weeks premature the hospital played a significant role in saving his life. It has brought me great joy to help such a wonderful organization. The funds from the first Yogathon were allocated to the neonatal unit at the hospital and this year's funds are helping the autism programs. In addition, YRO has helped other non-profits including Yoga for Single Moms, The Home for Little Wanderers and Africa Yoga Project. Yoga Reaches Out is a registered 501c3 that donates 100% of its net proceeds to charity.
Jeannie: Tell us about the two causes which the San Francisco Bay Area Yogathon will support.
Sarah: The Yoga Reaches Out Bay Area Yogathon is benefiting Children's Hospital and Research Center Oakland and the Africa Yoga Project. When I was at a Lululemon Athletica Ambassador Summit in Vancouver last summer I met a fellow ambassador from California that was inspired to raise money for her hometown hospital that is in dire need of support.
Malia Hill along with Jenn Perell are the Program Coordinators for the Bay Area. Children's Hospital and Research Center Oakland is the "safety net hospital" for thousands of children throughout the Bay Area. The hospital has always been committed to providing the highest quality care to all kids, regardless of ability to pay. The Yogathon is supporting many areas in the hospital including their Healthy Hearts Program which is designed to prevent and treat childhood obesity and related illnesses, such as diabetes, heart disease and high blood pressure.
The event also continues our support of the Africa Yoga Project. I am deeply inspired by AYP and how they use the transformative power of yoga to empower communities and change lives. AYP delivers effective and innovative programs that foster peace, improve physical, emotional and mental well-being, facilitate self-sufficiency and create opportunities to learn and contribute across the immunities of East Africa.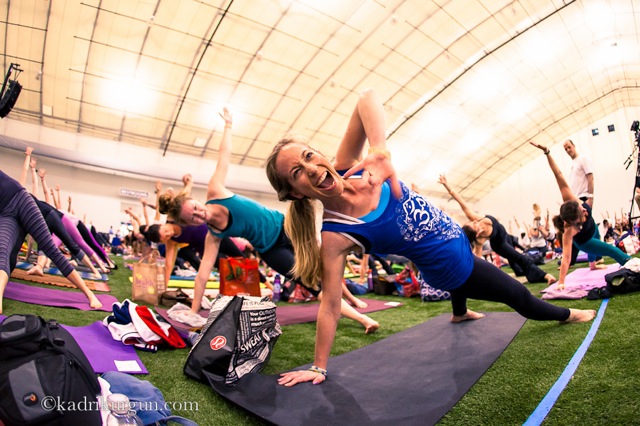 Jeannie: Yoga Reaches Out seems well positioned for a successful expansion. What regions are you targeting next for your next Yogathons?
Sarah: The vision of YRO is to expand to different regions in the United States and potentially internationally. We have been approached by states including Texas and Florida. The first step is to begin chapters in these areas and empower their yoga communities to embrace the mission of Yoga Reaches Out and then begin planning for future YRO Yogathons.
Jeannie: Is there still time to sign up for the June 30th Yogathon in Oakland? If so, what is required to attend?
Sarah: Absolutely! It is going to be an incredible day that the Bay Area does not want to miss! The Yogathon is open to men and women of all abilities over the age of 15. Each participant registers for $25 by going to www.yogareachesout.kintera.org/bayareayogathon.com and is able to easily set up their fundraising page. Each participant commits to raising a minimum of $250 to reserve mat space for the day. Participants have until the end of August to fundraise. You can register as an individual, start a team or join a team. You can also choose to pay the $250 and not fundraise and the funds will still go to the charities. In addition to fabulous presenters, the Bay Area Yogathon includes Stand Up Paddle Yoga, AcroYoga, Yoga Slacklining, music, food, marketplace and more.
Jeannie: In what other ways can people get involved in and help the cause of Yoga Reaches Out?
Sarah: We would love your help! As I like to say: I've never worked harder, but I've never been happier. If we can take the power of yoga and direct it towards helping children in need then what we practice on our mat is taken off the mat to truly make a difference in the lives of others. If you love yoga and would like to take that energy to help children in your community by starting a Yoga Reaches Out chapter, please email me at [email protected]. Please visit our website at www.yogareachesout.org to learn more and hopefully become a part of the YRO community.
There you have it folks. If you're in the Bay Area and you want to come to the yoga mat to support a fabulous cause, now is your chance! There is still plenty of time to sign up and you have until the end of August to raise your $250 in pledges. You can do it! So gather up your friends and fellow yogis, or even pull together a work group or any social group and make it a team effort to give back to a great cause.
If you're interested in helping Yoga Reaches Out to start a new chapter, please reach out to Sarah at the email above. With your support we can help Yoga Reaches Out to expand across the country and beyond, bringing much needed aid to children all over the world.
Please be sure to visit Yoga Reaches Out's website and also be sure to like them on Facebook. Also check out the Facebook page for the Yoga Reaches Out Bay Area event.