get elephant's newsletter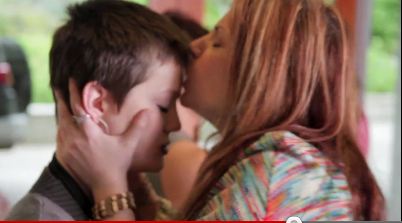 Yoga Is Big Enough for All of Us
I interviewed Jill Hope Johnson one Friday between my yoga teaching, after viewing her online show Yoga Town and reading about her on her website. The paper version of an individual never does them justice. How could it? Paper is flat and individuals come in three dimensions, and if you look inside we are multi-sensory, the usual five senses and then some.
I knew from reading Jill's blog and article here on Elephant Journal that she is funny on paper, ultimately the hardest thing to do with the written word. But the person I met, with all her varied talents, where she combines writing with film and theater and fitness, while doing community work with kids, could have been my neighbor, someone I'd visit with a cup of coffee on the spur of the moment whether or not I needed to borrow an egg.
And Yoga Town, as I say in the interview, is a hoot. We who are into yoga tend to be so serious, too serious in my book. If we are only there for the fitness, those who have made it their spiritual practice tend to judge the asana practice of yoga as not "real" yoga, while those who want to get their sweat on, listen to the chanting and the talk of Samadhi as lofty, unreal, and irrelevant.
The fact is, yoga is big enough for all of us. Yoga Town is entertaining, funny and alive. Jill's blog makes the student's dilemma real and is just as funny as the show, with insight that rises like dross to help us touch our own truth.
The beauty of a show like Yoga Town is the opportunity to see ourselves through smoky glass. The reflection is not direct, nor blinding, and we see what we can when we are ready.
Interview:
EL: So I read your bio and website and watched Yoga Town….are you new to the world of yoga?
JHJ: I've been doing yoga for about 12 years after realizing I was a mind control freak and needed a way to let go.
EL: What inspired Yoga Town…and have you always written?
JHJ: I am from a family of writers. My mom was a magazine writer and my grandmother a poet, and my brother a novelist. So, the writing has come naturally to me, but the yoga has always been a love-hate relationship!
EL: Love it. And Love your humor…just to clarify, 'cause I see you work with Tracy [Tracy D. Smith], is Yoga Town your baby?
JHJ: Tracy directed it while being pregnant with her first child. She brought the tenacity of pregnancy to the forefront in her loving, nurturing way. And, I was the creator and producer. I worked with Ashwin Sood, to co-produce the show.
EL: OK. I watched the episodes and plan to share it with my students. It is a hoot…I find the characters in Yoga Town real. They speak to me.
JHJ: People are funny, naturally, and putting them in a yoga setting makes them so particularly passionate about 'who they are.' We're all trying to get somewhere, and yet, where we are is just fine, isn't it?
EL: Did you have one mentor in particular who touched you in your life, in writing and in your world in fitness and yoga? And curious you choose not to teach yoga…
JHJ: I have been in the wellness industry for over 20 years working running studios as a personal trainer and manager, but I never wanted to be an instructor. It is my own journey of selfish intention which I want to cherish for me without the pressure of teaching others.
As far as inspiration, Nico Luce with Nico Luce Yoga is a wonderful mentor who goes around the world teaching others. And, he ain't so bad to look at.
EL: Oh, I know him from My Yoga Online….I like so much of your blog…the teacher who talks too much and the woman named Padma! She may as well be Rose.
JHJ: Padma. What's the deal with that name? I would call myself 1.0.8. It would be so much more infinite…
EL: Did combining your love for fitness and exercise with writing happen organically?
JHJ: It was organic as the 100 mile diet.
EL: And you continue to do community work/volunteer?
JHJ: I do bits of everything. I also work in a school setting, which basically means I am volunteering all the time. I particularly like working with youth at risk and helping them navigate the pitfalls that us adults leave for them.
EL: So I want to ask if the characters are modeled after specific individuals, if you can say.
JHJ: Elijah represents the 'corporate business' that is taking over the wellness industry. He's our pied piper of yoga who can swoon the masses with 'love' and make more money than Deepak on a good day.
Willow represents the small indie studios. The studios that have great intentions, but bad business sense and can't seem to get it together to make shakti and provide karma without going poor.
Amber is the jaded kid that represents teenagers everywhere right now.
Chas is the romantic who is our 'yoga star,' the kinda guy that loves the fame, but isn't a very good teacher. Just good looking. Isn't that enough?
And Neela represents the vultures of retail that often come and go into a studio in order to 'spice it up' when all else is going 'pete tong.'
EL: How has the reception been to your show? Can you tell yet?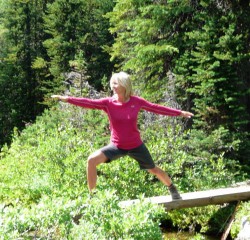 JHJ: I think the serious yogis just 'scoff' at it because it is 'making fun' of yoga. But really, it's about human nature. All of us have it. All of us are competitive with each other. We do live in a world where survival is a key intention, but those that really take a look can understand what I am trying to say. And that is, that everyone can play in the same sandbox, if we all have good intentions to do so.
EL: I agree. I would think or hope the serious yogis could get it more than others because that's the yoga. So have to ask, what is yoga to you?
JHJ: I started my practice 12 years ago, loving it one day, and hating it the next. What I am finding now, is that I can't live without it. I actually embrace the love-hate relationship I have with it, because it mirrors life. I was in a flow class last night and the feeling it gave me after was an incredible 'high,' that I will be okay, that I am enough, that I can have it all. Yoga to me is like running. It's the best when it's over!
Always remember, that yoga is another four letter word. I have a bit more cynic in me as a way to mask my inner self, and the reason I don't teach is that the cynic may come out as my outside voice. But yes, I greatly admire teachers who speak their truth from within.
EL: I like that yoga gives you a catalyst for love/hate because we all have that dynamic within ourselves in some form or another.
JHJ: Yes, remember that love and hate are four letter words as well.
EL: In my classes we just talk and we laugh a lot, depending on my energy.
JHJ: Laughter is the key to a fulfilling life. I am thrilled to have been a part of this with you. Thanks so much.
When we were speaking of control, I would have loved to be Captain Kirk or Zena the warrior princess! I would have been a great princess.
EL: Ah, try Carolyn Myss and her archetypes…better a princess than a damsel.
JHJ: Just a note that I was lucky enough to have Sarah McLachlan do a guest appearance in the show. People can look forward to that. She is quite the yogi!
As an accomplished writer, the most recognizable elements of Jill Hope Johnson's work focuses on her love of black humor, and her gift of storytelling. She has a fresh way of looking at the world—as demonstrated in her funny, edgy, and often unsettling portrayals of human relationships. Whether the format is stage plays, screen and television writing, or speech writing, Jill knows how to suck the marrow out of life, and when you get down to the bones of it, communicate just how unattractive the marrow can be. Jill's most recent work is a mockumentary web series called "Yoga Town" that satires the business of Yoga. New episodes can be seen weekly at www.watchyogatown.com

I am a full time yoga teacher, trained at City Fitness in Washington, DC, and Willow Street Yoga Center in Silver Spring, Maryland. I have been writing poetry since I was 9 years old. Poetry is my first love and yoga continues to feed my heart. I write because I love it. I teach because I love it. I tell my students all the time: do it because you can. That works for me. I believe in creating opportunity. I believe in helping my self and others. I think faith is the most important gift of life, because when we lose everything else we still have that in our heart. I believe the natural state of being is happiness, or bliss, or Ananda. Life is a celebration. Poetry and yoga help me celebrate. My blog and website: Edie Yoga.

 ~

Editor: