get elephant's newsletter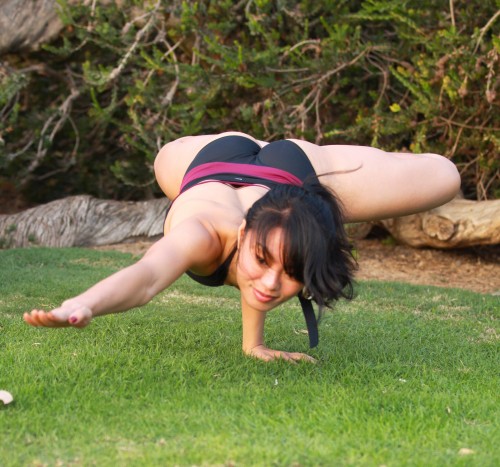 *This is Part II of ChauKei Ngai's Yoga Journey. Read from the beginning.
Part Two, Finding the Voice and Heart of a Yoga Teacher
ChauKei Ngai has competed in Bishnu Gosh International Yoga Championship for the past five years and earned the Silver medal in 2012 and 2010 and the Bronze medal in 2011. She intends to push for the Gold medal in the June 2013 competition. This series of four articles will outline her rise from a scared little girl to world champion yogini and mother of a three year old son.
Yoga taught ChauKei how to breathe, but she had yet to learn to speak. When she began the Bikram teacher training, this became her biggest fear. As she puts it: "In Asia, women who speak loudly are stigmatized and we are not taught to speak up for themselves. Speaking loudly is considered rude. I saw myself then as a very sweet and polite Asian lady—and that meant lowered eyes and a soft voice used rarely." As soon as she arrived in L.A., and began the training, she realized she would have to change everything about herself to succeed.
While a large portion of teacher training is, of course, a focus on the 26 postures, another huge component is learning to teach a class and teaching a yoga class is all about using the right words at the right time and thus about voice. Students are told they need to learn to use their voices much as professional singers do, to enhance their position of authority and also so they don't get burned out from teaching many classes.
Halfway

 through the training, ChauKei felt she was falling seriously behind as it seemed every one of the

200

 

students in the session had learned to use their voice much better than she had.
At this point, a teacher gave her the "extra homework" of going to the back of the room and grunting loudly enough for everyone to hear. She tried to try this, but only felt mortified and still couldn't get her voice out. It was her roommate, Suzannah McDonald, an Australian born actress, who had a breakthrough idea. She suggested they go up into the mountains to practice the grunting exercise. In one of the breaks from classes, they did exactly this. Trusting Suzannah and not feeling judged on that mountain top, ChauKei began to find her voice. Giggling with Suzannah at the absurdity of it all, she managed to utter a grunt that nearby ground squirrels might even hear. Taking a great yogic breath, she somehow opened her voice into a primal yowl that appalled her as she felt echoes which might somehow even reach Hong Kong, but still filled her with pride as she heard herself do it. From there on, it was still baby steps, but she had found her voice.
As the panic about her voice began to recede, ChauKei began to embrace the training and appreciate that a voice was much more than the mechanical effort of producing sound, but that it was about generating a message from the heart. She found herself engaging in an ongoing process of finding her true voice as she began to teach. As she puts it, "I began to feel more comfortable teaching when I was about two years into it. I was traveling to different places and studios and constantly asking for feedback. All sorts of feedback came from many directions, and I started to feel confused until I decided to go back to referencing that point in my core that actually makes me feel good and inspired about teaching the class. I no longer decided whether I had taught a good class entirely from others' feedback, but rather learned to listen to what my gut feeling was telling me.
"I realized that my insecurity had returned somewhat during my first two years of teaching, and that I was basing my sense of success only on feedback from others. This didn't work and I decided I needed to do it differently. While I still gather and respect all feedback (both criticism and praise), I see it all as a part of the experience. I moved from teaching from my mind to teaching from my heart, and my own voice started to come out, not the voice through my larynx or the vocal cords, but from the voice from the heart based on knowing myself and not being afraid of people knowing who I am. It became a compassionate voice of trusting that who I am can help others find who they are."
Chaukei was clearly on her way to finding the true voice of a teacher. We will address her continued journey toward that voice and yoga championship in the next articles.
Blythe Forcey Toussaint has been dedicated to the practice of Bikram Yoga for over seven years and has come to know ChauKei as a yoga teacher, health counselor and friend. She is an author of historical fiction and keeps an active blog on the social realities of the Civil War. In addition to her writing and yoga obsessions, she spends all the time she can hiking and backpacking in the Colorado and Wyoming mountains with husband and their three large dogs.

~

Editor: Dareni Wellman