get elephant's newsletter
Source: imgfave.com via Margaret on Pinterest
I spent a lot of my life being angry, and what a complete [email protected] waste of time that was.
The running current of frustration that would later flavor my life flooded in when my father suddenly had a heart attack and passed away when I was 11. He had just turned 40 less than a month before. The possibility of losing him, or anyone I loved, didn't seem like it could happen. I don't think I really thought it was possible, and then in one split second, it was.
He was gone.
I wasn't ever going to get to say the things I'd been waiting to say. There were no more weekend visits, no more Wednesday nights at Chelsea's Restaurant, eating hot wings and watching each other smile. There was no more of me worrying that he could be right when he said he just had a feeling that he wouldn't live past 40.
It made me sick that he was right.
It made me sick that I hadn't spent more time with him, that so many times I hadn't even wanted to go there to visit in the first place; it made me sick that I had lost my chance to get to know the man I would die to spend just a minute with now.
No more. All done. Finished.
And that's when the regret set in. That's when the anger moved in, that's when frustration and resentment and total heartbreak snatched up my soul and began squeezing. I know for sure that this is exactly when my world began to shatter; this is the precise point where most of my brightness dripped out from my seams.
Everything changed. I changed, and changed, and changed, and changed.
My childhood bubble exploded, and suddenly I just didn't feel like a kid anymore. I remember distinctly feeling as though everything as I knew it was over, probably because it was.
Two deaths for the price of one—so unfair, and I knew it; I felt it. I still do.
It's taken me a long time to get honest enough with myself for the truth to rise up from under what I wanted to believe. I've still got a lot of work to do. I'm still angry about the shit that happened. I thought I'd let it go, I thought I'd done enough Warrior Two holds, enough handstanding, enough full-split-ing, enough teaching and writing and looking in the mirror, but it turns out I need to go deeper still; I need to wipe out that last little bit of fog there clouding the mirror, because I need to see myself even more clearly if I want to start to change.
So that's what I'll be doing this year—sitting with myself, getting to know myself on a deeper level than I have before. I'm going in, and in, and in; I'm traveling straight to the cracks and sewing myself up at the seams. This year I am moving through this, I'm committing myself to change, this year I am really, truly going to be taking a nice long, lingering look at myself in the mirror of my life.
Because I need to know where I am to know how to get to where I'm going.
Because I want to let go of who I know myself to be for who I can potentially become.
Because I don't want to have any more regrets.
I don't want to be running from the emptiness that haunts me, fighting off the furry that taunts me, I don't want to miss any more moments, I don't want to waste any more time holding onto the past when I could be moving toward my future.
Now is the time to change.
We only have so much time. We only have so many second chances, well, so many, until we have none.
We never know when things are going to change, so best to start changing now.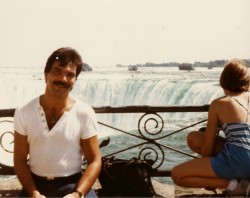 Ed: Brianna Bemel