get elephant's newsletter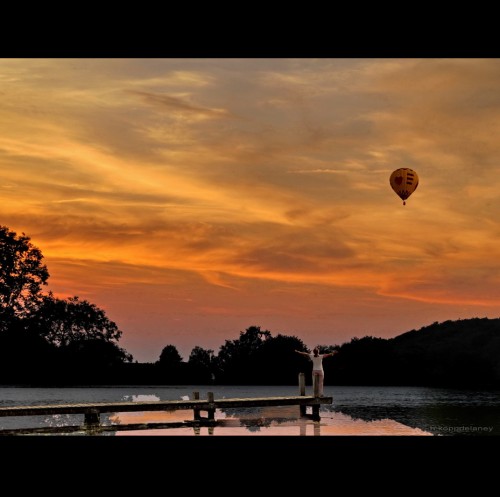 Where are you arriving from mysterious stranger?
Looks like you are in pursuit of that which I'm seeking.
Strong sensations are vibrating through the quiet of my womb.
Rising up from the dead, I am.
I watch as I clumsily climb back into life. Tip toeing around you, intriguing statue you are. Cautiously and curiously like an infant, watching you, I am. As if I'm seeing and taking in life for the first time.
Perhaps it is life I'm seeing for the first time. As what I'm used to receiving came with the stain of fear, birthed through the illusion of death, and disguised as life.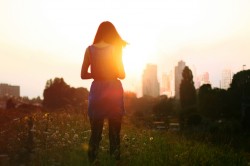 My resistance is too weak to put up a fight. My limbs are numb. I'm speechless and find myself spiraling out of control. Yes, out of control, I am.
I am waking up from a long hibernation. I feel stirs from the depths of my internal world. I'm coming back to life and all because of this vision that's taking over my sight.
Coming back to life, I am.
One cannot let this gift of vision go to waste. Hypnotized forever, I am. Ruined forever, I am. To see such beauty before me. How will I ever be accepting of anything less?
This energy is soothing, and a healing ointment for my scars left unattended.
My body seems to forgot its practical functions and I witness myself falling to the ground. Paralyzed by sight, I am.  Collapsing into a pool of wonder.
Consumed by you. A sight of immense possibility.
Entranced I sit. I loosen my grip of the world for a moment and climb into your body with both my eyes.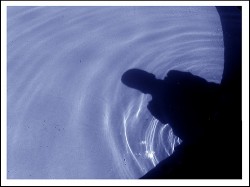 How can it be that you are standing here? Taking my vision hostage. Taking over my ability to function.  I witness myself melting into you.  Is it your dream I have become? Or is it I sitting in a dreamscape of desire?
May I share what I'm feeling? This sugar sweet feeling on my heart. Now dripping honey from my lips, messy as it runs down my skin, caressing me tenderly. Sweet, I am.
Excuse my stare. I'm paralyzed by your beauty and can't seem to steer myself in any other direction.  I'm locked into you forever, I am.
Out of control. Crazy, beautiful.
How rude of you to show up so unannounced.
Could you not have given me more time to prepare myself?
Where do I go from here? I feel a bit lost with this unexpected gift of presence.
How nice of you to stop by. Forever grateful, I am.
And so I treasure this moment and watch as…
You are receiving me, receiving you.
You are feeling me, feeling you.
You are seeing me, seeing you.
Forever in love, I am.
Marlize Joubert is a writer, philosopher and poet. She shares inspirations from the soul. Expressions from the heart, and discoveries gained on her soul's journey. She teaches yoga to people from all walks of life. She's a faciliator for healing. And an Ambassador for life. Her roots are in Yoga; (Vinyasa, Iyengar, Pranayama, Ashtanga, Yoga philosophy), Meditation modalities,  Nutrition and the juicy mystery of life itself. Curiousity and honest self-exploration has always been a source of tremendous healing for Marlize and her calling to be of service to the world at large has been clear to her since a very young age. Marlize currently lives in sunny California where she teaches Yoga to a wide variety of people, privately and in Studios. Marlize also leads workshops on a monthly basis. You can check her website for her retreat destination schedule. Marlize is a qualified E-RYT500 teacher and leads yoga teacher trainings locally and soon globally. Meditation and breathing circles are another gift she offers to her students. The work is highly transformational and empowering. Marlize continues her journey as a student of healing arts and considers herself a lifelong student due to her life outlook that there is no limit to knowledge and understanding. She is deeply grateful for all the wisdom of all the teachers and lineages before her. They left us with a wealth of knowledge where anyone can find support through the ever changing universe. She hold certificates from Yoga Works 500hr (Annie Carpenter, Sonya Cottle, Lisa Walford, Jasmin Lieb), Exhale 500hr (Saul David Rey, Shiva Rea, Erich Schiffmann, Hala Khouri), Para Yoga 50hrs (Rod Stryker), David Elliott HT1-6, Advanced Medical Qi Gong 3yr, Thai Yoga Massage 50hr (Saul David Rey). Marlize is a Ambassador for Yoga Earth, Manduka, and Lululemon.
Assist. Ed: Sarah Winner/Ed: Kate Bartolotta