get elephant's newsletter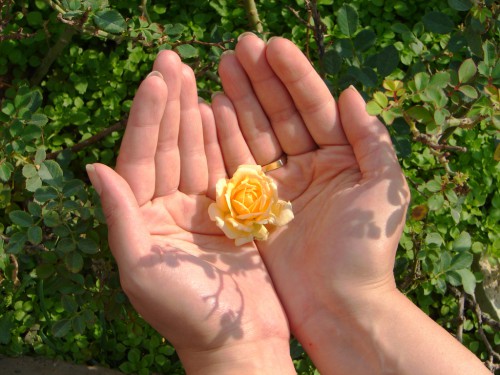 Hanging on to let go, letting go to hang on.
An easiness settles in after weeks of crying.
Grief sheds night as darkness sheds itself into day.
The sun in my heart feels the promise of spring.
The patchwork that makes up my heart tells a story.
My blood weaves a web like a dream catcher and pumps my veins with the prana of hope.
Life unwraps meaning from then to now with a single breath.
I sit with quiet and feel time vibrate with the sound of birds.
My tuxedo cat rarely leaves my side.
I brew coffee drinking in the aroma that feeds morning.
I plant what I think on my calendar and let it be.
Each moment brings me closer to me.
What I want and who I am settle like a debt I could never pay and now no longer owe.
Worry folds its seeds out my window and I see a white rose.
Faith cannot always answer questions, but that is the answer.
Listening is the prayer.
Miracles land on my doorstep.
My neighbor shared her day old kitten with me, small like a big mouse.
I pet his head as he sought comfort.
Isn't that what we all seek, love's comfort in a touch of kindness?
My imagination won't ever give up: words float like an air balloon from Oz back to home.
I find my home on blank pages able to give what I rarely give myself: understanding flowers.
And, like a bee, I take what's sweet and go from to bud to feed what needs.
I felt like a leftover many times.
Yet today what matters isn't what's given or taken.
The more we put out the more we get back.
Karma is like that…taking the alchemical scales and weighing the metals to reap the gold.
Yet if I don't take what's base and use the magic of love, the return is baser.
Then chance announces herself like fickle rapper.
You cannot ignore the random surprises or crazy accidents and the crap shoot of fate.
Instead I learn her tune and dance so I know how to change and make a song soothing to my ears.
I cannot sing but harmony always meets me half way and even when I don't know the words I can chant or hum or make a rhythm with my hands.
An encore applause is nothing but a loud prayer saying bring more.
I say bring me more.
Learning life's lessons is not like the ABC's; sometimes I have to go back to the alphabet, master the tune all over for the melody might change or the instruments might break and not knowing what to do never helped anyone or anything.
So some days I laugh and some weeks I cry.
But right now I know why means less to me than how and how brings babies to earth and souls to heaven.
Love does not ask for anything. Love asks for everything.
Ed: Brianna Bemel