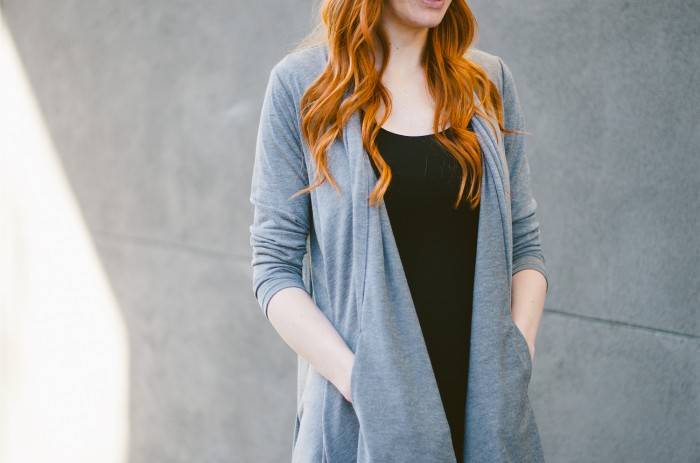 As a sustainable fashion designer, I'm always looking for ways to make our clothes less damaging to the planet.
Fashion isn't pretty; everything from GMO cotton seeds to harmful pesticides to carcinogenic dyes goes into the clothes we wear. If you're hip to the link between fashion and the environment, you're probably already shopping responsibly—buying organic, deadstock, and recycled PET from transparent brands.
But guess what? All of our sustainable efforts don't matter much if the clothes don't last a long time.
Sustainability isn't just about fiber content or dye methods. It's also about longevity. It's about cherishing the precious resources required to make our clothes, and bowing out of the "disposable" fashion game that cycles clothes from fiber to landfill in a matter of mere months.
There are several (super) simple ways to extend the life of your wardrobe, and get every ounce of goodness from your favorite fashions.
1. Wash on Cold
We are obsessed with cleanliness, and most of us equate that to hot water and soap. But the truth is, most fabrics don't hold up well in hot water—especially anything with lycra or elastic, like yoga pants. Wash on cold to preserve fabric and color. Yes, your clothes will still get clean. Yes, you will also be a steward for the environment and save lots and lots of energy.
2. Add vinegar to the rinse cycle.
Fading color is usually the first sign of wear. Adding one cup of vinegar to the washing machine during the rinse cycle will do wonders for the brightness of your clothes.
3. Turn your jeans inside out.
Most jeans companies recommend this. It reduces surface abrasion, and keeps dark jeans dark.
4. Zip it all up.
Open zippers on hoodies and such can destroy the rest of your clothes in both the washer and dryer. Those little metal teeth are dangerous! Zip them up before tossing them in.
5. Hang or lay flat to dry.
Another early sign of "too much wear" is pilling, especially on the seat of your pants or between the thighs (the ladies who frequently rock yoga pants will know what I'm talking about). Keeping your clothes out of the dryer can help immensely. Hanging your clothes (outside or inside, depending on the season) or laying them flat to dry will slow down pilling, fading, stretching, and loss of elasticity.
6. Use less detergent.
Try cutting your detergent use in half. Clothes don't need to be drowned in soap; a little goes a long way. Too much soap can leave a film on clothing, which can build up over time and actually keep them from getting clean the next time you wash.
7. Get stains out as soon as you can.
Treat a stain while it's fresh. To avoid traditional stain removers (which can be harmful for both humans and clothing) try some alternatives like vinegar and baking soda.
A few things to try:

Soak stains (yes, even red wine) in white vinegar for ten minutes before throwing them in the wash. If your stain is super-fresh, sprinkle on some baking soda before you start the vinegar soak. If it's extra-tough, make a vinegar and baking soda "paste" and give the stain a good brush with the paste and an old toothbrush. For grease stains, try soaking in cola for 15 minutes. It sounds like a bad idea, but the phosphoric acid will work on the grease, and the cola will wash out in the machine.
8. Wear underwear. Seriously.
It'll keep your clothes clean of bodily fluids (mostly proteins that can be tough to wash). Unmentionables should be washed after every wear, but everything else can have multiples wears before the next cycle.
9. Sort by color.
Just like your mother taught you. (As a lazy twenty-something, this one is tough for me, but whites really will be whiter when kept separated.)
10.  Use that little mesh bag.
If you've ever looked in the wash to see the spaghetti strap on your favorite tank twisted all the way around the "core" of the machine, you already know why the mesh bag is key. Those delicates, swimsuits, and spaghetti straps will thank you for protecting them.
11. Follow the care instructions… most of the time.
Apparel companies know what's best for their clothes, so follow the rules for wardrobe longevity. But note: most clothes that say "machine wash warm" can be washed cold just the same. Always adhere to more specific instructions, like "lay flat to dry."
12. Fold and hang (appropriately).
Sweaters don't always want to be hung, and blouses don't like folding. Clothing storage can be just as important as washing and wearing, so give your clothes a nice home that will help keep shape and fit.
13. Repair and reinforce early.
Quick action will be rewarded. The best chance of saving clothes (especially jeans) is to stitch or patch up as soon as a problem area appears. Don't wait for that gaping hole; it'll be too late.
Finally, some proactive tips:
When shopping for new clothes, consider the washing instructions before you buy. Will this garment easily fit into your washing routine? Will you be able to take great care of it?
Take notes on color, too. If you typically ruin a white t-shirt in the first few days of wear, go with darker hues this time.
And finally, quality is king. Disposable fashion won't last, no matter how well you care for it. Shop from brands who care about longevity just as much as you do. Seek quality, and you'll be able to enjoy your favorite clothes for a long, long time.
Love elephant and want to go steady?
Editor: Catherine Monkman
Photo: Seamly.co