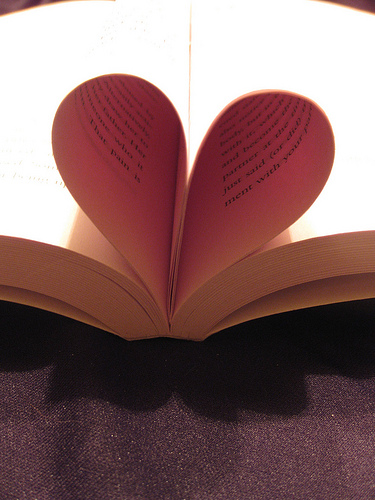 I grew up loving Valentine's Day.
I'm lucky because my parents always made it feel special, even if I didn't have a boyfriend or a crush at school ready to hand me a handmade card.
Yet as we grow older many of us either become sick and bored with the phony sense that this is only a "Hallmark holiday", or we're sad and lonely and don't feel much like celebrating. And, yes, love is a wonderful, joyous thing, but I think that many of us forget that love doesn't have to always come in the form of a long-term relationship and long-stem roses.
Love can come from friends and from children and from parents and, sure, from spouses too.
While I'm thankful to be spending today with my adoring partner, the love that I'll be sending out into the world isn't only extended to him. Actually, I was inspired to write this by one of my best friends, another writer, who reminded me that love is so much more than heart-shaped cookies and glasses of red wine (not that those things aren't fabulous).
So, for those of you who also needed a boost of loving inspiration, this one's for you. It's for you if your day, like mine, won't be as you might have ideally planned. It's for you if you're single. This hand-written valentine, from my heart to yours, is for all of us. (And I hope you enjoy.)
"Being deeply loved by someone gives you strength, while loving someone deeply gives you courage." ~ Lao Tzu
"I have decided to stick with love. Hate is too great a burden to bear." ~ Martin Luther King, Jr.
"I have found the paradox, that if you love until it hurts, there can be no more hurt, only more love." ~ Mother Teresa
"A man is already halfway in love with any woman who listens to him." ~ Brendan Francis
"The best thing to hold onto in life is each other." ~ Audrey Hepburn
"I like not only to be loved, but also to be told I am loved." ~ George Eliot
"Who, being loved, is poor?" ~ Oscar Wilde
"It is easier to forgive an enemy than to forgive a friend." ~ William Blake
"For small creatures such as we the vastness is bearable only through love." ~ Carl Sagan
"Love is the only reality and it is not a mere sentiment. It is the ultimate truth that lies at the heart of creation." ~ Rabindranath Tagore
"My great hope is to laugh as much as I cry; to get my work done and try to love somebody and have the courage to accept the love in return." ~ Maya Angelou
"I am good, but not an angel. I do sin, but I am not the devil. I am just a small girl in a big world trying to find someone to love." ~ Marilyn Monroe
And being human—exposing ourselves to love and to hurt—it's all part of the experience:
 "The moment that you feel, just possibly, you are walking down the street naked, exposing too much of your heart and your mind, and what exists on the inside, showing too much of yourself…That is the moment, you might be starting to get it right." ~ Neil Gaiman
Finally, I wanted to close with a favorite of mine, because it's inspirational for all of us, regardless of who we are sharing Valentine's Day with.
"To love oneself is the beginning of a lifelong romance." ~Oscar Wilde
Bonus: the best love song of all time James Sometimes (Lester Piggot) (1993).
Love elephant and want to go steady?
Editor: Rachel Nussbaum

Photo: elephant archives