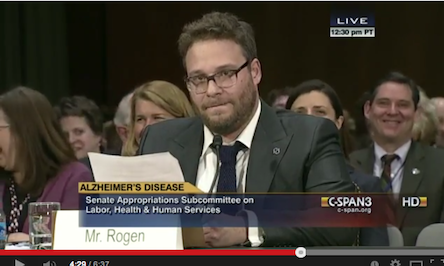 "First of all: Yes, I'm aware this has nothing to do with the legalization of marijuana."
Seth Rogen swings between hilarity and pathos so hard your head will spin. Moving, and funny…and effective.
"In a country where you can get a Dorrito-shelled taco for $1.29, heart disease is falling for adults while Alzheimer's is up 70% in the last fifteen years."
Seth Rogen Opening Statement (C-SPAN)
For more: Hilarity for Charity! 
Actor Seth Rogen gives his opening statement before a Senate hearing on Alzheimer's Research. From C-SPAN3 coverage, watch the complete hearing here: http://cs.pn/1c8QeoB #EndALZ
Afterward, via twitter: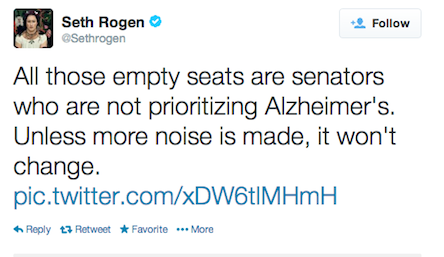 To be fair, via a Redditor:  "
Senators can serve on up to 3 committees and 3 subcommittees on each committee in addition to being present for floor votes, negotiations with the President, Foreign leaders or the House. Let's just be generous and say they have 13 part-time jobs, they can't be at every meeting.
Attendance is small for most committee functions and senators usually only come to the floor to vote or speak, then leave. The good senators (like Harkin seen above), work 80-90 hours a week. And he's 74.
It's the people still wanting to be president or TV money that give Congress the bad reputation.
EDIT: If you are curious, you can often find your senator's schedule on their website."