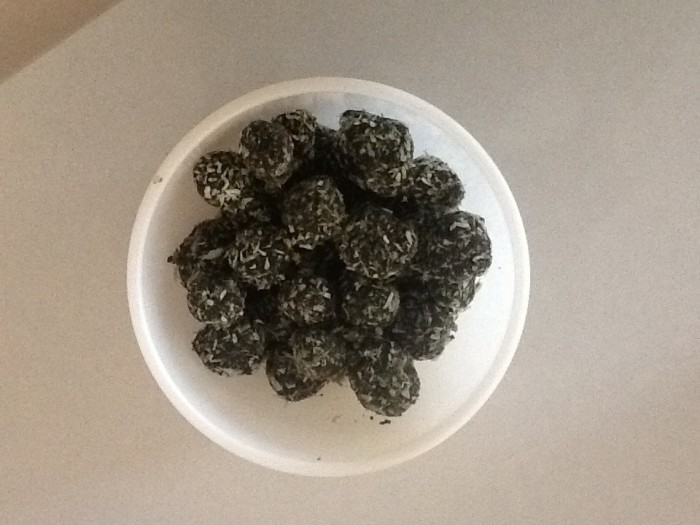 Many years ago I spent a lot of time in the kitchen perfecting raw food desserts.
They are so easy to make and so delicious.
This is the coldest time of year in my part of the world, so we find ourselves indoors more often, thinking of comforting memories that revolve around feel-good foods. It's therefore only natural that making desserts with children is a popular pastime this time of year.
It drives me a little crazy when people think my kids miss out as I don't buy chemical-laden biscuits, cakes and ice-creams. I make all of these for them, but ones that taste and feel better than their DNA-changing counterparts; and this is one of those recipes.
It's not all celery and hummus in a healthy diet. Even though this recipe contains mineral-rich green powders, the balls do not taste and are not green, but look a delicious chocolatey color.
They're also a great source of protein, iron, calcium and energy; along with being a good source of fats, including omega-3s, and minerals.
These snowballs are quite sweet. If desired, exchange some of the coconut, dates or raisins for more nuts and roll in sesame seeds rather than desiccated coconut.
You will need a food processor and a tub or bowl (for rolling the balls in) to make this treat.
Ingredients:
1 cup medjool dates, pitted and packed

1/4 cup raisins (can use dried cherries, goji berries or any other dried fruit)

1 tbsp coconut sugar

2 tbsps raw almond butter (can use tahini or any other nut butter)

2 tbsps organic virgin sesame oil (or coconut oil if melted)

1/2 cup sesame seeds

1/2 cup pumpkin seeds

1 tbsp hemp protein powder

2 tbsps green powder (I love and use one by Kiki)

Desiccated coconut, 1 tbsp for the mixture, 2-3 tbsps for coating (or can use sesame seeds)

1/2 tsp Himalayan pink salt (maybe more according to to taste)

1 tsp vanilla essence (optional)
Grind up the nuts and seeds into almost a flour. Add all the other ingredients, except the desiccated coconut, for rolling the balls in and coating. Pulse and mix the ingredients (you may need to scrape down the sides). If the mix is too wet, add some more powders/sesame seeds/coconut. If too dry, add some more pitted dates or agave, until mix is a doughy consistency. Roll the mixture into balls in between your palms. Roll the ball in the coconut shreds until it resembles a snowball. Pop one in your mouth, adjust ingredients to taste if necessary and enjoy!
Love elephant and want to go steady?
Assistant Editor: Lauren Savory / Editor: Rachel Nussbaum
Photo: Hannah-Marie Martin