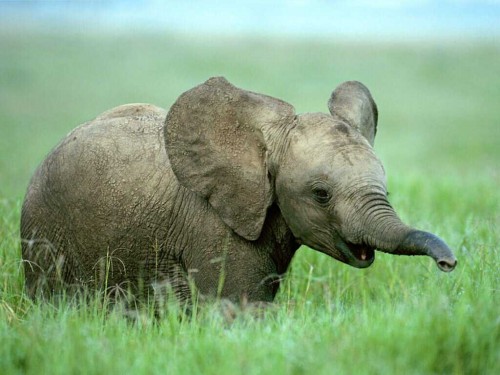 This baby elephant is way too cute for any words. She is sure to stop your heart for just a moment.
Just as a human baby might delight in the exploration of learning to coordinate the movement of her hands and feet, so does this baby elephant in using her tiny trunk.
A lot can be learned through the observation of pure joy and unadulterated discovery—all contained within a glimpse of innocence like this!
Hopefully, we can all be reminded to be taken aback enough to remember and realize that each day can be a new opportunity for exploration for each of us…but only if we can truly open our hearts and souls to our great universe so that we are able to receive its blessings.
The World Wildlife Fund:
"She was born last year to a mother who is part of an elite team of critically endangered Sumatran elephants that help protect communities from conflict with wild elephants. She's now 4 months old, growing fast and starting to imitate her mother's behaviour!"
Take a peek into this magical moment caught on film:
And of course, "Upside Down" by Jack Johnson:
Note: I did notice that the mom was being irritated by a chain around her ankle and it upset me. But, I am hopeful that it will be removed or that it was put there to protect her—what I believe to be WWF's mission.
Love elephant and want to go steady?
Editor: Jenna Penielle Lyons
Photo: elephant archives