Living overseas presents a whole new set of obstacles in terms of finding employment.
Applying for work had begun to feel like I was screaming in a crowded room just hoping someone would notice me and, at least, tell me to be quiet!
I am happy to announce, however, that after submitting a zillion resumes and a ridiculous amount of interviews, last week, I started a new job!
This news, generally, implies the end of concerns about money, but because I haven't had a significant income for quite sometime and because my fiancé and I are planning a one-year climbing road trip, we are putting the confetti and champagne on hold for the moment.
In an effort to finance this road trip and to support ourselves over the course of a year, while not working, we have opted not to buy a second car. I will commute, instead, by bike.
After two weeks of riding I have already noticed some significant advantages (besides all of the obvious ones to your health and the environment).
1) Saves money.
This one is a gimme but I couldn't not put it on the list. It is, after all, the main reason I decided to bike in the first place. I did the math and by not buying a second car we are saving at least $5,000 this year.
2) Skip the traffic.
Unless you count the, oddly oblivious, pedestrians who, more often than not, look straight up into the air when I announce myself, I get to bypass all that horrible morning traffic. Not to mention the frustration and headache that go with it.
(I find myself feeling quite smug about this, especially while sailing by the crabby guy who cut me off only to sit in the bike path a few blocks back.)
3) Time.
It takes me about the same amount of time to get to work on my bike as it does in the car (because of all the traffic). If it's raining, the traffic almost stands still, in which case I actually get to work faster…wetter, but faster.
4) Better than coffee. 
Don't get the wrong idea here, I still love my coffee, but this new morning commute is significantly more effective in waking me up. Plus, all that exercise puts me in a great mood!
5) I get to eat more food.
As a vegan foodie who also loves to cook, this is my favorite part about biking. At two hours (an hour each way) a day I'm burning an extra 1,000 calories. That makes room for more avocados, hummus, vegan mac n' cheese and…well, whatever I want, really!
So, join me in a morning glass o' smug and ditch the car and ride the bike!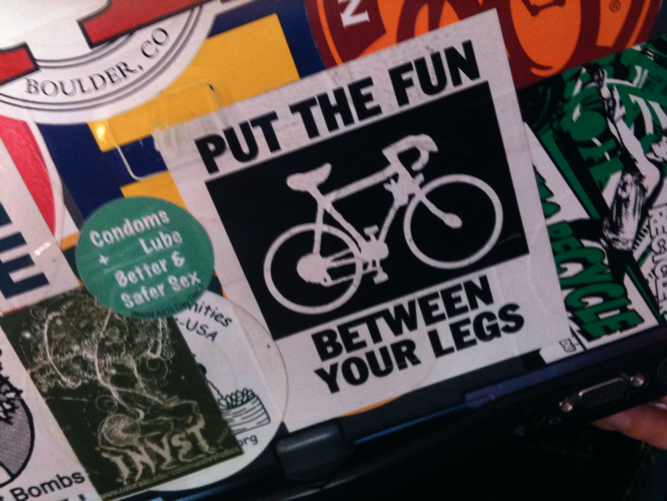 Relephant: 
Love elephant and want to go steady?
Editor: Jenna Penielle Lyons
Photo: Courtesy of the editor and Wikimedia Commons user Magnus Manske