I am walking away from a thriving acupuncture practice, selling my sweet little home and moving to a Texas metropolis and after living in Never Never Land for seven years.
Years ago, I attended a seminar conducted by an expert in the field of acupuncture and Oriental medicine. His entire thriving New York City practice was devoted exclusively to infertility. During the seminar he said something very basic, and yet, with seven years of experience in my rear view, very profound:
"Specializing in one area of medicine doesn't make you less of a practitioner in other areas, it actually makes you better. When you devote yourself to one specialty, it is only then that you see the true power and deepest levels of intricacy of your medicine and learn to utilize it to its fullest potential."
In the years that followed, I earned the nickname "The Ovary Whisperer." There are many children of proud parents running around this small mountain town I call home, who remind me why I love my job.
They also trigger something else deep inside me: frustration.
This lovely outdoor mecca I live in is the ideal "Pleasantville" for the athletic oriented family with epic mountain biking, backcountry skiing, trail running, kayaking, yoga in the park and one CrossFit gym for every 8,000 people.
Given the landscape, it also attracts a different group of people—the Peter Pans of the world.
These men are attractive, in fantastic shape, world-class athletes, even funny and intelligent. Yet, they live in this outdoor playground because they don't ever want to grow up. Nor do they want responsibility, careers or any distraction from their athletic passions, which means, to hell with commitment.
Sex is fine, but not with the baggage of a serious monogamous relationship.
This is how it has come to pass that I've spent the last four Valentine's Days alone.
This is why, after living in Never Never Land for seven years, I am walking away from a thriving acupuncture practice, selling my sweet little home and moving to a Texas metropolis.
I figure there my chances of finding a man with a job who doesn't fear responsibility and actually appreciates a tall blonde with brains are much greater.
When looking back over the last several years, I see a scattering of relationships that never even got off the ground. The reason? It was more important for him to have his options open and the freedom to date multiple women simultaneously—whether he was honest about that or, in most cases, not.
I've sat with this for a long time.
Am I outdated in my values or too traditional?
I've played the role of the "cool girl" who acts like she doesn't care, who proclaims "date whoever you want, I don't want to be tied down either!" I've given Emmy worthy performances of the strong and confident woman who doesn't need a man to make her feel special. I've done my research on male psychology. I understand that men like to hunt, and after they get their kill they're off on the next safari. Thus, women are supposed to master the art of playing hard to get (at least that was my New Year's resolution).
Then, I had an epiphany. 
I became crystal clear about why I want monogamy.
It's for the same reason I specialize in fertility: I don't want to be a general practitioner who does a mediocre job of fixing a wide variety of problems. I want to be extremely competent and skilled in one area.
Likewise, I want to be an expert in one man. I want to know what motivates him to get out of bed in the morning, where he wants to travel, what he wants to accomplish. I want to be the one who knows he hates cucumbers, but loves pickles. I want his family to become an extension of mine, and vice versa. I want him to be proud that I'm the person he can hang on his arm and show off to friends and co-workers.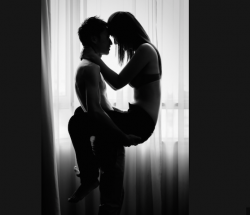 I want him to know I will be there supporting him through difficult times, encouraging him to pursue his dreams, taking care of him when he's sick and making sacrifices for the sake of the relationship. I want to be the shoulder he cries on when his dog dies.
And yes, I want to know that he's not taking all the love I have to give, and also going out to seek more of the same from some other woman.
The painter Georgia O'Keefe said, "Nobody sees a flower really; it is so small. We haven't time, and to see takes time—like to have a friend, takes time." To really know someone takes time. To see their beauty in its entirety takes time. To truly grow to love them takes time. What a sacred act, to give somebody else that much of your time, so you can learn to really see them.
Just as I have devoted my career to becoming highly knowledgeable in one area, outside of that career, I want to devote my resources toward building a life with one man whom I come to know on a profoundly intimate level. What I have to give of myself is extremely valuable, and I'm not willing to share it with someone who wants to take what I have to offer and dilute it by endlessly chasing after other women at the same time.
So, I say to the man who wants to be a general practitioner of women, with his office on the first floor next to the revolving door, "I am not the woman for you."
I am the specialist who works on the fifth floor.
Love elephant and want to go steady?
Apprentice Editor: Alicia Wozniak/Editor: Rachel Nussbaum
Photo: Pixoto