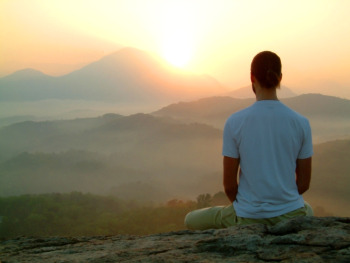 Some people think I am crazy for getting up at 4:30 every morning to meditate before work. Those people are right.
My alarm (which is my phone) goes off and I roll out of bed in the dark. I exit the bedroom holding my phone, trying not to wake up my wife while cats are trying to get by me and enter the room. My morning routine starts with going to the bathroom. After that, it's time for meditation. I grab my cushion and put it on the floor in my meditation spot. I sit on it in the half lotus position and meditate for thirty minutes, using my phone as a timer.
Then I go shower, get dressed, and eat breakfast. Then I pack my lunch and go to work.
I have to get up at 4:30 to do this. If I don't, I simply don't have time. My shift starts at 6:00. One of the things about meditation is that if I don't have plenty of time, then I feel like I have to rush. And that feeling is definitely not conducive to a good meditation practice.
There's a certain calm and quiet to 4:30 in the morning. The world isn't awake yet. I have two small children and obviously they aren't awake at 4:30. It's the only time when my house isn't loud. I do a short meditation before bed every night, but once in a while I have to skip that one because the kids are struggling with bedtime.
I never have to skip my 4:30 meditation.
Love elephant and want to go steady?
Editor: Jenna Penielle Lyons
Photo: elephant archives