I watched my mother struggle with pie crust her entire life. But why?
My homemade piecrust is perfect every time. Making piecrust is a breeze—if we follow four simple rules.
1. Use a simple recipe.
I use my grandma's recipe:
1 cup flour
1 stick of butter
3 tablespoons cold water
2. Patience and planning ahead.
Soften the butter well ahead of time. Having butter the perfect consistency is key. This takes a little practice. In the wintertime, I take the butter out of the fridge the night before, in the summertime only an hour of thaw time is needed (Note of caution: In the summertime butter can melt at room temperature—this is too soft.)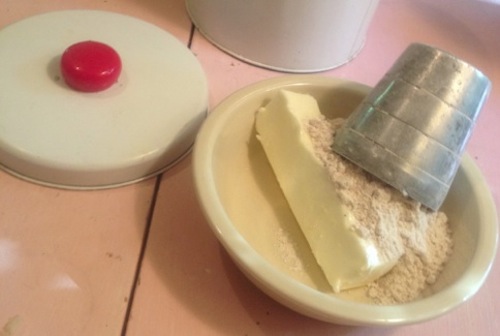 ~
3. Love.
Being in a relaxed state of mind is the most important element of good piecrust. If over-handled, the piecrust gets tough and becomes impossible to work with. Doing it right the first time is essential.
a. Set up our pie making area.
Have a clear, flat surface for rolling.
Have a clean, cloth napkin on hand.
Rolling pin.
Plenty of flour for rolling.
b. Take a deep breath. Put on our apron.
c. Proper mixing. Place the stick of softened butter in a bowl. Add 1 c. flour. Mash with the backside of a fork until the dough is the consistency of cornmeal. Add 3 T. cold water. Mix until uniform. Stop! Do not overmix.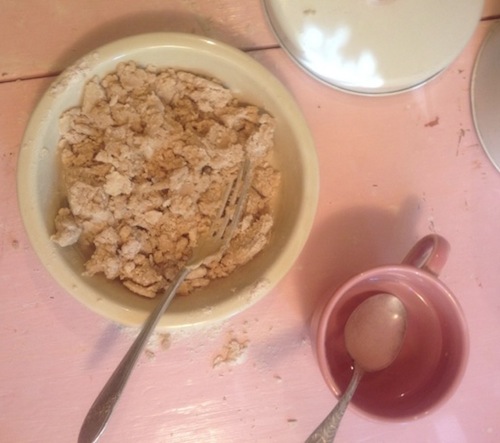 d. Roll. Form the dough into two balls. Lay the cloth napkin flat on table. Spread a handful of flour on the napkin. Place one ball on the napkin and mash it down. Put another handful of flour on the dough. Begin rolling with slow, even strokes. Follow through. If the dough gets too sticky, add more flour. Turn the napkin often, so the piecrust rolls out into a circular shape. When the piecrust is about two inches larger in diameter than the pie pan, gently pick up the napkin from underneath, and flop it into the piepan. Voila!
e. Fill the pie pan will desired filling.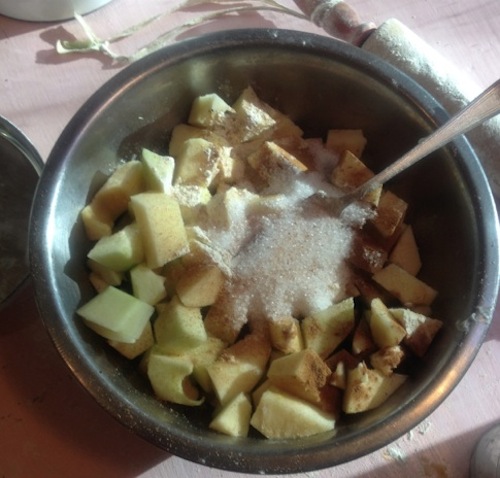 f. Repeat the rolling process for the top crust. Flop it over on top of the filled pie pan.
g. Pinch the edges around the perimeter of pie.
h. Cut a few vent holes.
~
4. Tips for baking pie.
Cook the pie near the top of the oven. (I like mine best, one rack down from the tippy top.) Put a cookie tray on the oven rack beneath the pie—this prevents any overflow from the pie filling sticking to the oven. When the pie begins to bubble, it is ready to come out of the oven. Cool the pie, in a quiet place, on a rack for several hours.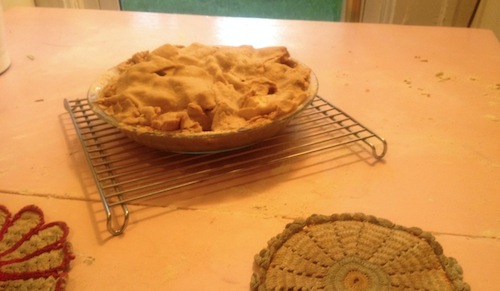 Enjoy!
~
Love elephant and want to go steady?
Editor: Emily Bartran
Photo: Author's Own