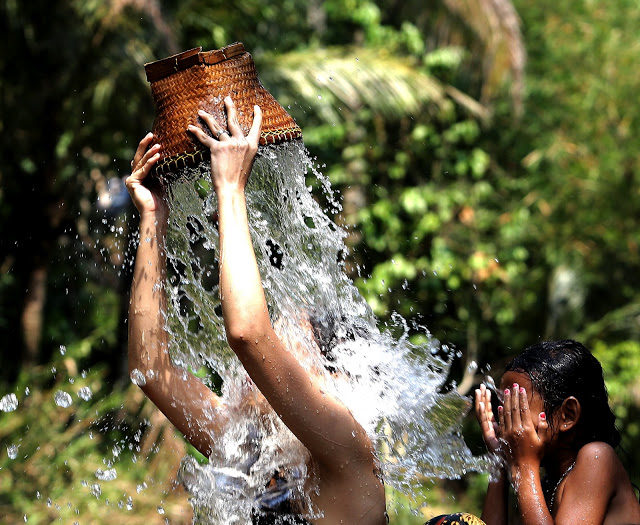 1. Drink in the slow.
How it is a kind of luxury. The way heat makes things seem to stretch out languid, and light stays into the night so the days themselves linger longer. The way, when slowing is a choice, even the simple things are like art, like celebration, like offerings at the altar of living. 2. Make cold soups for dinner. Raspberries, mascarpone, a hint of mint. Cucumber and shallots, dill and tarragon. Tomato gazpacho with avocado and lime. White peaches and wine. 3. Take a box of chalk out for a walk and leave sidewalk love letters to the world.
4. Follow your instincts and listen to your intuition and see what it is like, if even for just these few months, to radically trust yourself.
Make an experiment of it, "what I did for summer vacation." Start a little notebook for it, writing down the nudges, the ideas that come in the quiet, the first thoughts, the gut response. Take notes on where it leads you, when you listen and choose to believe yourself. 5. Go to the drive-in movie theater. Bring pillows and snacks and stay for the double feature. 6. Learn something new. How to apply the perfect cat-winged eye makeup with kohl or liquid inky liner. How to make crumbly apricot scones. How to change the oil in your car or make rope knots or paint your feelings. 7. Tell stories. Stories of beginnings and good-byes, of growing up and growing older, of memories and ghosts, of the best night of your life and your grandparents and how you once decided you would start sewing all your own clothes. Stories of the meal you cooked and finding god and losing religion. Stories of happy accidents and thunderstorms and selling girl scout cookies. Just gather together, and tell your stories. 8. Choose a wall that needs to be painted, whether a re-paint or whole new color. Pick a date to paint it, come September. Before then—until then—leave a jar of pens out and write on the wall. Pictures or poems, recipes or random words or the beginning of a novel. 9. Declare your intention. This is the summer of bare feet and getting lost. The summer of falling in love with reality. The summer of my hands in the dirt and watching things growing and finding forgiveness. The summer of fireflies and flowered swim caps and saying what I mean.
Whatever it is, let your longing be your lighthouse.
10. Re-discover the library. The cool of air conditioning on a hot day. Rows upon rows of books, waiting to be discovered. Wander into sections you might normally pass by. All those pages of paper and words. Remember what it is like to read books whole. 11. Let things grow, full and ripe and complete. See how much space they want to take up, the directions they choose, when allowed to roam wild and free. 12. Start the mornings with your hand resting on your heart, asking yourself what you want and need and know. 13. Sleep in the sun. Dance around the fire. Feel watermelon juice stick to your hands and run down your arm. Let popsicles melt and splatter on your paper sketched with the tattoo design. Spark your creative imaginings with curiosity and openness. Let your love blaze.
Love elephant and want to go steady?
~
Apprentice Editor: Guenevere Neufeld / Editor: Catherine Monkman
Photo: Pixoto / Dody Kusuma