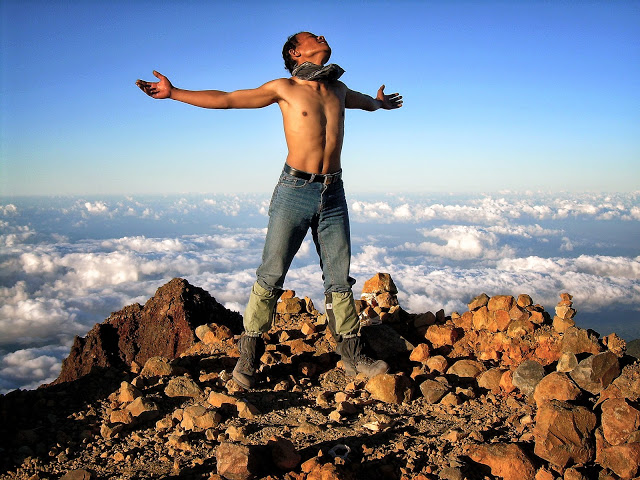 Warning: F-bombs up ahead.
"Our deepest fear is not that we are inadequate. Our deepest fear is that we are powerful beyond measure. It is our light, not our darkness that most frightens us. We ask ourselves, Who am I to be brilliant, gorgeous, talented, and fabulous? Actually, who are you not to be? You are a child of God. Your playing small does not serve the world. There is nothing enlightened about shrinking so that other people will not feel insecure around you. We are all meant to shine, as children do. We were born to make manifest the glory of God that is within us. It is not just in some of us; it is in everyone and as we let our own light shine, we unconsciously give others permission to do the same. As we are liberated from our own fear, our presence automatically liberates others." ~ Marianne Williamson
Yesterday as I was tidying up paperwork in my room, I found a quote that I'd written down from a woman I was speaking to about writing for her magazine.
She told me my voice was phenomenal.
I'm good at noting things like that down, and keeping them with me. I'm also good at writing them in little books or sticking them on my wall, keeping them close to me in some way to come back to in times of doubt or worry or wondering what the hell I'm doing, where I'm going, and whether everything is going to be okay.
I went to write that phrase out that she said, that I'd found in my notes, and stick it on my wall but then a voice and a physical sensation inside me encouraged me to stay small. It tried to swamp me silent. It tried to keep me quiet to my gold lying inside me. The sensation, desire and voice was to not write the phrase out. To pack it away and hide it. To keep it close to me, but keep it hidden in a place I will find it at some point again, but not have it there for me to read in moments I need it.
And then a voice piped up, louder than the one before—the one wanting to keep me silent, and said:
"Fuck staying small."
I loved that. I loved that a voice inside me said that, because she's true. Fuck. Staying. Small.
Fuck hiding your goodness, your light, your glory, your wellness and vibrancy, vitality, and enthusiasm, to protect other people or to stay where you, where I (sometimes), feel comfortable.
Stand there in the light, your light, and let the world see you for all you are. For your glory, for your pain. For your heartbreak, for your achievements. For your wonderings and for your wanderings. For your loves and for your hardships. For the bitterness and for the brilliance. 
For it all.
Let the world see you, and most importantly, let yourself see you. Because when I wrote that note and stuck it on the wall in my room, I realised that the biggest fear I have is of me seeing just how brilliant I am.
Of me seeing my brilliance. 
The sheer size of it—of my brilliance—blows me away, and moments I catch myself realising how amazing I am, realising all that I've done, all that I continue to do, and all that I've been through, I lose my breathe…the size of it feels too huge to hold, except I'm doing it. I'm holding it. I'm holding and I'm seeing me.
As I fall in love with myself more and more, I see this to be continually coming true – the more I fall in love with myself, the more I see what others have seen, and what the world has known. 
I just haven't been able to see me in my full volume. 
So do this: write notes and stick them on your walls; write love letters and allow yourself to see your brilliance. Even if for only a few moments a day, because these moments become more.
I still struggle a lot in a pit—or pits—of worry, self-doubt, and criticism, but the love outweighs it and bounces me back. The stronger the love gets the more resilient to these voices of self-hate or criticism, I become.
They don't go away, and I don't believe they ever will (in fact, I know they won't), but my ability to tell them to shut the fuck up, or simply to 'prove' them wrong, just know they're wrong, and to laugh at the ridiculousness and absurdity of my critic's meanness and convincing stories, will only continue to grow stronger.
Love elephant and want to go steady?
Editor: Catherine Monkman

Photo: Hamid Mukhlis / Pixoto