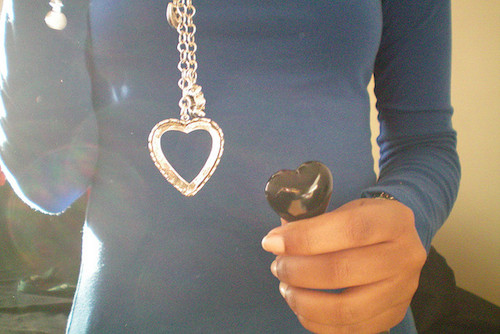 This girl, the one looking and ready for love, doesn't dream of grandiose gestures, extravagant gifts or fancy weddings.
She knows those aren't important. She wants something almost-ordinary, earthy, imaginable on the moment-to-moment reel of her days.
She daydreams of the little-but-big things—the conversations she will have with you, what books you will tell each other about, the hurried but happy goodbye kisses in the mornings, the birthday toasts, the squabbles over laundry, the way you will create funny, meaningless inside jokes between you and snigger about them when no one's looking.
She knows these are what make up the sum of days, relationships, life-long loves.
Be light when you're with this girl; bring humor. She's been through her fair share of heartbreak and pain (perhaps not only of the romantic kind) and she's now learning to live life with a renewed fervor. But as she's rediscovering her immediate world and daring to open her heart again, she develops new vulnerabilities. At times, these will make her feel heavy and stifled, so she'll need you to keep her uplifted and airy.
She wants so much to believe in goodness, splendor and happier days. In her search for love, she wants more than ever to trust again—this means she'll either tumble headlong into new friendships, almost blindly, or for a while, she'll hold back just that little bit of herself.
Let her know she is safe, either way. Know also, that she feels the world for you, either way.
Sometimes she will love too much or too fast. She will bubble over and swoon, write you letters about how full her heart feels around you. Don't let this overwhelm you. Just know that her heart overflows sometimes as she begins to lift its lid and fill it up again. Be kind and as gentle as you can—let her leap around you while you stay steady and calm and quietly loving. That crazy heart will find its stillness soon.
Always, always—you can help this eager heart find its careful balance by keeping things real, perhaps even a little gritty. Allow yourself to be messy around her. Know that she will love you more deeply and more strongly if she knows that, like her, you have that same propensity for being weak, slightly broken.
She doesn't see vulnerabilities as weaknesses; nor will she belittle them. She will see in them your real passions, the building blocks that make you you. She sees in them her own pains and will try to understand and respond as best as she can.
After all, she is also discovering, probably for the first time in her life, what it means to be truly comfortable with herself. Sometimes this means she wants to be alone and do things solo, because this is where she finds her strength and gets her footing. In these moments, leave her alone, understanding that she can love you as much (if not more) when you're not around, as when you're right next to her.
If you're with this girl, you'll notice, more and more, that she'll become quiet. She'll want to just sit and be.
Know that this is probably the truest her you will ever see.
In that silence, her heart is wide open and knowing, her mind resting, just so, on the little beauties of the moment, which includes you.
These are the moments where she has nothing to prove. In her stillness, she is finally balanced and grateful; there is nothing left for wanting. She has no demands of you, or of anyone; she has what she needs to feel beautiful and centred, loving and content in and of herself.
Her heart and mind and body are most open to you now. She has stopped running after things outside herself and looking for ways to patch up holes or fill herself up. She's no longer looking to you (or anyone) to fix her; she's looking at you, for you.
She understands that beauty begets beauty, love begets love.
Here. Right here, in this quiet little moment, you'll know her to be a girl who is ready for love because actually, she's already found it.
Relephant reads:
Love elephant and want to go steady?
Editor: Renée Picard
Photo: shlala/Flick Creative Commons