Above: Expectant mother preparing to deliver at a hospital in Addis Ababa, Ethiopia.
This past June, I visited Ethiopia as a fellow with the International Reporting Project with the primary goal of examining the impact of Ethiopia's success at achieving Millennium Development Goal (MDG) 4: reducing child under age five deaths by two-thirds, well before the 2015 MDG deadline.
Granted it is a stunning achievement that has put the spotlight on Ethiopia, it can also be argued that Ethiopia as well as many other countries around the world are failing to reach critical milestones for other MDGs such as maternal health.
MDG 5—to reduce maternal deaths by 75 percent and achieve universal access to reproductive health—is trailing way behind the other goals coming in near the bottom.
According to a recent article published in The Lancet*, only 16 countries out of the 189 United Nations member states who committed to the goals are expected to meet MDG 5 by 2015. The consequences of this are devastating to women and their families.
The tragic facts about maternal deaths
Every day, 800 women die from causes related to pregnancy or childbirth.
When a mother dies, the risk of death for her children under the age of five increases by 50 percent.
The number one killer of 15-19 year old girls worldwide is pregnancy and childbirth. Every year, 70,000 young women die as a result of pregnancy and childbirth—over 70 percent of these deaths are preventable.
Access to universal reproductive health, the other piece of MDG 5, is also lagging behind.
There are millions of women, mostly poor and rural, who have no access to family planning and are unable to space or plan their children. Furthermore, this year alone it is estimated that nearly 22 million unsafe abortions will take place around the world resulting in millions of preventable maternal deaths and longterm disabilities.
Ethiopia, the second most populous country in Africa, is one of the five most dangerous places to be a mother in the world. One in 27 women die from complications of pregnancy or childbirth (25,000 annually) in Ethiopia.
With a population of 90 million, it is estimated that anywhere from 80-90 percent of mothers give birth at home with no trained assistant. In rural areas, where over 85 percent of the population live, it is even worse. Only an estimated five percent of mothers give birth in a health center with a trained delivery assistant.
Compared with her neighbors, Ethiopia is failing its mothers.
Even in Rwanda and Malawi, over 69 percent of mothers are giving birth with trained labor assistants.
Furthermore, the alarmingly high ratios of health care professionals per patients is another factor in high maternal mortality rates in Ethiopia. The ratio of patient per midwife in Ethiopia is one per 21,811. It is estimated that only 34 percent of women have received prenatal care and 57 percent of women have received no pre or postnatal care during pregnancy. (Source: Marie Stopes Ethiopia).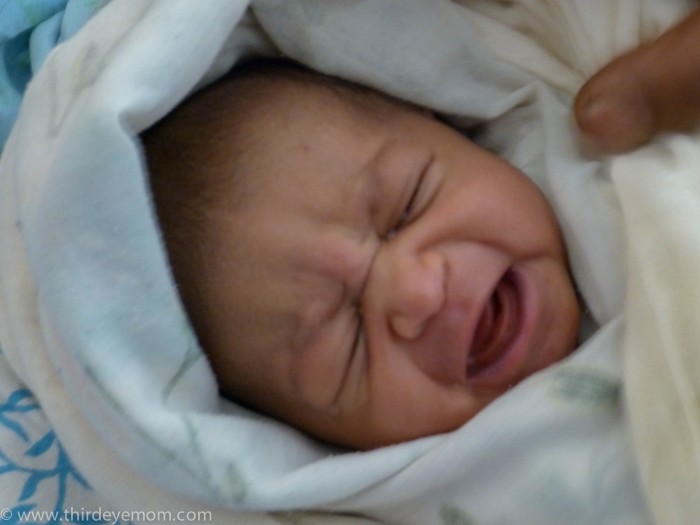 This means that Ethiopia's maternal mortality rate is estimated at 420 per 100,000 live births (2013 WHO/UNFPA) which lumps Ethiopia along with India, Pakistan, Afghanistan and Nigeria, as the top five highest maternal mortality rates in the world.
As the population continues to boom in Ethiopia, it is critical that improvements are made to women's access to family planning, safe abortions and labor and delivery care which would significantly reduce the number of women dying and having serious injuries during childbirth.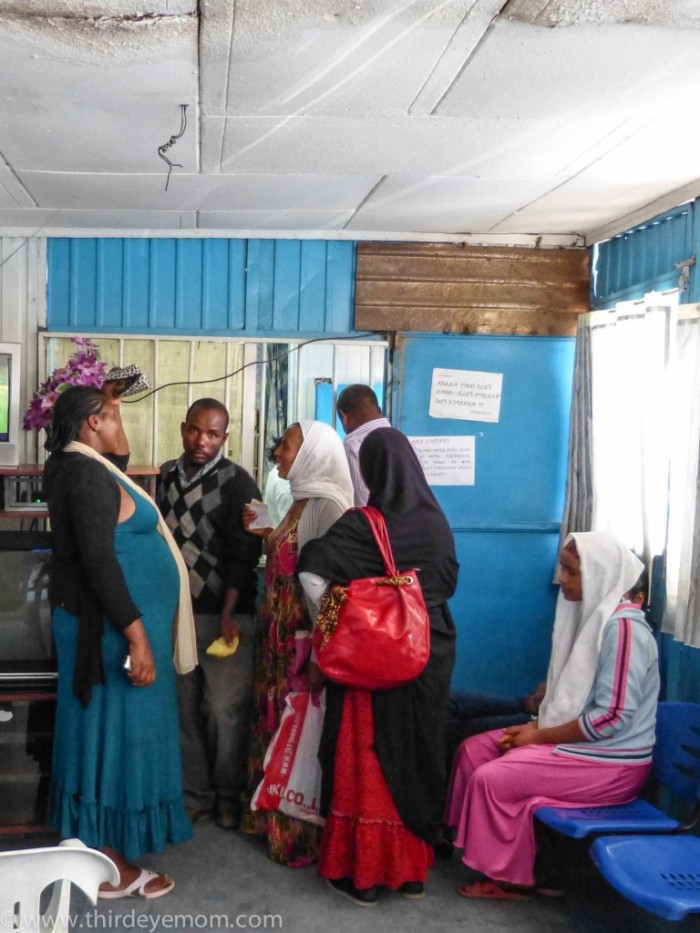 Above: Expectant mothers sometimes wait all day long just to have a prenatal check-up in Ethiopia. 
Seeing a huge, unmet need for family planning and reproductive services, Marie Stopes International begin working in Ethiopia in 1990. Marie Stopes International works to provide sexual and reproductive healthcare to millions of underserved women around the world and has been delivering family planning, safe abortion, and maternal health services to the world's poorest and most vulnerable women for over 35 years.
"Women are dying because of lack of services and information. Having better access to family planning helps improve the lives of women and their families."
~ Marie Stopes Ethiopia Director Abeba Shibeau
Marie Stopes works in seven administrative states in Ethiopia, and runs a three-tier level of service throughout the country through Marie Stopes clinics, Blue Star franchises (600 Blue Star clinics in Ethiopia) and a call center that works nationwide.
Before Marie Stopes entered Ethiopia, only 13 percent of the private sector clinics provided services in family planning yet the demand for contraceptives to space and limit children was and remains high. Only 29 percent of married women in Ethiopia are actively using contraceptives (Marie Stopes, Ethiopia) and an enormous unmet need exists for family planning.
Marie Stopes has filled this need by providing a call center and clinics that offer education, information and low-cost contraceptive options, pre and post natal care, HIV/AIDS prevention, diagnosis and treatment of sexually transmitted infections, and safe abortion when permitted, to woman and their families.
Above: "Women have it much easier than when my mother delivered at home" says this expectant mother in Hawassa. Yet still in rural Ethiopia, it is estimated that only five percent of women deliver at a health clinic. 
Another area that is helping save lives of women in Ethiopia and around the world is the provision of safe abortions.
Worldwide, one woman dies every 11 minutes from an unsafe abortion.
Yet providing access to reproductive healthcare is one of the simplest and cheapest ways to save women's lives. The World Health Organization (WHO), estimates that 5.5 million African women have an unsafe abortion every year. As many as 36,000 of these women die from the procedure, while millions more experience short- or long-term illness and disability. (Source: Guttmacher Institute)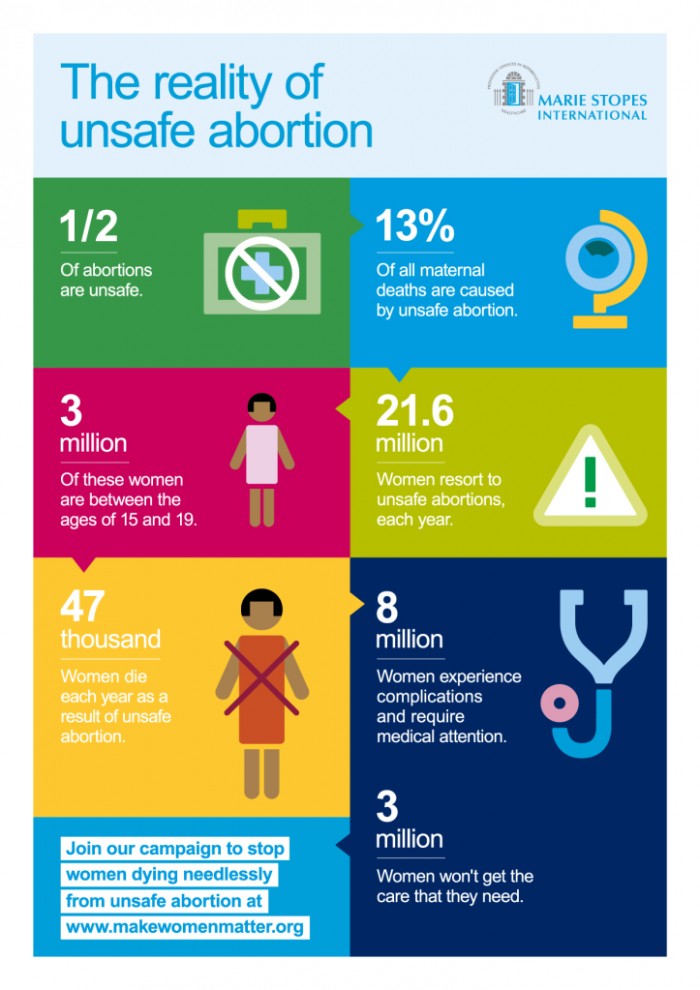 In 2005, Ethiopia expanded its abortion law making abortion legal for cases of rape, incest, fetal impairment, and if the pregnancy or delivery endangers a woman's life.
A woman may also legally terminate a pregnancy if she is a minor or physically or mentally unable to raise a child.
Despite the changes in the law, almost six in 10 abortions in Ethiopia are unsafe causing 13 percent of all maternal deaths. 
Many of these women are victims or rape and due to strong religious beliefs, fear and emotional trauma, seek out one of the many underground, unsafe abortion providers who have no idea what they are doing and threaten a woman's life.
There are countless stories of women profusely bleeding and getting infections that threaten their lives due to unsafe abortions. One mother of a 16-year-old girl brought her feverish, pale daughter into a Marie Stopes clinic in Addis thinking she was having a bad period only to find out her daughter had an unsafe abortion a few days ago.
Had her mother not brought her in, she surely would have bled to death.
Progress has been made yet continued expansion of affordable and accessible family planning and reproductive services is critically needed especially for rural women who represent 82 percent of all women of reproductive age in Ethiopia.
I was in Ethiopia in June as a reporting fellow with the International Reporting Project. To see all my stories from the trip, click here.
~
References:
Material in this post was provided by Marie Stopes in Ethiopia and the UK. To learn more about Marie Stopes International, please visit their webpage here. #makewomenmatter
USAID, Achieving the MDGs: The Contribution of fulfilling the unmet need for family planning, Washington DC: Futures Group International, 2006.
*The Lancet: Global, regional, and national levels and causes of maternal mortality during 1990—2013: a systematic analysis for the Global Burden of Disease Study 2013
Ethiopian Federal Ministry of Health, Technical and Procedural Guidelines for Safe Abortion Services (2006)
Guttmacher Institute Ethiopia brief
The Millennium Development Goals Report 2014 – UN
Love elephant and want to go steady?
Editor: Catherine Monkman
Photo: Author's Own