get elephant's newsletter

"Please know that if you're depressed, feeling worthless, or thinking of suicide, that you're not alone. You are worth more than what the depression is tricking you into thinking you are, and there is help available."

If you're thinking of suicide:

Contact the Trevor Project if you're in the US.

If you're outside of the US, here is a list of international suicide hotlines.

~
Happiness is a state of mind. Up, down. Happiness is conditional. On sunshine, on crime, on alcoholism, on pressure to succeed, on job opportunity, on love, on community, on exercise, on government. Cheerfulness is unconditional.
We've already covered the happiest states in the US. Here's the flip side, for the whole wide world: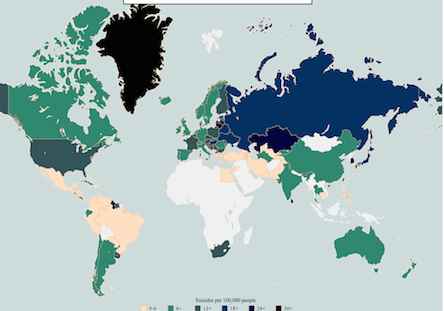 Click here for an interactive version, and a breakdown by sex.
Note: "Suicide rate data has always been really problematic. Cultures in which suicide is heavily sitigmatised tend to have lower rates reported. There used to be (or still is, I'm not sure) the notion that Sweden had a really high suicide rate. This arose mostly from more accurate data of the actual rate."
Interesting: the US and UK rate is higher than Scandinavia.
Bonus: