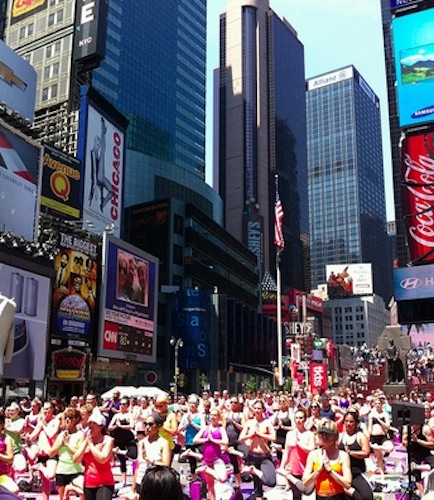 *This article is a response to Why I Left Yoga (& Why I Think A Helluva Lot Of People Are Being Duped). ~ Irasna Rising
I felt a pang of anxiety.
Recently I clicked open the most controversial elephant journal article I've seen during my last 14 months as a reader.
I thought I was about to read something that could seriously throw off my oms.
I am not a yoga teacher. I don't practice seven days a week—or even four for that matter–and I most certainly have some bad habits that would make Patanjali cringe.
Having practiced under some of the best teachers in the country—during my time in Boulder—I was indeed spoiled enough to consider myself a yogi in the making.
While the article was overly critical of a practice I adore, I'll admit that I sympathize with the ill feelings towards the westernization of yoga, in gyms and other fitness establishments. However, I do not feel judgment towards anyone practicing asana.

I remember being new to my yoga journey, in my costly—yet stylish—yoga pants.
At the time—as a new transplant to Boulder—I thought it was the trendy thing to do. I was over-compensating in my attempts to be the perfect example of a midwestern white girl turned devoted yogi seeking spiritual enlightenment, sexy shoulders and hey look at my headstands.
Then something amazing happened—I realized yoga was changing my life and the way I viewed the world.

I remember the pivotal point for me that occurred at a Yoga Pod class taught by Larissa Ortiz. It wasn't her guru-esque opening quote that centered me, it wasn't her asana sequence that opened my hips and it certainly wasn't the room full of cute Lululemon attire that had me convinced yoga was for me. 
It was a quote as simple as this,
"Life is really f*cking hard sometimes." ~ Larissa Ortiz
Surprised to hear f*ck at 6:30am in a room that is supposed to be toning my spiritual muscles—the candor of the statement resonated with me.
That quote and her anecdotal story that followed presented the room full of fellow mat mates the raw vulnerability of the human condition.
Every person there could relate to that statement and come together as one under the notion that life is indeed, really f*cking hard sometimes.
We all have our own sh*t.
Each and every one of us.
Despite the Westernization of yoga—it was comforting to be in a room full of people, propagating a practice that works to bring more self-awareness and kindness to the world, provides a comfort that reaches far beyond any color of skin, religious affiliation, capitalist scheme or $80 pair of yoga pants.

In my room I have picture of Shiva and three copies of the Sutras.
I've traveled to India, without visiting an exotic, expensive ashram. I've considered getting a Sanskrit tattoo. I've taken a chocolate yoga class where the proceeds benefit yoga outreach programs.
Last but not least–I am white female.
And damn it—I love yoga.
I have nothing but sheer admiration for the people and country of India, for the ancient heritage of yoga and for anyone out there willing to come to the mat.

Here in the West we may not be a carbon copy of ancient yoga philosophy and I don't imagine Patanjali ever anticipated it would create a billion dollar industry.
Sure, money has certainly fueled this industry.
However, for each thing the West gets wrong, someone out there is getting it right when they attend a yoga class.
For 75 minutes they have made a conscious effort to be there. It doesn't matter if was out of desire for spiritual enlightenment or an excuse to buy cute yoga clothes and follow the trends.
Whatever their intentions, who cares.
They showed up.
They will inevitably grow from the experience—as yoga has that effect on us whether we hope for it or not.

In regards to the controversial article criticizing the West for the yoga we've created—the author can be validated in her frustration.
It is hard to see yoga stray from its roots—however in doing so—it is reaching more people than ever.
And, while yoga can be a pricy commitment, thankfully there are wonderful organizations out there trying to make yoga accessible to serve the busy single-moms, the war veterans, the disabled and more.
And while some gyms trying to pass off fitness classes as traditional asana yoga and corporate giants trying to cash in, there are many of us out there doing everything we can to encourage people to roll out their mats for the right reasons.
We cannot let capitalism's evolution of yoga be a reason to shun a practice that is fundamentally rooted in fostering a better connection to the self—ultimately aiming to create a society that is more compassionate, more aware and more accepting and tolerant of all beings.

As for Elephant Journal, thank you.
In no way do I feel as though Why I Left Yoga (& Why I Think A Helluva Lot Of People Are Being Duped). is a negative reflection on the website, as you are simply doing what any good journal should do—standing by the journalistic principles and running an article that goes against the grain.
You certainly challenged us as readers and the feedback this article has generated has only made me more devoted to my yoga practice. 
Not everyone in your yoga class may be seeking enlightenment, but if we all start doing a little more yoga—be it one limbed or eight—I think the world will be a better place.
Namaste.

**


Relephant Read: 

~
Love elephant and want to go steady?
~
~
Editor: Ashleigh Hitchcock
Photo: flickr