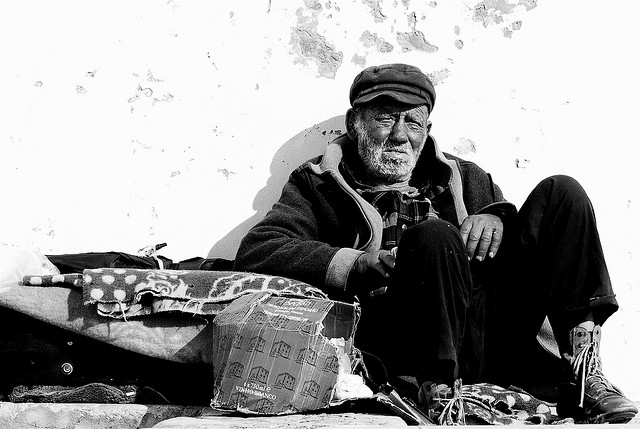 I'm looking forward to Thanksgiving, which I'll spend at my sister Sandra's house along with all my siblings, nieces and nephews, grand nieces and nephews, and a few unaffiliated strays.
I've volunteered to cook the turkey, with stuffing and gravy. My family has a lot to be thankful for, including the lavish meal we are preparing.
Perhaps you, too, have much to be thankful for; perhaps you, too, are preparing a lavish Thanksgiving meal with loved ones.
Millions will not. Millions will not eat a lavish Thanksgiving meal, nor a modest meal.
Millions will eat nothing at all. In this country. In your state. In your county.
No, I'm not trying to rain on anyone's parade. I'm saying: let's give in thanks to those who cannot eat a lavish or modest meal like you and I can.
Let's take 10 percent of our Thanksgiving meal budget and give it to those who need it, who have little or nothing, like the millions of hungry kids. In our country. In your state. In your county.
In 2013, 14.7 million or approximately 20 percent of children in the U.S. lived in poverty.
In 2012, 15.8 million children lived in food insecure households.
20 percent or more of the child population in 37 states and Washington D.C. lived in food-insecure households. A food insecure household is one in which no none knows where the next meal is coming from. (Source: Feeding America)
I am providing a number of links to help you help others to eat this Thanksgiving and throughout the year. You can also Google search terms like "food donations" and "food banks" with your zip code.
With best wishes to all!
A state-by-state, interactive map that illustrates general and child hunger statistics down to the county level.
The Feeding America nationwide network of food banks secures and distributes more than 3 billion meals each year to communities throughout the United States and leads the nation to engage in the fight against hunger. Contact your local food bank to find food or to help solve hunger in your community.
Feeding America is the largest domestic hunger-relief organization. Their mission is to feed America's hungry through a nationwide network of member food banks and engage our country in the fight to end hunger.
The No Kid Hungry campaign connects kids in need with nutritious food and teaches their families how to cook healthy, affordable meals. The campaign also engages the public to make ending child hunger a national priority. For $49, the average cost of a Thanksgiving dinner, you can provide up to 490 meals to hungry children this holiday season and throughout the year. Donate today!
Founded by actor Jeff Bridges in 1983, the End Hunger Network works with the entertainment industry and other partners to create and support media projects, programs and events to raise awareness and generate action to end U.S. child hunger.
Students Team Up to Fight Hunger 
Students Team Up To Fight Hunger (STUFH) is a non-profit organization devoted to assisting and inspiring food drives at colleges and universities across the country. The mission of STUFH is to help feed the hungry while at the same time raising awareness among college students about hunger in their local communities.
Aimed at ending Senior Hunger, Meals on Wheels delivers meals to individuals at home who are unable to purchase or prepare their own meals. With almost 1 million volunteers, MOW is active in all 50 states and the U.S. territories. Your charitable donations are best used by giving to a local Meals-on-Wheels organization.
L. A. Food Bank mobilizes resources to fight hunger in Los Angeles.
Produce Rescue is the heart of Food For Free's work. By rescuing fresh food that might otherwise go to waste, we reduce food waste while guaranteeing access to fresh produce for emergency food programs. By prioritizing fresh fruits and vegetables, our programs address not only hunger, but also nutrition, obesity, and diet-related disease.
We distribute the food we rescue to 80+ food programs in Boston, Cambridge, Chelsea, Medford, Peabody, and Somerville.
Heifer International: Ending Hunger and Poverty 
The mission of Heifer International is to empower people and get out of poverty. Part of the way they do this is by donating livestock such as cows, goats, chickens, etc. or funding similar programs. Founded in 1944, Heifer Project International is a sustainable development organization that works to end hunger and poverty and protect the earth. Through livestock, training and Passing on the Gift, Heifer has helped 15.5 million families in more than 125 countries improve their quality of life and move toward greater self-reliance. Heifer helps build strong communities because each project participant Passes on the Gift of their animal's first female offspring, training in its care and in sustainable agriculture to another family in need, multiplying the benefit.
Action Against Hunger | ACF International, a global humanitarian organization committed to ending world hunger, works to save the lives of malnourished children while providing communities with access to safe water and sustainable solutions to hunger.
Freedom from Hunger brings innovative and sustainable self-help solutions to the fight against chronic hunger and poverty. Together with local partners, they equip families with resources they need to build futures of health, hope and dignity.
The mission of The Hunger Project is to end hunger and poverty by pioneering sustainable, grassroots, women-centered strategies and advocating for their widespread adoption in countries throughout the world.
The Congressional Hunger Center
The Congressional Hunger Center (CHC) is a 501(c)3 nonprofit that works to make issues of domestic and international hunger a priority to policymakers in the U.S. government, and to raise a new generation of leaders to fight against hunger and poverty. Their mission is to train and inspire leaders who work to end hunger, and to advocate public policies that create a food secure world. We strive to be a leader in the movement to ensure access to food as a basic human right for all people. They create and nurture a community of innovative and inspiring leaders who act as change agents, bridging the gap between grassroots efforts and national and international public policy to provide access to nutritious,affordable and culturally appropriate food.
Love elephant and want to go steady?
Author: Robert Rabbin

Editor: Renée Picard
Photo: Pedro Ribeiro Simoes/Flickr