get elephant's newsletter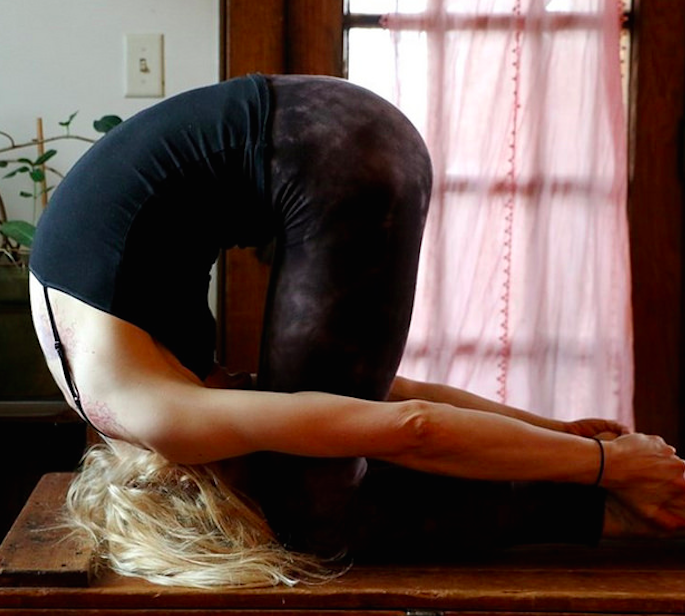 * Editor's Note: This website is not designed to, and should not be construed to, provide medical advice, professional diagnosis, opinion or treatment to you or any other individual, and is not intended as a substitute for medical or professional care and treatment.
Great reader comment: "For myself, plow and ear pressing pose both work wonders on lower back pain, they stretch out that area better than any other stretch.

Definitely build up to challenging poses or you may cause more damage."
In nature, a rabbit is short-lived—the eastern cottontail's life expectancy is only three years.
Yet in a short time, a rabbit can bring a lot of new life into the world. So, it is with the yoga rabbit, an asana that is held for a short time, but one that provides a cornucopia of benefits.
Rabbit, the sasangasana, is a hard pose, one that puts pressure on the neck and constricts the throat, making it hard to breathe. It's my favorite asana though. Well to be accurate, not really my favorite, easiest or most fun, but favorite because of how it's healed my back.
Growing up, I had injuries from trampolines, diving, weightlifting and falling from a roof. These resulted in lower back pain. Yet through the years, I found ways to get past that stabbing sensation in my lower spine close to my tailbone. On rare occasions, if I twisted the wrong way while grabbing a bag of groceries from the back seat of my car, a lightning bolt of nerve pain shot up my back taking me to the ground.
For years, my back aggravated me and compromised my activities. To motorcycle long distances, I added a lower back support and took aspirin.
But with yoga practice, the rabbit has since fixed my back and I am in debt to my adopted bunny.
The rabbit looks uncomfortable and it is. I feel choked and my neck is strained even before the extension. When my teacher says, pull your arms and raise your hips (full extension) it takes everything I have to do so, but I do it. I hold it for 20 seconds, I want to let go and I-can't-breathe and then I hear the word "release" it's become gospel.
Rabbit is so uncomfortable that every session I come within a whisker of talking myself out of doing it.
But rabbit has made me strong in the broken places, so I owe my rabbit and I strenuously pay my 20 seconds (twice!) for my new, healthier and flexible lower back and spine.
The secret of the rabbit is not really a secret.
It's easy to see that rabbit creates maximum extension in the spine. When stretching into full rabbit, the spine measures fourteen inches longer than usual (i). This creates, over time a better spine, and with a full yoga practice a stronger supporting cast of muscles.
Although rabbit pose is hard, I am amazed by how little time it actually takes to effect a full healing of the lower back. In my two years of yoga, I've added up the time I actually spend in the discomfort of a full rabbit.
At 20-seconds each time, twice for each practice, that's 40 seconds times the total number of sessions. When I divide these total seconds by 60, I end up with total minutes and then convert to hours. I've actually been in rabbit only 2 hours and 48 minutes.
It's an astonishingly small investment for such a long-term positive impact. This is, in summary, the benefit of yoga. I will take gladly that ratio of work to a healthy spine and back.
Certainly, an option is to swallow aspirin and hope for the best but I am enjoying the benefits of a better plan.
These days, I don't even stretch before taking a cycle ride. I simply swing my leg up and over the saddle and ride-on. Oh, and sometimes, when I'm riding and enjoying the day, I smile and think of my adopted friend.
Just for fun, I speak to rabbit in an imaginary game of poker, "I'll see your chokehold, Mr. Sasangasana, and raise your bet by one healed back and a cycle ride."
And since rabbits don't speak, I imagine a furry-faced smile, a wink and a look that says, "I'll see ya later."
*
references:
(i) Choudhury, B., & Reynolds, B. (2000). Bikram's beginning yoga class. New York: Jeremy P Tarcher/Putnam p.176~
Relephant:
Bonus! The hardest yoga pose:

Love elephant and want to go steady?
~
~
Author: Gregory Ormson
Editor: Ashleigh Hitchcock
Photo: flickr