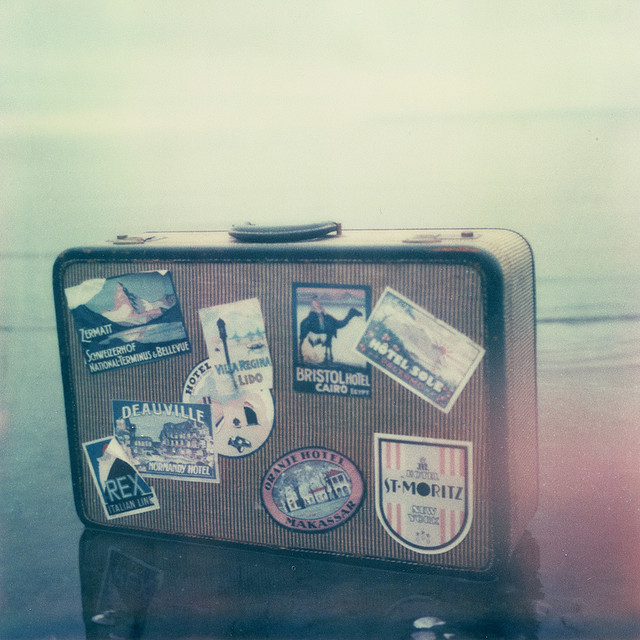 I love, love, love to travel.
I also love to be healthy, but the two can be antagonistic without a little extra attention to self-care. I've learned this the hard way after contracting all too many cases of Delhi belly and other pleasantries due to reckless vagabonding.
Since I've taken Ayurvedic wisdom on board, I've discovered a few secrets to healthy travel that eliminate the need for strong medicines and chemical-laden beauty products—two things I always try to avoid. I write this from a plane destined for India and I'd like to share with you the health-boosting wonders in my suitcase. May this knowledge help you to stay healthy the natural way when your own inner travel bug calls you to exotic lands.
A Tongue Cleaner
On the road or not, my tongue scraper never leaves my toothbrush's side. This simple stainless steel tool gently scrapes away the previous night's accumulated toxins which show up on the tongue as a white coating. Irregular eating habits during travel lead to toxic buildup, so I consider a tongue scraper a travel-must.
VPK Vata Churna
If I could I'd bring my entire spice collection on the road, but this blend from Maharishi Ayurveda makes a great substitute. It's a mix of organic cumin, ginger, fenugreek, turmeric, raw cane sugar, ajwain and salt. I keep it in my handbag and sprinkle it over savory foods for extra digestive power when constantly dining out.
Organic Turmeric Powder
Organic turmeric powder is the jack of all trades for healthy travel. If I have my own kitchen, I add a pinch of turmeric when cooking for its digestive and detoxifying actions. I sprinkle it on cuts for its antibiotic and wound-healing properties, or simmer a quarter teaspoon in water for an immunity boosting tea when feeling run down.
Non-Refrigerated Probiotics
I swear by probiotics when traveling abroad and start taking them at least two weeks before travel. Those that have at least 10 billion CFU and multiple strains of bacteria including saccharomyces boulardii are the best for preventing traveler's diarrhea.
Natural Toothpaste
I'm admittedly picky about my toothpaste and hate being forced to use chemically, fake-tasting toothpastes just because I'm traveling. I bring along enough natural toothpaste to last throughout long journeys.
Organic Coconut Oil
As we all know, coconut oil is just amazing. I find myself using it for a million different things when traveling—self oil massage (which is great for immunity), oil pulling, emergency chap stick, after sun damage control, and cooking when blessed with a kitchen.
Pratima Sandalwood Soothing Lotion
This lotion works wonders on pimples. I travel with it not only for its zit-banishing power but because it also soothes itchy mosquito bites and calms unexpected rashes, much like calamine lotion.
Organic Triphala Capsules
Triphala is a classical Ayurvedic blend of three herbs that I would not travel without. Its naturally high source of Vitamin C keeps immunity strong, plus triphala gently detoxifies the digestive tract and acts as a mild laxative. Though often sold in powder form, capsules are a convenient way to bring triphala on the road.
Ginger Chews
A little ginger before lunch and dinner fires up the digestive process. While I make a fresh ginger appetizer when at home, ginger chews are a convenient substitute for travel.
ISUN Antioxidant Sun Butter
Excess sun exposure usually comes with exotic travel. I protect my face with this zinc-laden sun butter. It's all natural and doesn't feel greasy or cause breakouts as sunscreen can.
Do you have any travel-musts that keep you healthy on the road? Do share below!
Love elephant and want to go steady?
Author: Julie Bernier 
Editor: Renee Picard 
Photo: madelyn mulvaney at Flickr