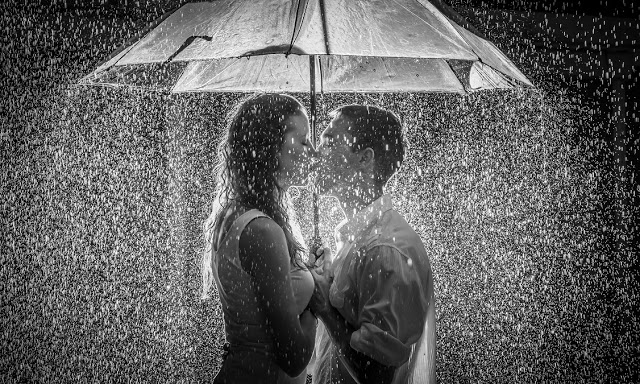 Although I've finally found that once in a lifetime kind of love, I still regularly get scared that I may lose it all.
It's not that my partner doesn't love me deeply, or that he isn't accepting, patient and understanding.
It's because he has boundaries, strong morals and values and his desire is to live a happy and fulfilled life with someone who treats him with mutual love and respect.
And I'm not perfect, I've made mistakes before, I can sometimes be irrational, I don't always project myself well, I test him at times and because he can't see into my heart to completely get how I feel about him, I worry that something stupid one day could cause this fairy-tale to end.
Now, I know that he is not perfect either. He is also capable of all of the above and like me, so much more.
So, although we like to think we'll stay together through thick and through thin, weather all storms and always have each other's backs, we're not naïve to the fact that relationships can come to an end—even if our love doesn't.
Therefore, I'm going to do all I can to make sure I'm not complacent, that I don't take him for granted and, most of all, that I don't make any critical errors that could sever the rope that binds us.
Some of the following may seem trivial and not worthy of a break-up, but over a period of time if these things are not worked on, they can cause deep-rooted problems that may cause disrespect, unhappiness, dissolving of a friendship and falling out of love.
To keep love healthy and flowing strongly it is imperative that we forgive quickly and often. Holding onto the smallest resentments can cause huge amounts of damage. Whenever I am slightly bothered about something, it affects my mind, body and soul, until I forget about it and let it go,
I know this also negatively impacts my relationship and really, is just a form of stubbornness. In all honesty, my stubbornness to forgive has more effect on me than it does on my partner.
I often, foolishly, think that by suffering, my partner will also suffer and then he will feel guilty and admit responsibility—totally pointless.
This is going to cause nothing but resentments to build and when I hold onto resentments, little lights of love inside me begin to turn out. Soon enough I stop feeling the urge to do all the sweet nothings that I would normally do without even thinking. I begin to make less of an effort with my relationship due to a build up of negative emotions.
Forgiveness is the only way I am going to stop this from happening and it is much easier when I remind myself that I am not perfect either.
I make mistakes and I forgive myself, therefore I can forgive my partner and others quickly and easily.
Plus, I will feel happier and my relationship will also be more loving, happy and healthier too.
Taking Responsibility.
If I don't take responsibility for my own words and actions, it will make it very difficult for my partner to forgive me.
Taking responsibility isn't just about me deciding if my behavior is right or wrong in my own mind, it's about observing the affect that my behavior has on others.
Even though I have my own version of what is right and what is wrong, unfortunately, that will not always match the views of my partner. Therefore, it is imperative that I fully accept if I have said or done something that I know has caused a problem for him or anyone else.
It doesn't mean that I have to change who I am, how I feel or alter my views and opinions. It just means that I should consider at all times when my actions are hurtful or disrespectful to someone else. And if they are, then I need to take responsibility and accept what is being projected back to me.
Neither does it mean that I am necessarily right nor wrong, it simply means that I need to have awareness, not just of myself, but of the whole picture so that I can take accountability for what needs to be done.
I need to take responsibility quickly and easily, not wallow in it for days on end, which will only lead to more problems.
The weight of an apology can literally feel like the whole world is being lifted from very tired shoulders. Mainly because, it means that responsibility has been taken and that my partner is thinking about me as well as himself.
Not only is he thinking of me, he is thinking of our relationship, our love, our future and the damage that can be caused by refusing to admit when something is wrong.
I've heard the saying a million times "love means never having to say you're sorry."  Well I have to say bullsh*t to that. It's not that I expect the word sorry to be used, however I do hope that my partner will do something to show me how he feels when something has gone wrong within our relationship.
I'm not a big fan of flowers or huge statements. A simple hug is enough. Or even a genuine smile when things are tense. We often jokingly say "you're forgiven" when one of us does something small to show that we have thought about where things have gone wrong and are looking for a reconciliation.
We tend not to make mountains out of saying sorry or having huge discussions about the problem. Generally speaking, we have faith in each other that we have seen where we have gone wrong and that we are capable of figuring out our own way of doing things differently in the future.
Trust.
This is one area that comes up regularly within our relationship. We both know that if we do not trust each other completely and utterly we are not capable of living the kind of life that makes both of us truly happy.
To be able to travel separately, have a long distance relationship (which we had in the beginning), go out with friends, holiday separately, submerge in all our sports and hobbies, have a deep sense of freedom, believe that what we say to each other is the truth and most of all have faith in the strength of each other's love, we absolutely must have trust.
Not just trust that the other person won't cheat with someone else while in the relationship, the kind of trust that we will not intentionally destroy the love we have built and also the other person's heart.
Falling in love, both giving and receiving deep levels of it takes the greatest amount of faith. It most definitely makes me feel vulnerable at times, even though I am strong and independent and I am not afraid of being on my own.
"Love does not consist in gazing at each other, but in looking outward together in the same direction." – Antoine de Saint-Exupery
The reason for the fear is the thought that this amazing love could disappear through no fault of my own. That is why I need to trust. When I give and receive the deepest levels of love I am capable of, I do so because I have complete faith that the person I am giving it to is trustworthy, will not deceive or betray me and will not forsake all that we have built.
I am safe to submerge into a magical bliss with someone who provides a safe place in which to create a cocoon. I have tried the Buddhist way of giving without expecting in return and while I am all for it in many ways, in a relationship I need to be with someone who also returns my love.
I have found that I can only keep giving for so long without receive the same in return, eventually it is exhausting, quite damaging and more than anything else, I value myself and I deserve equal levels of love, respect and trust within a relationship.
Where there is complete trust, the relationship is limitless. Without it, love and respect will soon come to an end, even if the relationship doesn't.
Communication.
Communication can make or break a relationship. If channels aren't open, it is difficult, if not impossible, for me to figure out how my partner is feeling and also to find ways of smoothing things out and resolving problems before or when they occur.
It's not just the day-to-day communication that is important, we also need to talk openly and honestly about our future, our dreams, our emotions and the sexual side of our relationship.
The more we talk, the better understanding we have of each other and the more aligned we are heading towards the future. It is essential that things aren't just working out today, but that we are also cementing a solid foundation that can withstand the years ahead too.
We realize we both still have a lot of growing to do, we want to take whatever steps we can to grow together and not apart.
We talk, we listen, we adjust, we compromise and we do not judge the other person for thinking differently. We get our needs met and we also are in a position to meet the needs of the other simply by making sure that we discuss everything and anything and we speak from the heart.
Sometimes we do not like what the other has to say, however, we respect that we are entirely different people and just because we chose to be together on this journey, it does not mean that we will have the same thoughts, views and opinions on all that we do.
By talking things through thoroughly, we are free to then make our own decisions, with a good understanding of each other's reason for making whatever choice.
As we work on these five things our relationship grows stronger by the day.
We both trip up, regularly, but each time it is a learning curve for us both and it is often a sharp reminder that it is not just the other person who makes mistakes, we both do.
A relationship is like looking in the mirror. If something is bothering me about my partner, it is usually because there is something bothering me deep within that I need to take a look at. Quite often the problem is not with him at all, it is just that he has been the one to pull the trigger.
Neither of us are perfect, far from it, however we are both fully committed to perfecting our relationship, even though we have no illusion of what perfect will look like.
We know life can be tough at times, we have both been married before and although we do not have children together, we both already had children when we met, so they too are added to the equation of our relationship.
Our daily aim is for freedom and happiness—together and separately.
We can only achieve this by working each day together to create happiness not just for one other and the relationship as a whole, but more importantly for the people that matter most—each individual self.
Love elephant and want to go steady?
~
~
Author: Alex Sandra Myles

Editor: Ashleigh Hitchcock