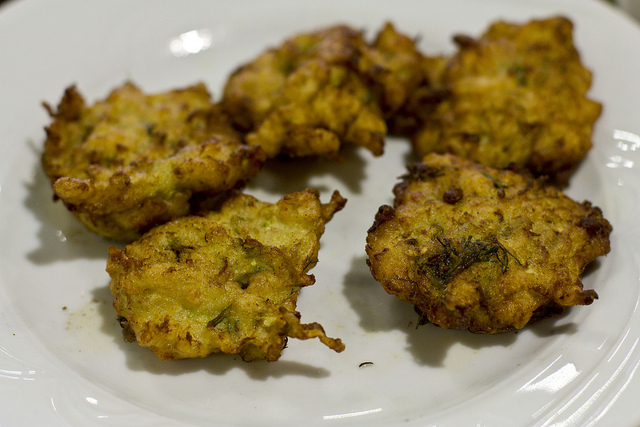 Zucchini is one of my favorite veggies, and fritters are kind of the ideal comfort food.
If you're like me, this recipe is one you'll save and come back to time and time again. These little morsels of joy are really easy to make, and freakin' delicious too. What's more, they're gluten free and perfect for vegetarians.
Here's what you'll need to make a batch:
2 small or one big zucchinis, grated
1 egg
1/3 cup corn flour
2/3 cup shredded cheddar cheese
1 tsp cayenne pepper
To start, grate the zucchini into a colander and leave them sit for at least 10 minutes. They'll release a lot of water, so squeeze that out before proceeding or the fritters will lose their structure. Now make the batter by combining the cornflour, cheese and egg in a bowl, mixing well. Add the cayenne and the grated zucchini and mix thoroughly into a thick paste. Add a little water if it needs it to combine properly, but not so much that the batter becomes thin. Form the fritters into little balls using a spoon and then set aside. Heat some oil in a pan (I recommend using coconut oil), and when it is hot, add the fritters and fry them for about 3-4 minutes on each side. When they're done, let them cool on a plate with some paper towel to soak up excess oil.
Eat them as a snack, appetizer or side dish. Enjoy!
Love elephant and want to go steady?
Author: Kathryn Muyskens
Editor: Renee Picard

Photo: William Neuheisel/Flickr