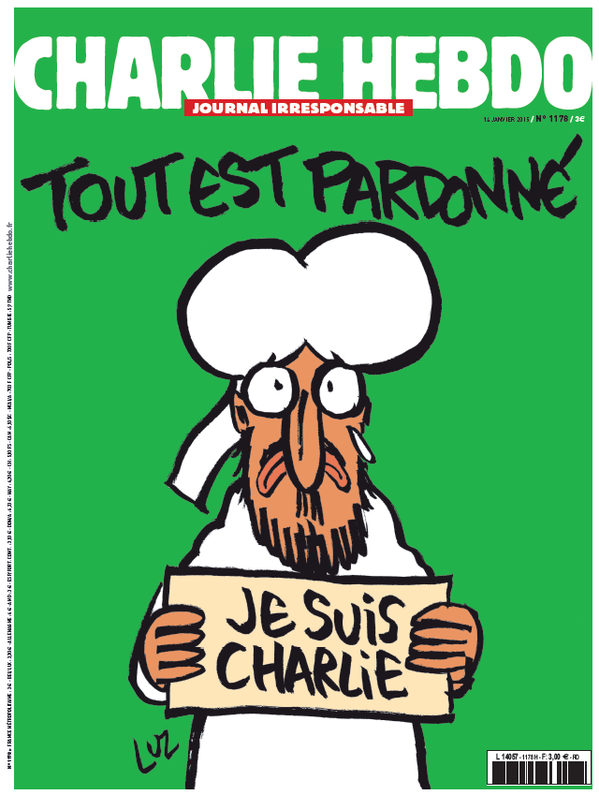 "All is forgiven." And on Mohammed's sign: "I am Charlie."
Bravo. Gutsy, and profound, and simple, and important in the face of fear and murder.
"A message of defiance but also, importantly, forgiveness."
The cover shows the prophet shedding a tear and holding up a sign reading "Je suis Charlie" in sympathy with the dead journalists. The headline says "All is forgiven".

Zineb El Rhazoui, a surviving columnist at Charlie Hebdo magazine who worked on the new issue, said the cover was a call to forgive the terrorists who murdered her colleagues last week, saying she did not feel hate towards Chérif and Saïd Kouachi despite their deadly attack on the magazine, and urged Muslims to accept humour.

"We don't feel any hate to them. We know that the struggle is not with them as people, but the struggle is with an ideology," she told BBC Radio 4's Today programme.
From The Guardian article.
"What they are saying about the meaning of the cover is: "« Quand on a une pancarte "Je suis Charlie" ça veut dire : "Vous avez le droit au blasphème, vous avez le droit de critiquer ma religion, parce que c'est pas grave". » or: When one (Mohammed) holds the sign 'I am Charlie', that means: "You have the right to blaspheme, you have the right to criticize my religion, it's okay."

They are also saying: On n'a jamais le droit de critiquer un juif parce qu'il est juif, un musulman parce qu'il est musulman, un chrétien parce qu'il est chrétien. Mais vous pouvez dire tout ce que vous voulez, et les pires horreurs, et on les dit, sur le christianisme, le judaïsme et l'islam, car au-delà de l'unité des beaux slogans, c'est ça la réalité de Charlie Hebdo", or: we do not have the right to criticize someone because they are Jewish, or a Muslim because he is a Muslim, or a Christian because she is Christian. But you can say whatever you want, the worst of things, and we have said them, about Christianity, Judaism and Islam, because beyond some nice slogans, that is what Charlie Hebdo is about.""Source
IE, hate the sin, not the sinner.
For more: Charlie Hebdo puts Mohammed on first cover since attack. Will print 3 million copies in 16 languages (news.yahoo.com)
Bonus: "a site showing and explaining some of Charlie Hebdo's works to this point."