Just being in Myanmar is a psychic balm for the modern soul.
It's one of the only countries still deeply saturated in Buddhism and the nation's deep commitment to supporting practitioners makes it an unparalleled incubator for wisdom. But the window of opportunity to witness Burmese Buddhism and soak up its goodness—the window of opportunity to help save it—is fast vanishing as Myanmar vaults into the 21st century.
The scale of Burmese Buddhism is tremendous. With over 500,000 monks it seems that there is a monastery down every dusty lane. The built environment is filled with temples, pagodas, shrines, and statues that range from small and humble to vast structures and complexes that defy your ability to grasp their grandeur like the 344 ft gold plated Shwedagon Pagoda that towers over downtown Yangon or the 1000 monasteries that stretch across the Sagaing Hills.
But unlike Angkor Wat or so many of the other temples on this planet that are merely the dead remains of bygone times, in Myanmar the temples are alive with devotion and with practice.
Everywhere—whether in the historic temples of Yangon or in remote farming regions—the continual refrain from the monasteries is: come stay, come practice, come learn.
Everyone is ready to roll out another mat to sleep on, ready to set up another mosquito net to meditate under, ready to make room on the floor around one of the round tables laden with food. "Nothing's free," "you get what you pay for," "time is money," "people are just… (insert negative adjective)," a whole cornucopia of cynical maxims and memes of modern life come crumpling to the ground in the face of these invitations.
No one asks for money at the monasteries; they ask only that you develop a deep and lasting happiness.
An unreasonable generosity is the cornerstone of Burmese Buddhism. The dorms, the food, the teachers, the monuments are all tangible manifestations of this generosity, a generosity that thrives in one of the poorest countries in the world. This spirit of giving has created a softening effect on the country, such that despite the poverty, and despite the political oppression there is an air of friendliness and safety. The people possess an unusual uprightness both physically and psychologically, and they have a remarkable brightness and warmth.
The lady who chased me down the block to hand me money when I accidentally overpaid for some fruit, the middle aged women who crank out enough food to feed hundreds of monks using only a few large walks and a fire pit, the restaurant owner who insisted on offering me tea and papaya when I asked to use his restroom, these are a few exemplars of a culture of giving and of care that is evidenced everywhere in Myanmar.
Looking beyond the everyday expressions of goodness, it's in the great diversity of practice centers that a vision begins to stir of how Myanmar could offer an enormous service to the world.
Much of the meditation frenzy that has swept the globe is premised upon trying to stuff a little mediation into a hectic day, a small Band-Aid for the chronic stress that plagues so many. In Myanmar another possibility opens: the possibility of deep and sustained practice, of living for weeks, or months, or years on end devoted single pointedly to meditation, to the cultivation of the heart and mind.
Enlightenment, deep states of concentration, an endless flow of compassion, psychic powers—it's all on the table in this place.
The effects such practice can have are not to be underestimated. S.N. Goenka was a lay Burmese man who was swept up in the stream of rigorous practice. Today his centers stretch across the globe offering free intensive ten-day courses that have radically shifted many lives…my own included.
Most of the infrastructure is already in place to train hundreds or thousands of new Goenkas, both Burmese and foreign, in the coming years. Myanmar could be a sort of global hatchery for birthing and rearing wise and compassionate beings, a refuge where those who yearn for transformation could receive the physical and psychic resources necessary to drive their practice deep. In due time these newly minted sages would go on to share their understanding with others.
The main ingredient missing is simply the widespread knowledge that such an opportunity exists.
Just as we need Myanmar more then ever, just as we need the gentle kindness to counter a pervasive hardness, just as we need the vast practice centers to steady our frantic minds, just as we need the towering religious monuments to free our congested imagination, Myanmar is busy barreling headfirst towards modernity. Set to increase its GDP ten fold in the next decade and ready to become the newest democracy in South East Asia, Myanmar is gearing up for massive change.
Development per se is not the problem. Myanmar unquestionably has important development goals concerning health, sanitation, infrastructure, access to education, ending hunger, the alleviation of poverty, and the protection of minority rights. The question is if these goals can be achieved within the framework of honoring and cherishing the great value that the culture already embodies.
If it's the Thai model that Myanmar hopes to follow—and it certainly seems to be—then what we can expect is the blind selling out to a consumptive materialistic agenda and an ensuing wholesale destruction of traditional values and ways of life as well as the rapid plundering of the nation's natural resources.
The increasingly traffic choked streets of Yangon, lined with glass cases full of knock off smart-phones and packed with vendors hawking cheap Chinese merchandise, are harbingers of an immense shift now underway.
Stepping into the mix perhaps just in the nick of time is a crack team of volunteers, spearheaded by a man named Joah McGee, who are urgently striving to tear down the information barriers that prevent people from understanding, exploring, and appreciating Burmese Buddhism. They're feverishly crafting a guidebook called Shwe Lan Ga Lay (Shwe Lan for short) that will chronicle the rich spread and deep history of the religion and present practical travel information. This book will be of indispensible value to anyone looking to experience Buddhism first hand in Myanmar as well as to those with a more armchair style curiosity.
Extensive, forged out of devotion, improbable but real, freely given, Shwe Lan is its self both a reflection of and testament to the wonder and generosity at the heart of Burmese Buddhism.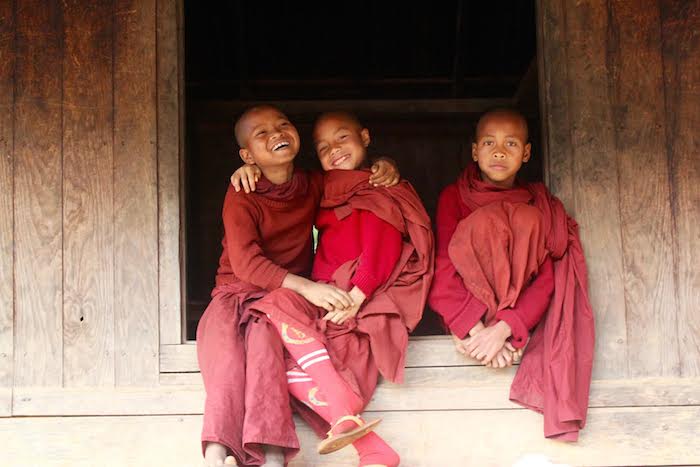 Offering support to Shwe Lan to assist in its speedy completion, traveling to Myanmar with the intention of drinking deeply from the goodness there, simply reflecting on the ways that Myanmar challenges your conception of what's possible, or taking up the practice of meditation are all ways to participate in and help perpetuate Burmese Buddhism.
To paraphrase the Senegalese poet and naturalist Baba Dioum, in the end people will only love what they know and they will only protect what they love. Consider yourself cordially invited to know and to love and to protect Burmese Buddhism, before it's too late, before Myanmar's remarkable Buddhist infused society is crushed and dumped and in the ever-growing scrap heap of wise and gentle cultures that have been bulldozed by the modern world.
This article is abridged and adapted from a longer version with more context, local flavor, and personal narrative that can be found here. 
Click here for more info about Shwe Lan.
Relephant:
Author: Miles Bukiet
Editor: Renee Picard 
Images: Lili Plake (via the author) // KX Studio at Flickr;