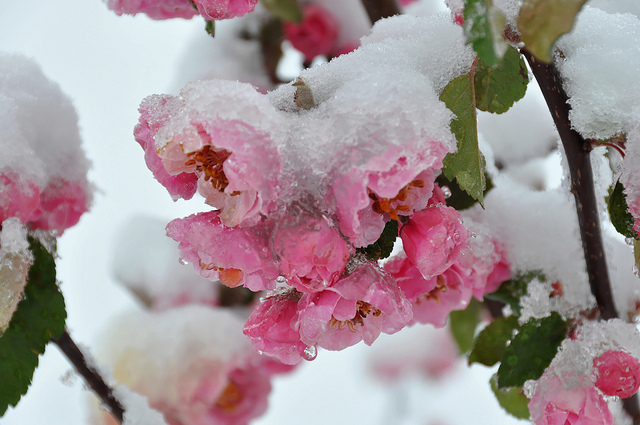 It's that time of year again when winter seems to be grinding on my heart.
We are all too familiar with the cold weather, the long commute home and the barren landscape. It starts to darken our emotions. After months and months of this (I live in Colorado), I find myself continuing to fight it.
We don't want the winter blues. We just want spring. Am I right?
The other day, I decided to go to a yin yoga class. While I do yoga on a regular basis, I rarely take the time to go to a yin class. For those of you less familiar with yoga, yin yoga is a slower paced class that focuses on holding poses for longer periods of time. It's often considered a restorative class. Admittedly, though I try to reap the benefits of yoga in many different ways, physical challenge is usually part of the appeal for me.
So going into the yin class, I was cocky, expecting it to be too easy.
During the class, I noticed that I was beginning each pose with an aggressive attitude. I would go deep into a pose thinking that I was there to conquer it. Then, about three minutes into each pose, it would hit me over and over again how painful it can be to slow down, do something seemingly simple and stay there.
My body would start to fight the pose. I would want to fidget, adjust my posture or get out. I was genuinely very uncomfortable.
Finally, about halfway through the class, I decided to try something different. I started to listen to the instructor and to actually act on what she was guiding me through. I surrendered. Not suddenly but, rather, one breathe at a time. I gave in to the pain and sunk deeper into the discomfort.   
At the end of the class, I was completely wrung out, both physically and mentally. And guess what? It was fantastic.
On my way home, I couldn't help but see some parallels between this class and the emotions we have toward winter. You see, winter is a not-so-gentle indicator that we need to spend more time inward. Just like the yin class, we have to go there, and we have to stay awhile. We need to brave discomfort to ultimately come out on the other end.  
What if winter serves to point out the hidden, painful spaces within us, refusing to let us hide and neglect them? Winter is a season where everything is stripped to its bare bones. Nature is exposed and so are we. It's painful and uncomfortable, but it's also beautiful. It allows us to shine light into dark spaces. It allows us to be reborn into spring.
~
in the dead of winter
be still
embrace simple
desolate
raw
living
feel your soul shy away
from the harshness
pause
now, go deeper
don't just stare it down
jump inside of it
bathe in the feelings of discomfort, of boredom 
feel the gentle pulse that lives within those moments 
they are calling for your participation 
they aren't happening to you 
they are you
they hang between each of your heartbeats
be present 
send love to all that surrounds you
know that it is also within you
choose to love all that you are
can you feel it?
through winter, comes spring
it is rebirth 
it is pure joy
it is raw
~
Author: Kelli Fischer
Editor: Caroline Beaton
Photo: Flickr