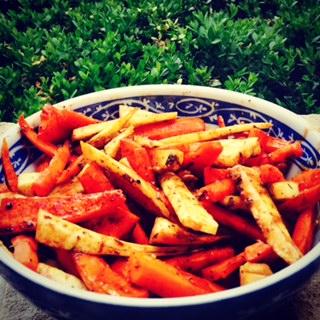 Poor, poor carrots—the essential vegetable that never gets any special treatment.
They're always invited to the party, but they never get to sip the champagne.
Well, no more. In this recipe, they are brought to new carrot-y heights with exotic ingredients like cinnamon and cumin. Easy, foolproof, healthy and memorable, you'll never underestimate this ordinary root again.
Roasted Carrots with Sunflower Seeds and Cinnamon
8-10 carrots, peeled and cut into 1/2 inch wide sticks.
2-3 parsnips, peeled and cut into 1/2 inch wide sticks.
2 tbl olive oil
1/4 cup balsamic vinegar
1/4 cup roasted sunflower seeds
1/4 tsp cinnamon
1/2 tsp cumin
1/3 tsp smoked paprika
sea salt and fresh cracked pepper to taste
Arrange carrots and parsnips on a baking sheet in a single layer. Add 1 t/l olive oil and massage in so everything is covered. Add sunflower seeds, salt and pepper evenly over the top.
Bake for 25-30 minutes in a 400 degree oven.
While roots are roasting, assemble dressing. In a small bowl, add vinegar, 1 t/l olive oil, cinnamon, cumin and smoked paprika. Mix well.
When roots are done, place in a large bowl. Add dressing and toss well, serving immediately.
Top with fresh cilantro or Italian parsley if desired.
More awesome recipes from Erica: 
Author: Erica Leibrandt
Editor: Renée Picard
Image: via the author