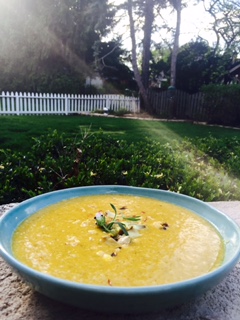 Summer is coming, and fresh sweet corn isn't far behind.
This recipe is one of the best ways I know to use up leftover cobs, uneaten kernels and all the extra ears I feel compelled to buy at the farmer's market because they're such a good deal.
It starts with a corn broth, which is quite different from standard vegetable broth, and brings to mind ancient Mexican villages, open fires and languid suns.
Though it's deep and complex in flavor, it's also essentially foolproof—one of those great dishes where you just throw a bunch of stuff in a pot and let it do it's thing. Plus, your house will smell great as it does.
Serve with a plate of sautéed garlic and Swiss chard and a dense seeded boule, and you'll be smiling for days.
Rustic Corn Chowder with Saffron
* note: because this soup is ultimately pureed, there's no need to peel or dice anything too small or carefully
What you'll need:
4 ears corn, shucked, kernels cut off and the cobs cut into roughly 1-inch pieces. Reserve 1-2 cups of the corn kernels for searing. (You can save leftover cobs from another meal and use 4 cups frozen corn instead of fresh as well.)
2 medium baking potatoes, scrubbed and chopped
1 big yellow onion, chopped
6 cloves garlic, chopped
4 carrots, chopped
1 t/l died thyme
1 t/l saffron threads
1 t/l ancho chili powder
Sea salt and fresh cracked pepper to taste
1/4 tsp red pepper flakes, more if you like it spicy
2 t/l plus 1 tsp olive oil
8 cups water
Heat olive oil in a big pot. Toss in corn cobs with a dash of sea salt and continuously roll around until they begin to brown.
Add garlic, onion and carrots. Sauté 5 more minutes.
Add water and spices. Bring to boil and then lower to a simmer.
Cook until broth is quite reduced. This should take somewhere between 1 1/2 to 3 hours.
Take out corn cobs with a slotted spoon and add potatoes and corn kernels, leaving reserved corn on the side. Make sure broth just covers everything in the pot, adding water if necessary. Bring back to boil and cook at least another half an hour to an hour.
While soup is cooking, heat 1 tsp of olive oil in a small pan. Add reserved corn and cook until it begins to brown. Set aside.
Use an immersion blender or high-powered blender such as a Vitamix to puree soup until almost smooth.
Serve topped with the seared corn and a few threads of saffron.
Other nice garnishes could include tortilla chips (black ones would look cool), fresh (not seared) corn and diced fresh avocado and cilantro.
Author: Erica Leibrandt
Editor: Evan Yerburgh
Image: courtesy of the author