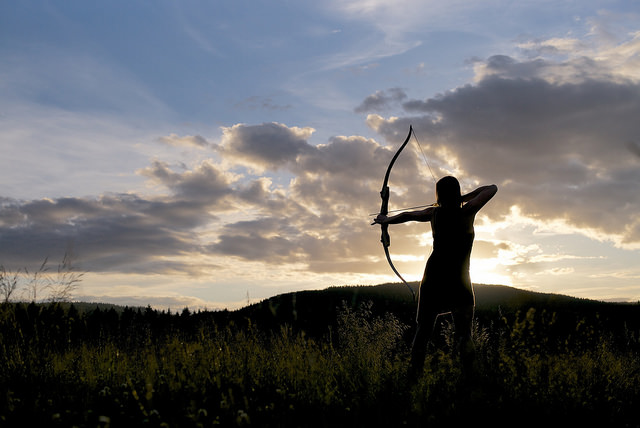 On the other side of panic and fear, something sparkles.
A juicy ruby awaits:
It's your life.
A simple smile, a tear, an ice old beer; your friends and family; your passion and inspiration; your deepest expressions; your heart, a hug, a rebelliously loud laugh.
Yes, your life.
It's there, waiting, on the other side of fear.
How do we get there?
No shortcuts.
Fear is a waterslide; a road; a hefty ship; a yellow submarine; a jagged mountain cliff.
It's for traveling, meant to be moved through and adventured upon.
Remember, no shortcuts.
We have to walk the thorny paths of wicked, panicked thoughts.
We have to sail the frothy seas of swirling anxiety.
We have to step up, grab a bow and arrow, and fight for ourselves.
It's time, now,
To start the long-awaited journey.
Grab your hand and squeeze it softly.
Walk the warrior's path.
You were born for this.
You know how to do this.
You have died a thousand times for this.
Take a deep breath and ignite the ferocious flames inside.
Your soul will spring to life and light the way.
Crouch down and crawl through your fear.
It won't be pretty.
Sweat.
Swear.
Grunt.
Bleed.
Cry.
Grit your teeth and hold yourself gently through every treacherous twist and each terrifying turn.
It won't be comfortable.
But, the discomfort can't crush you; it can only strengthen you.
Keep going.
Because fear has an ending.
Panic has an ending.
Anxiety has an ending.
We have to be our own heroes and find that ending.
After all, fear is but a feeling—and feelings, especially the hard ones—are the most fleeting things of all.
Remember this, hold it close, and you'll soon see the other side.
Step into the light.
It's your light.
Smile, as rays of pure unfiltered sunshine kiss every pore of your perfectly flawed being.
See how you sparkle?
This is your life.
This is you.
This light, this love, this beauty.
It's been here all along.
You've been here all along.
And, yes, there's still fear.
There's still pain, worry, hurt and heartbreak.
But, they're all vessels leading back to the same place.
They all lead back to you.
Summon your strength, walk the warrior's path,
And don't ever forget what's on the other side of fear.
There's a giant meadow waiting
With wide open wildflower arms
Where you can dance
In gusts of wind
And bask in
Freedom
So sweet
You wouldn't
F*cking
Believe it.
It's
Up.
To.
You.
~
Author: Sarah Harvey
Editor: Caroline Beaton
Photo: Flickr