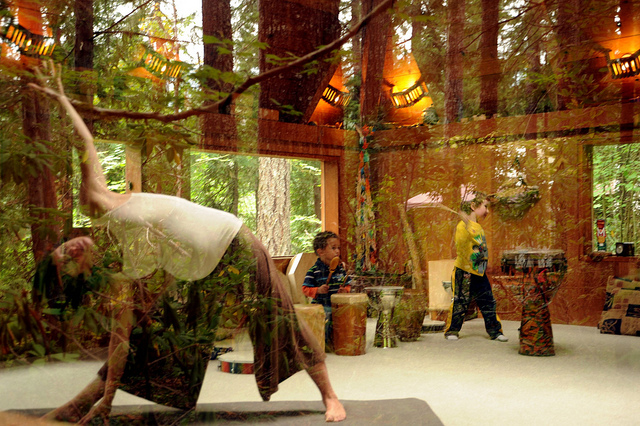 Warning: Adult language
"Pregnancy sucks," said every mom in her first trimester ever. I'm sure of it. Mine is just coming to an end.
It's beautiful and fascinating and one of the most proud experiences of my life, but pregnancy also took me by surprise. Being a spiritual person, I always assumed I would find myself with child and glow, feeling instantly maternal, elated even.
So needless to say I was pretty surprised when the news of our bambino came with a whole bag of mixed emotions—anger being one of the first.
I feel called to share my experience for a few reasons. Partially in the hopes that other moms who were surprised by their reactions could relate and feel some truth. Also because expressing myself tends to make me feel better and truly realize all the blessings.
I spent the winter recovering from gall bladder removal surgery and going through an extensive amount of cleansing and colon hydrotherapy upon finding out that I had parasites.
Gestational discomfort and low back pain had been an on-again, off-again constant and I was on mission to revive my body. From acupuncture to Ayurveda to kundalini to chiropractors to many an herb, I did it all. By May I was feeling healthier and better than ever! And relieved.
And consequently fertile as f***!
I had been tracking my cycle with diligence. Being safe. And one day my partner comes home and tells me that his coworker was doing the same thing, and his girlfriend had been taking maca root (as was I in my daily smoothie concoction) only to find out that it altered her cycle and they now have a two year old.
I stopped taking maca that day.
Which is a good thing, because I was already pregnant and it is contradicted.
The universe always has my back in such funny and ironic ways.
I joke now that maca really should come with a disclaimer—it is one of the strongest fertility herbs around!
I felt different within a couple of days of conceiving. I'm in tune with my body almost to a fault and the sore breasts, nausea, bloating and emotional upheavals felt different than my regular cycle patterns. I even took a pregnancy test out of wonder. When it came back negative, I did a little dance and was sure the universe had a bit more time in store for me before "my time." I had sh*t to figure out and was in the midst of starting a new business proposal.
Cue my vacation to San Diego about five weeks later, and I was still left wondering. Maybe my cycle was off because of all the hydrotherapy? Surely it messed with my symptoms is all.
The day I saw that little plus sign (that I was sure would be a negative but wanted the reassurance for some 4th of July imbibing), I immediately sobbed and fell into the arms of my two twin best friends. A cocoon of comfort I desperately needed to handle the shock.
I didn't expect that reaction. But I didn't expect this either.
Which is funny because deep down I know it is what I want more than anything. To be a mother. I had been having egg dreams and dreams of giving birth in detail for over a year. I had twinges of jealousy when others were having babies. Bunny rabbits (the sign of fertility) were seen with bizarre frequency.
The spiritual signs were there. It was just too big to comprehend.
I figured it was a natural late twenties female instinct. Instead, it was my time.
When i found out in San Diego I was glad to be supported by great friends and away from the woes of my daily life to feel into what this really means for me. I spent a lot of time walking and crying on the beach. And was grateful I spent the day riding coasters at Six Flags the day before I found out.
It felt like a mourning of my fierce independence and fairly flexible life as I knew it. I could have used all the voices in my head to find the excitement and reassurance, but I also mentally dedicated the space and time to express everything I truly needed to feel—all of it a natural part of the experience.
Does one ever feel really ready for this? I sure didn't.
My mantra that weekend is still with me:
"It's all working out."
In that moment anything more complex or inspirational felt too far out of grasp.
And then there was the telling people. My boyfriend in particular. By the time I got home, I had made up my mind. Well, actually, I had made up my mind over the last couple of years. I knew I wanted children and that I was at an age and maturity level where it wouldn't make sense to do anything but keep something that deep down I knew I wanted.
But it's still a tricky place being in a relationship where you assume marriage is next, where you are not 100 percent positive on how your partner feels about the subject, where you want to take his preferences into consideration, but where you are also sure of your decision and realize he doesn't really have a say. I felt for him and was gut-wrenchingly nervous.
All I can say is that Dave has been amazing. Supportive and eager and open and honest. We reminisced back on that day where our dreams were in synch. I woke up and had casually mentioned, "I had a dream about an egg last night." For the first time he replied, "so did I."
"Coffee, anyone?" We didn't think much of it and left it at that. It was when we conceived.
Since telling him it's been a relief, but still a whirlwind.
I was shocked that so much of what I felt at first was anger.
How was I angry? I was angry at this happening now, yet confused because it is also something that I want. I was angry just because. And I felt ashamed of that. Surely that energy was being absorbed by my baby?
So of course I've felt guilty. I burst into tears after telling my mom, from the shear overwhelm of it all. Great way to spill the beans to your folks, huh?
I spent one acupuncture session feeling grateful for abortion. I feel very well equipped to handle this and was still dealing with depression. It made me eternally grateful that we have the choice.
All I can say is that everyone has been amazingly supportive. They allow me to believe in myself even if the midst of all this confusion. I can talk to other pregnant friends and honor the loneliness that comes with it. I cry because I want Dave to spend time with his friends, but all I have the energy to do is sit at home and let the Montana summer stay outside while I sleep, and cry because I want Dave to be with me.
The anger has passed. The pride and joy is settling in.
My second trimester is emerging and I am feeling brighter, more energetic (most) every day.
I reassuringly read once to recognize what you do have "in order" for this big life change. My finances might not be where I want them to be, but my spirituality is strong. My home may need to change, but I have been a nanny off and on for over 15 years and I have zero doubt about my maternal instincts. We can always find something.
I've had identity crises. I don't want to just be another suburban mom who loses herself in her kids (not putting anyone down, just an honest fear). I'm big bold, Jess. And parts of me are about to get a lot bigger. Namely, my belly and my heart.
I hope no one takes this article the wrong way. The best part of my day is the time I have to be still, alleviate my thoughts, and connect with my baby. I send it love and good intention and happiness with every breath I take.
It's a natural, instinctual purpose that I aim to do well by constantly. And no I am not constantly zen and peaceful. However when I do feel something very strongly, I know that I am creating a healthier baby by expressing it, which would not be the case by repressing it, no matter what it is.
It blows my mind to recognize that I am carrying another soul within me. I'm starting to notice the psychic power and brilliance that comes along with that. I am in awe daily.
This article felt good to write and be honest about. It reminds me that identity is always shifting and changing. I can still write, but the focus may be different. I just signed on to apprentice and teach prenatal yoga. A new adventure I'm eager to delve into. I've been asked to create a meditation tape for women in labor by a student who works in the labor and delivery ward. I envision sharing meditation with kids at a very young age.
I want all mothers-to-be to know that they can come to me, no matter how they are feeling, and that I will understand. To know that there is an unending amount of empathy. "It is all working out."
And now there is one more heart beating wildly, ready to share and reflect love with the world.
I am grateful. And I feel love for all.
Relephant:
Author: Jessica Cartwright

Editor: Travis May

Image: Wonderlane/Flickr