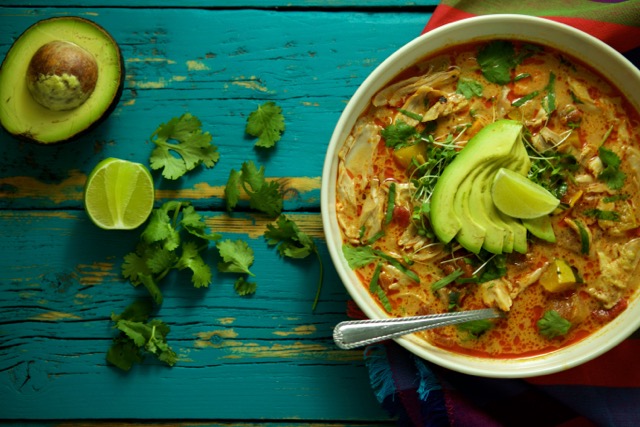 With fall here, it's the perfect time to boost the immune system with nourishing chicken soup.
Remember though, in the wise words of a random billboard outside a doctor's office, "the flu isn't a season, it's the inability to adapt due to decreased sun exposure and water intake combined with increased sugar intake and stress."
This is the ideal soup, in the words of my father, who is probably my biggest food critic besides myself. The man that thinks everything I make needs more gluten. He's the guy who, when I try to get him on board with our sugar cleanse, goes out and buys a box of Halloween candy and claims he thought sugar cleanse meant more sugar.
Since he loved this soup, I'm pretty sure everyone will.
The best part is it uses a whole chicken, which in my opinion, is the easiest most economical way to eat chicken. A whole free range chicken feeds a crowd and you get the bones to make stock later. By far the easiest way to cook a whole chicken is to make a big pot of soup.
There's no risk of it not being cooked or worse, being dry and overcooked. The only downside is you don't get that crispy skin, but I personally love the fat that the skin lends to the soup. It's so rich, and although the coconut milk isn't a traditional addition, it adds a creamy comfort to my version of sopa de pollo like none other.
Ingredients:
1 tsp cooking fat of choice
1 onion
2 garlic cloves, minced
1 28 oz can crushed tomatoes + equal amount of water
1 1/2 tsp chipotle powder or 1 whole chipotle in adobo (chopped)
1 tsp sea salt
1 tsp paprika
3 roasted red peppers, chopped
2 C squash of preference (delicata,butternut etc.) cut into cubes
1 C sweet potato, cubed
1 whole chicken (about 3-5 lbs)
1 can full fat coconut milk
1 lime + extra for garnish
large handful cilantro, chopped
1 ripe avocado, sliced
Directions:
In a large pot or slow cooker heat oil and add onion and garlic. Cook until golden and fragrant and add crushed tomatoes, spices and salt.
Add the whole chicken, roasted red peppers,squash, sweet potato and water to cover chicken. Cover and let cook on low for 1 1/2 hours.
Remove the cooked chicken and place in a large bowl. Let it cool a bit before removing meat from the carcass.
Add pulled chicken, coconut milk and the juice from one lime.
Serve with chopped cilantro, fresh avocado and lime wedges.
Relephant Read:
Author: Chantelle Zakariasen
Editor: Catherine Monkman
Photos: Author's Own