Twitter has been the unlikely birthing pool of a new Irish rebellion.
2016 will be a big year in Ireland. It is the anniversary of the Easter Rising, a monumental event in Irish history, which ultimately led to the establishment of the Irish state in 1922. It will be marked by many national institutions.
On October 28th, the country's national theatre, The Abbey, announced its celebratory program entitled "Waking the Nation." Of the ten plays selected, only one was written by a woman and three will be directed by women.
To say it has caused an outrage would be an understatement.
With frustration simmering among Irish women in theater for years, the announcement sparked an outcry—and with the hashtag #WakingTheFeminists trending on Twitter, they were galvanized to unify their voice and demand equality.
In double-quick time, an official campaign was established. Their mission statement:
#WakingTheFeminists calls on the board of our national theater to lead the way in establishing equality for women artists.
"This is a campaign by Irish artists to demand change of the systems that allow for such chronic under-representation of the work of women artists at The Abbey, and by extension in the Irish arts industry. There is consensus that the problem is bigger than any one organisation or individual, and so rigorous discussion and action is needed to realize a new artistic landscape that reflects Irish society and represents 'all the children of the nation equally'."
Their overall objective was simply stated as "equality for women artists" with three specific campaign objectives:
A sustained policy for inclusion with action plan and measurable results
Championing and equal advancement of women artists
Economic parity for all working in the theatre
With no faffing about whatsoever, a public meeting was organised for today, November 12th. Over 600 members of the Irish theatre community (including men) gathered at The Abbey in Dublin, along with smaller gatherings in solidarity at different locations around the country.
But even ahead of today's meeting, a great deal of progress has been made. The Board of the Abbey issued a statement on Monday acknowledging that the 2016 program does not represent gender equality and committed to developing a detailed plan to address this issue in the wider Irish arts community.
Director of The Abbey, Fiach Mac Conghail commented:
"The fact that I haven't programmed a new play by a female playwright is not something I can defend. I knew there would be some criticism, but the reaction has made me question the filters and factors that influence my decision-making."
Despite the rampant gender inequality, Irish theater owes much to the input of women. The Abbey Theatre itself was co-founded by Lady Gregory (and W.B. Yeats), and the premises was purchased thanks to the patronage of Annie Horniman.
30 women spoke at today's meeting about their experiences in Irish theatre, while women in theater around the globe tweeted their own support. Although the real work has yet to begin, it is inspiring to see how quickly commitment can be elicited when women set their minds to a task.
"We are not asking—we are demanding equality and economy parity. It is simple: commit fully to programming more women artists. In this national theatre, funded by a woman, cofounded by a woman with a queen on its emblem…we must look at everything we do and root out the blight of inequality." ~ Sarah Durcan, Producer and Arts Manager
"Waking the Nation" is most certainly #WakingTheFeminists.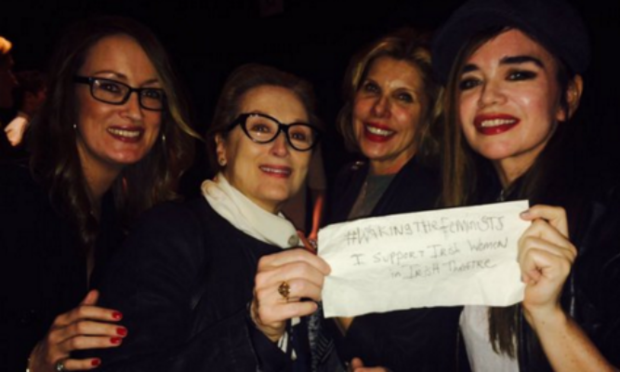 .
Relephant:
.
Author: Hilda Carroll
Editor: Yoli Ramazzina
Photos: Sinead Gleeson/Twitter and Lisa Tierney Keogh/Twitter