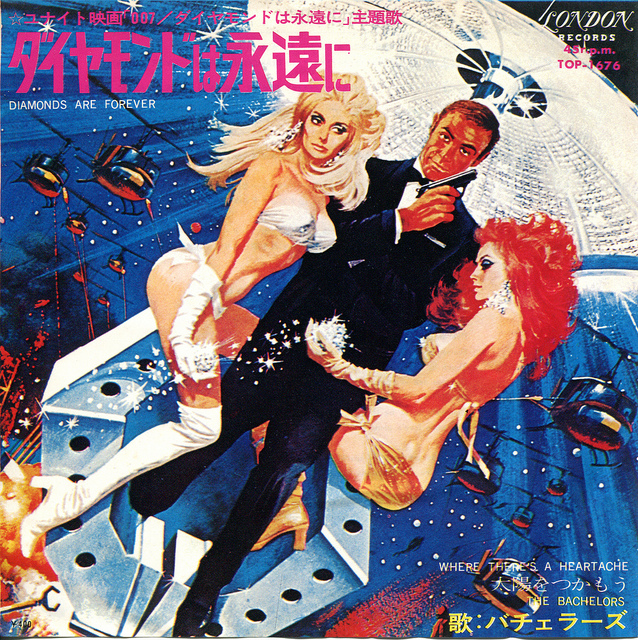 When I was very young and my mother would take me shopping with her at Bloomingdale's, I used to love to hide inside the racks of sparkly evening gowns.
Yes—inside. (I was small, and there was plenty of room in there.)
While she browsed displays of more practical fashions, I would immerse myself in a world of sequins and sparkles that glimmered, glowed and, yes, glittered.
It is one of my sharpest early memories.
Perhaps there is something instinctive in our attraction to all that shines—like crows. It would certainly explain the lure of those clothing racks for my younger self. (Even today, I can't help reaching out and running my fingers across the rows of glittering clothing that appears around holiday time.
Or perhaps that attraction is merely so deeply ingrained in our human society that we do not realize it is learned.
Today, I sit in Boston's South Station waiting for my bus, reading the massive banner ads for diamonds hanging all around me. Sponsored by Forevermark (one of two De Beers Group brands, of course), the slogans are blunt and loud:
#LOVETHISMAN
#THEONE
#THELUCKIESTGIRL

"There Are Two things That Last Longer Than Time. Love Is One Of Them.
A Diamond Is Forever."

#OMG
#BESTGIFTEVER
#ICANTBELIEVEIT

"Nice That After All These Years You Can Still Make Her Heart Skip A Beat.
A Diamond Is Forever."
And many, many more I cannot see from my seat. The wide, open station is festooned with banners; diamond jewelry stares back at me from every available surface.
The deluge of heavy-handed marketing is somewhat overwhelming. All capital letters—black print on white backgrounds.
The role of marketing in shaping our desires, expectations and culture of gifting becomes particularly, painfully apparent in this setting.
But you know what? I'm tired of "forever" and I'm tired of #OMG. I'm tired of antiquated tropes (propogated, mind, by an industry mired in questionable ethics) that tell me diamonds equal love. I'm tired of seeing how decades of deliberate advertisement can fundamentally shape our global psyche.
Mindless messages of commercialized love feeding the machine—and we believe them. Buy them.
But hey, that programming runs deep, and even today I love sparkly things as much as the next girl. I don't fault anyone their lust for that which shines; I don't fault myself.
Still, bombarded by these holiday promises of undying love and immortal rocks, I feel tired of it, and I feel compelled to offer a different narrative.
Forget Forever. Give Me a Gift that Celebrates the Present:
1) Pick me flowers. What, it's winter? Maybe you live in the Southern hemisphere! No? Well, then pick me some pine branches; fashion me a wreath to hang on my door to remind me of you each time I step over the threshold.
The point is, give me your precious time.
2) Cook me a gourmet meal. Or order takeout and set the table with real wine glasses, candles and maybe even a tablecloth. Or take me out—I don't much care (as long as the food's good).
The point is, give me your undivided attention.
3) Write me a letter. A poem. A song. A goddamn haiku (it's 17 syllables—anyone can do it). Tell me why I'm special; tell me of your love, or friendship, or whatever it may be.
The point is, give me your glittering heart.
4) Take me for a walk. A bike ride. A hike, a climb, a swim, a coffee, a picnic or a drive. Make conversation. Or be silent. Show me a place I've never been before.
The point is, give me your presence—it shines brighter than anything else.
5) Lastly, buy me the intangible. If you wish to buy me a gift, put that which can rarely be bought in that carefully wrapped and ribboned box: an experience, not a thing. Tickets to the movies, mountains, boats, planes. Shows, adventures, laughter, trains.
The point is, give me a memory, which brings a sparkle to my eye no stone can match.
Now, diamonds may be targeted primarily to women, but these gifts are universal. Remember that the real #BESTGIFTEVER will never fit in a box. Be it Christmas or Valentine's Day, birthdays or Hallmark holidays, give your time. Your attention. Your heart and your presence.
Give me a memory that will mellow and fade, yet never lose its warmth. Don't give me forever.
There are indeed two things that last longer than time. "Now" is one of them.
~
Relephant Reads:
~
Author: Toby Israel
Image: Johan Oomen/Flickr
~