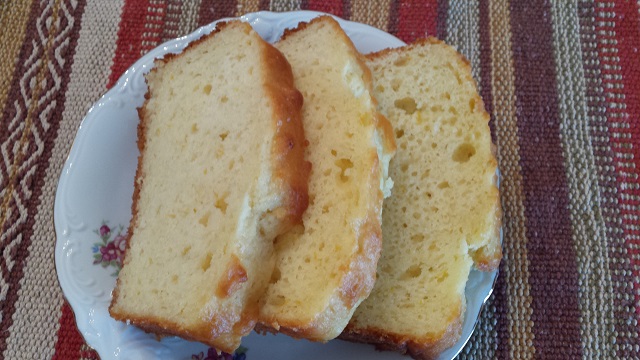 I am a big fan of lemon-baked-anything.
But lemon loaf is probably one of my most favorite things to bake, because it's easy, moist and full of flavor.
Maybe it's my European nature, but I am very fond of afternoon coffee and cake and more specifically, freshly baked cake.
I discovered Meyer lemons a couple of years ago. They are a cross between a lemon and a mandarin, with a soft skin, the sweetness of an orange and the tartness of a lemon.
The juice is exquisite, refreshing and aromatic. Now, I anxiously anticipate Meyer lemon season and bake all things lemon during that time.
I'm always tweaking recipes and finding new ways to make already awesome creations better. When it comes to baking I like to reduce sugar content, switch to organic ingredients if possible, and adjust to my own preferences.
I found a Meyer Lemon Loaf recipe online that has quickly become a favorite with family and friends.
The recipe I'm sharing is my adapted version: super moist and a perfect mix of tart and sweet for the discriminating palate. It is a rich cake perfect for afternoon tea or coffee—but I must admit that I have had it for breakfast once or twice.
This particular version is soaked after baking with a lemon juice syrup. Truly magnificent!
It also makes a good gift, tucked into a basket with a box of gourmet tea and a handful of fresh Meyer lemons.
The Cake:
2 cups organic, unbleached all-purpose flour
3 tsp. baking powder, alum free if possible
½ tsp. grey sea salt (grey has all the minerals intact, but other salt works too)
2 cups plain Greek yogurt—not low-fat please, this is a luxury cake
½ – 3/4 cup organic cane sugar—I use the ½ cup, the original recipe calls for one cup
3 organic, free range eggs—local/farm fresh if available
1 tbsp. grated Meyer lemon zest—about 3 to 4 lemons
1 tsp. pure vanilla extract
½ cup organic sunflower oil
The Syrup:
½ cup freshly squeezed lemon juice—about 4 Meyer lemons—use the zested ones
1/3 cup organic cane sugar
Prep: Zest the lemon skin and set aside.
Directions:
1. Preheat the oven to 350 F. Oil a loaf pan, 8"x 4"x 4" or so.
2. Sift together the flour, baking powder and salt in a large bowl.
3. In a medium bowl, using an electric mixer or whisk, mix the yogurt, oil, sugar, eggs, lemon zest and vanilla.
4. Pour wet ingredients into the dry and whisk together until well incorporated.
5. Pour into a greased baking pan and bake for 50 minutes or less, remove from oven when toothpick comes clean/cake is golden on top.
6. Let cool on wire rack for 10 minutes.
7. While the cake is cooling prepare the syrup.
Place ½ cup Meyer lemon juice and ¼ to 1/3 cup sugar in a small saucepan and stirring occasionally over medium heat, allowing the sugar to dissolve. Set aside.
8. Remove the cake from the pan and set on a large plate with a rim. Poke a few holes in the top of the cake with a toothpick. Spoon the syrup over the cake letting it soak in and cool further for an hour
Will keep for 3 -4 days in an airtight container/lidded cake dish.
To freeze, wrap in wax paper and tuck into a zip-lock freezer bag. Thaw for 2 hours before serving.
I hope you enjoy this delicious treat!



Source: kitchentreaty
Author: Monika Carless
Editor: Renée Picard
Image: Wiki Commons/Authors Own