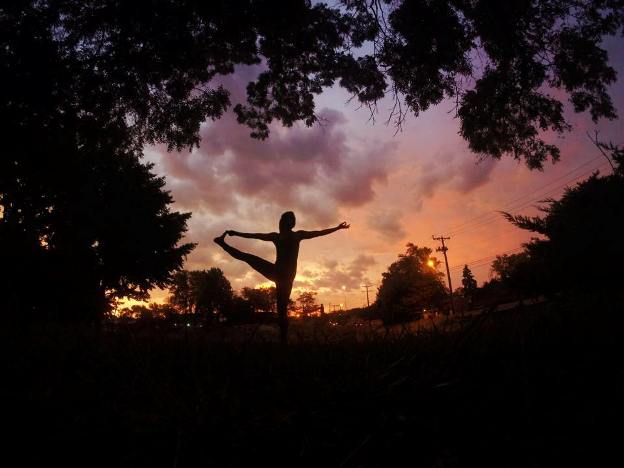 Ask any devout yogi, and they'll likely tell you that their yoga journey has been transformational.
Me included.
It began with a regular attendance at the yoga studio. Once a week became twice a week became every day. Sometimes twice. Soon the studio became my second home and I decided to take the next step and become a yoga teacher.
As my practice deepened, so too did my yoga pants drawer. I started using more organic products, patchouli-scented oil and wearing mala beads and shirts that said things like "Namaste."
I dig mala beads. I would exclusively wear yoga pants if I could (I almost do). Especially ones with crazy patterns on them.
That's the transformation my friends have seen. But the real transformation was going on inside. And it still is.
As we begin 2016, many of us are hungry for change. And whether you're a devout yogi or you are feeling drawn to the studio, you might find yourself on your mat, seeking this change. You might become a yoga studio regular and get swept up in fun yoga pants and patchouli.
Whether or not you transform outwardly, I urge you to shift your focus inward.
It's okay to want yoga pants and better abs—I like those things, too. But often when we want things in the physical realm, it stems from a desire to transform into someone we believe others want us to be rather than transforming into who we truly are.
We want to fit in, to belong. A sense of belonging is important. But so is a sense of self-worth. So is self-awareness and self-love. So is peace.
Ahh, peace.
So, ask yourself this: Which would you rather have: Abs or peace? Mala beads or a sense of purpose?
When you look in the mirror, would you rather see hot yoga pants or someone you know and love deeply?
Yoga helps us transform not into another person, but into the person we are meant to be; our truest, purest self.
We are looking in the wrong places when we're trying to transform into someone else—Chasing fads and trends, seeking answers in media, striving to be what society tells us is the best. We're looking everywhere else but where the real answers, our truths, live—inside. We're exhausting ourselves by frantically following the never-ending yellow brick road, but we have the power to click our heels and go home at any time.
If you're ready to go home (and I'm not talking about your physical house but your sacred, inner home), however you like to think of it—Your spiritual home, your soul, your true self, your authentic self, your atman (true self), the real deal, etc. If you're ready to go there, to find it and embrace it, it begins by being curious.
Be curious about what's going on in there. This can be scary—an awesome and euphoric kind of scary, like riding a rollercoaster but totally cooler.
One of the great things about yoga is that there's always a great place to start and there's always a next place to go. In yoga philosophy, we talk about the five koshas (layers). Start with the outermost layer—your physical body—and then work your way in.
Here are some ideas to help your yoga practice be more transformative as you take your journey inward:
1. Start an at-home yoga practice.
You can begin with guided sequences but as you become more familiar with your body, trust your intuition to guide your postures. You know what your body needs. You just need to get used to listening to it.
2. Close your eyes.
At first this may happen only during your sun salutations, but challenge yourself to try an entire practice with eyes closed. Use a blindfold if that helps. This forces you to draw your awareness inward because there's nowhere else to go.
3. Don't look at the mirror.
As a yoga teacher, I can tell by looking at a student's eyes whether they are checking alignment or checking themselves out. And it's usually the latter. Challenge yourself not to look in the mirror for your entire practice. This will help you focus on how you feel rather than how you look.
4. Start a yoga/meditation journal.
One of the assignments from my yoga teacher training was to have a 30-day meditation journal to log how we felt before and after the practice and any thoughts that came to surface. It was a powerful way to reflect and absorb the experience and added so much to my practice.
5. Get outside your comfort zone.
Try a new studio, different styles of yoga and various teachers. It's nice to have a cozy home studio, but branching out will help you grow and see things from a different perspective.
As yogis, we are all students. And we are studying and practicing to become the world's best experts of ourselves.This year, I challenge you to take your yoga practice to a deeper level. Peel back the layers and find something even more enriching than yoga swag. I'll be challenging myself, too.
"I have been a seeker and I still am, but I stopped asking the books and the stars. I started listening to the teaching of my Soul." ~ Rumi
Relephant Reads: 
Author: Cara McDonald
Editor: Renée Picard
Photo: Author's Own