Frida Kahlo was the revolutionary Mexican painter who won tequila challenges with men and slept with the women her husband, Diego, went to bed with.
She showed up dressed like a man in a photoshoot with her family, while her mother and three sisters wore dresses.
While feminine at heart, Frida smoked, partied hard and continued drinking tequila, even on her death bed.
She was given the nickname"pegleg" as a child—this didn't stop her from growing her own style when she hit adulthood. Rebellious, she grew an unplucked unibrow, kept her mustache and decorated her hair with braids and fresh flowers.
Famous for her tragic life story, Frida painted almost all of it. The diaries, drawings and paintings that she left behind, gave the world a closer look at her thoughts and emotions.
Additionally, the two movies that were made about her life, presented concrete evidence and facts that enchanted her fans.
My immense love and affinity for Frida, has driven me to dig deeper. I am constantly looking for further information to bring me closer to her.
Over the years, I've amassed a collection of every single book that was written about her. I watched her documentaries and movies and read almost everything that tackled her life and her persona.
My expansive research lead me to facts that gave me goosebumps. The intimate nature of these facts makes me feel closer to Frida.
Intimate facts that can bring us a little close to the persona of Frida Kahlo.
1. Frida Kahlo's favorite song.
Frida had a great affinity for music. Fortunately, she had one favorite song that we can still listen to. It's called "Cielito Lindo", which means "little beautiful sky."
That song touched Frida to the extent that she named one of her paintings "Árbol de la esperanza, mantente firme," which is a line from this song.
It means "tree of hope, remain strong."
2. Why Frida never smiled in her photos.
Frida's photographs were all serious—she always maintained a facial expression that was firm and solemn.
The truth is, Frida had bad teeth and she hated them. That's why she never smiled or laughed in her photos. In a couple of photos, she's covering her mouth when she's cracking up.
There is one photo, however, where she was caught laughing amongst a crowd and her teeth were showing. It was clear that Frida had dire orthodontic problems.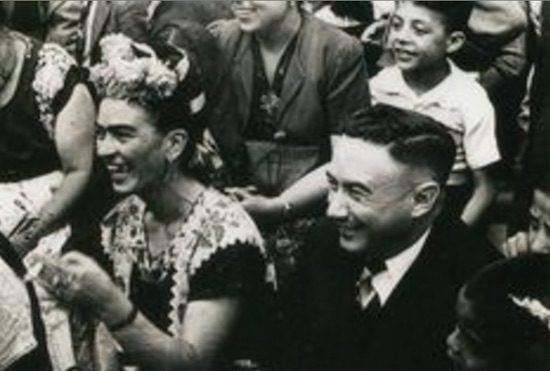 3. Frida and cooking.
Guadalupe Rivera Marin, the daughter of Lupe, Diego's ex-wife was recently interviewed about the time when she went to live with her father and stepmother, Frida, in Coyoacán.
Marin said that Frida rarely cooked and she didn't like to cook. The recipes that she learned were acquired from her mother Lupe. After Diego and Frida were married, they all lived in a building together.
"Frida had a very advanced education for that era, she was very modern. She was very organized and a wonderful host: She loved setting up the house and adorning and decorating everything. She was very good at deciding menus.
She set beautiful Mexican tables with gorgeous tablecloths and tableware with her and my dad's initials. The house was full of flowers." ~ Guadalupe Rivera Marin
4. Frida's perfume.
Frida wore Shocking by the iconic Italian fashion designer, Elsa Schiaparelli. Shocking's top notes included aldehydes, bergamot and tarragon, with middle notes of jasmine, rose and honey. Its base notes are spicy cloves and civet.
Launched in 1937, Frida wore Shocking. The people who personally knew Frida said that they would know Frida was approaching when they smelled honey and roses.
5. Frida's nail polish.
Frida loved taking care of her looks, despite all the physical and emotional pain that she experienced.
She loved to wear nail polish to match her red lipstick. She favorite brand was Revlon, founded in the 1930s.
6. Wicked at heart.
Frida Kahlo was known for her undisciplined behaviors at school when she was a teenager. When she was only seven years old, she helped her 15-year-old sister, Matilde, to escape with her boyfriend to Veracruz.
Her sister ran away because their parents, especially their mother, were strict Catholics who lived by the book.
The family didn't see Matilde for five years but Frida always knew of her whereabouts and never told her father or mother.
7. Frida's belongings.
After Frida Kahlo's death in 1954, her husband shut her belongings and clothes in a bathroom at their Mexico City home, the Blue House. He demanded it be locked until 15 years after his death.
When Diego passed three years after Frida, a philanthropist, art collector and old friend of the couple, Dolores Olmedo, became the manager of their house. She kept all of Kahlo's belongings locked up for decades.
Dolores passed away in 2002 and in 2004 all of Frida's belongings were finally revealed.
Personally, I believe that knowing about Frida's things allow her fans to fall more in love with her.
It's about what she wore and how she smelled.
What music she loved listening to.
What she excelled at and what she didn't.
It's about everything relating to Frida.
Now that I know how Frida smelled and what song she used to listen to, I can put on that song and try to imagine what she must have felt or thought about when she listened to it.
We can smell roses and remember her.
We can look at the beautiful blue sky and paint our own realities, like Frida did.
~
Relephant:
Author: Elyane Youssef
Editor: Ashleigh Hitchcock
Photo: flickr/Cea